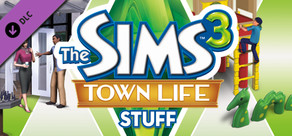 Om dit spel te kunnen spelen moet je het originele spel The Sims™ 3 hebben.

Releasedatum: 29 jul 2011
Downloadbare inhoud
Om dit spel te kunnen spelen moet je het originele spel The Sims™ 3 hebben.
The Sims™ 3 Town Life Stuff kopen
Info over het spel
The Sims™ 3 Town Life Stuff introduces venues complete with dozens of new objects to give your Sims' town and homes a makeover. Customize a new library, an exclusive gym, a fun playground, or a fresh laundry room. Your Sims get more than new décor and style options—they get new community venues, like Scrumptious Nibbles Café, for your Sims to visit too!
Key features:


Pre-Built Venues and Lots: Give your Sims' town a new look with spectacular ready-to-go venues and community lots—or construct your own cool setting.


Fit and Fresh: Work out with the latest high-tech gym equipment, then clean your sweaty gym clothes in the new state-of-the-art washer and dryer set.


Time to Unwind: Kids will love the new Sunny Bungalow jungle gym, slide, and sandbox, while grown-ups can play chess by the new fountain.


Study Time or Story Time: Update the library with an elegant array of accessories, build your own study, or create cubicles with specialized sectional seating.


New Casual Outfits and Hairstyles: Clothes for running errands, hanging out, or working out—there are lots of styles for all your Sims' fashion needs.


Online Notice:
INTERNET CONNECTION, ONLINE AUTHENTICATION, ACCEPTANCE OF END USER LICENSE AGREEMENT, AND LATEST THE SIMS 3 PATCH UPDATE REQUIRED TO PLAY THE SIMS 3 DIGITAL DOWNLOAD PRODUCT. ACCESS TO ONLINE SERVICES INCLUDING SIMPOINTS AND DOWNLOADS REQUIRES AN INTERNET CONNECTION, EA ACCOUNT AND GAME REGISTRATION WITH THE PROVIDED ONE-TIME USE SERIAL CODE. REGISTRATION IS LIMITED TO ONE EA ACCOUNT PER SERIAL CODE AND IS NON-TRANSFERABLE. EA ONLINE PRIVACY POLICY AND TERMS OF SERVICE CAN BE FOUND AT www.ea.com. YOU MUST BE 13+ TO REGISTER FOR AN EA ACCOUNT. MAC USERS MUST UPDATE TO THE LATEST VERSION OF THE SIMS 3 LAUNCHER TO ACCESS ONLINE SERVICES, INCLUDING SIMPOINTS AND DOWNLOADS. [Manual only: EA MAY PROVIDE CERTAIN INCREMENTAL CONTENT AND/OR UPDATES FOR NO ADDITIONAL CHARGE, IF AND WHEN AVAILABLE.] THE SIMS 3 DIGITAL DOWNLOAD PRODUCT USES SECUROM DIGITAL RIGHTS MANAGEMENT TECHNOLOGY PROVIDED BY SONY DADC AUSTRIA AG. FOR MORE INFORMATION ABOUT SECUROM, VISIT HTTP:/FAQ.SECUROM.COM/. GAME CAN BE PLAYED ON UP TO FIVE COMPUTERS AT THE SAME TIME; USERS CAN MANAGE WHICH COMPUTERS ARE AUTHORIZED OR DE-AUTHORIZED TO PLAY GAME. VISIT http://activate.ea.com/deauthorize/ FOR MORE INFORMATION ON DE-AUTHORIZATION. INCLUDES SOFTWARE THAT COLLECTS DATA ONLINE NECESSARY TO PROVIDE AND ACTIVATE IN-GAME ADVERTISING FOR ALL THE SIMS 3 PRODUCTS PREVIOUSLY OR HEREAFTER INSTALLED.
EA MAY RETIRE ONLINE FEATURES AFTER 30 DAYS NOTICE POSTED ON www.ea.com/2/service-updates.
Er zijn nog geen openbare recensies voor dit product
Je kunt je eigen recensie voor dit product schrijven om je ervaring met de community te delen. Gebruik het gebied boven de aankoopknoppen op deze pagina om je recensie te schrijven.
Titel:
The Sims™ 3 Town Life Stuff
Genre:
Simulatie
Ontwikkelaar:
The Sims Studio
Uitgever:
Electronic Arts
Releasedatum:
29 jul 2011
Talen:
| | Interface | Spraak | Ondertiteling |
| --- | --- | --- | --- |
| Nederlands | | | |
| Tsjechisch | | | |
| Deens | | | |
| Engels | | | |
| Fins | | | |
| Frans | | | |
| Duits | | | |
| Hongaars | | | |
| Italiaans | | | |
| Noors | | | |
| Pools | | | |
| Portugees | | | |
| Russisch | | | |
| Spaans | | | |
| Zweeds | | | |
Alle 15 ondersteunde talen weergeven