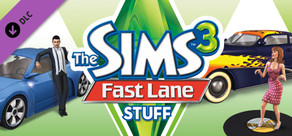 This content requires the base game The Sims™ 3 on Steam in order to play.

Release Date: Sep 7, 2010
Watch HD video
Downloadable Content
This content requires the base game The Sims™ 3 on Steam in order to play.
About the Game
Shift gears and take your Sims for a spin with The Sims 3 Fast Lane Stuff. For the first time ever in a stuff pack, your Sims can get new cars along with furnishings, décor, and apparel in four distinct vehicle-themed lifestyles. Will your Sims embody the speed demon way of life? Or cruise in classic luxury automobiles with the top down? Will they rebel against the establishment in pin-up girl dresses and rockabilly tough guy attire? Or pursue a life of intrigue with spy-themed, sexy apparel and automobiles? Whatever their lifestyle, The Sims 3 Fast Lane Stuff takes your Sims on the rides of their lives!
Key features:
Give your Sims the rides they've always dreamed of—and the lifestyles that go with them.
Enjoy four all-new styles of fashions, furnishings, and vehicles: Racing, Intrigue, Rockabilly, and Classic Luxury.
Create the ultimate garage to house your Sim's professional race car or hot rod.
Deck out your Sim's house in luxurious accessories to match their sleek new, luxurious rides.
Online Disclaimer:
INTERNET CONNECTION AND ACCEPTANCE OF END USER LICENSE AGREEMENT REQUIRED TO PLAY THE SIMS 3 DIGITAL DOWNLOAD PRODUCT. ACCESS TO ONLINE SERVICES REQUIRES AN INTERNET CONNECTION, EA ACCOUNT AND GAME REGISTRATION WITH THE PROVIDED ONE-TIME USE SERIAL CODE. REGISTRATION IS LIMITED TO ONE EA ACCOUNT PER SERIAL CODE AND IS NON-TRANSFERABLE. EA ONLINE PRIVACY POLICY AND TERMS OF SERVICE CAN BE FOUND AT www.ea.com. YOU MUST BE 13+ TO REGISTER FOR AN EA ACCOUNT. MAC USERS MUST UPDATE TO THE LATEST VERSION OF THE SIMS 3 LAUNCHER TO ACCESS ONLINE SERVICES, INCLUDING SIMPOINTS AND DOWNLOADS. INCLUDES SOFTWARE THAT COLLECTS DATA ONLINE NECESSARY TO PROVIDE AND ACTIVATE IN-GAME ADVERTISING FOR ALL THE SIMS 3 PRODUCTS PREVIOUSLY OR HEREAFTER INSTALLED.
EA MAY RETIRE ONLINE FEATURES AFTER 30 DAYS NOTICE POSTED ON www.ea.com/2/service-updates.
System Requirements
OS: Windows XP SP2, Windows Vista SP1 or Windows 7
Processor: (XP) 2.0 GHz P4 processor or equivalent; (Vista and Windows 7) 2.4 GHz P4 processor or equivalent
Memory: (XP) 1 GB RAM; (Vista and Windows 7) 1.5 GB RAM
Graphics: A 128 MB Video Card with support for Pixel Shader 2.0
DirectX®: 9.0c
Hard Drive: At least 250 MB of free space (6.4 GB if installing with The Sims 3)with at least 1 GB additional space for custom content and saved games.
Sound:
Supported Video Cards: Nvidia GeForce series: FX5900 or greater, G100, GT 120, GT 130, GTS 150, GTS 250, GTX 260, GTX 275, GTX 280, GTX 285, GTX 295; ATI Radeon™ series: ATI Radeon 9500 series of greater, X300, X600, X700, X800, X850, X1300, X1600, X1800, X1900, X1950, 2400, 2600, 2900, 3450, 3650, 3850, 3870, 4850, 4870, 4890 series or greater; Intel® Graphics Media Accelerator (GMA): GMA 3-Series, GMA 4-Series Laptop versions of these chipsets may not work, but may run comparatively slower. Please note that the GMA 950 class of integrated video cards, and the GeForce 6100 and 7100 cards are not supported.(NVIDIA GeForce FX series is unsupported under Vista.) For computers using built-in graphics chipsets the game requires at least : Intel Integrates Chipset, GMA 3-Series or above, 2.6 GHz Pentium D CPU, or 1.8 GHz Duo, or equivalent and 0.5 GB additional RAM.
There are no public reviews for this product yet
You can write your own review for this product to share your experience with the community. Use the area above the purchase buttons on this page to write your review.
Title:
The Sims™ 3 Fast Lane Stuff
Genre:
Simulation
Developer:
The Sims Studio
Publisher:
Electronic Arts
Release Date:
Sep 7, 2010
Languages:
| | Interface | Full audio | Subtitles |
| --- | --- | --- | --- |
| English | | | |
| Czech | | | |
| Danish | | | |
| Dutch | | | |
| Finnish | | | |
| French | | | |
| German | | | |
| Hungarian | | | |
| Italian | | | |
| Polish | | | |
| Portuguese | | | |
| Russian | | | |
| Spanish | | | |
| Swedish | | | |
See all 14 supported languages