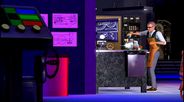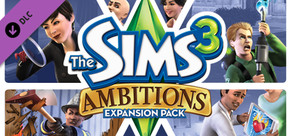 This content requires the base game The Sims™ 3 on Steam in order to play.

Release Date: Jun 2, 2010
Watch HD video
Downloadable Content
This content requires the base game The Sims™ 3 on Steam in order to play.
About the Game
Product description: Widen your Sim's horizons with a bunch of killer new career opportunities. With
The Sims™ 3 Ambitions
, decide whether your Sim will be the brave town hero or cause loads of mischief among their neighbors. Make your Sim save the day as a brave firefighter, change the town as a leading architect, or live on the edge as a tattoo artist. Will your Sim find success as a billionaire high-tech inventor or eke out a living as a bumbling mad scientist? Will they uncover secrets as a private investigator by dusting for prints or roughing up a suspect for information? Their future is entirely in your hands!
Key features:
For the first time ever, you control your Sim's actions and interactions while they're on the job.
Be a hero or mess with the neighbors as a firefighter, private investigator, doctor, ghost hunter, and more!
Choose how your Sim's career progresses—will they work for good or evil, pursue creative endeavors, rise to success as a mogul, or shirk responsibility as a slacker?
Your Sim's on-the-job choices now change their town and affect other Sims as well. Modify the town's structure as an architect or set neighborhood fashions as a stylist.
Enjoy all-new skills and activities! Master the arts of inventing, sculpting, and tattooing, and use your skills to earn Simoleons.
Online Disclaimer:
INTERNET CONNECTION AND ACCEPTANCE OF END USER LICENSE AGREEMENT REQUIRED TO PLAY THE SIMS 3 DIGITAL DOWNLOAD PRODUCT. ACCESS TO ONLINE SERVICES REQUIRES AN INTERNET CONNECTION, EA ACCOUNT AND GAME REGISTRATION WITH THE PROVIDED ONE-TIME USE SERIAL CODE. REGISTRATION IS LIMITED TO ONE EA ACCOUNT PER SERIAL CODE AND IS NON-TRANSFERABLE. EA ONLINE PRIVACY POLICY AND TERMS OF SERVICE CAN BE FOUND AT www.ea.com. YOU MUST BE 13+ TO REGISTER FOR AN EA ACCOUNT. MAC USERS MUST UPDATE TO THE LATEST VERSION OF THE SIMS 3 LAUNCHER TO ACCESS ONLINE SERVICES, INCLUDING SIMPOINTS AND DOWNLOADS. INCLUDES SOFTWARE THAT COLLECTS DATA ONLINE NECESSARY TO PROVIDE AND ACTIVATE IN-GAME ADVERTISING FOR ALL THE SIMS 3 PRODUCTS PREVIOUSLY OR HEREAFTER INSTALLED.
EA MAY RETIRE ONLINE FEATURES AFTER 30 DAYS NOTICE POSTED ON www.ea.com/2/service-updates.
System Requirements
OS: Windows XP SP2, Windows Vista SP1 or Windows 7
Processor: (XP) 2.0 GHz P4 processor or equivalent; (Vista and Windows 7) 2.4 GHz P4 processor or equivalent
Memory: (XP) 1 GB RAM; (Vista and Windows 7) 1.5 GB RAM
Graphics: A 128 MB Video Card with support for Pixel Shader 2.0
DirectX®: 9.0c
Hard Drive: At least 2.8 GB of free space (8.9 GB if installing with The Sims 3)with at least 1 GB additional space for custom content and saved games.
Sound:
Supported Video Cards: Nvidia GeForce series: FX5900 or greater, G100, GT Series, GTS Series, GTX Series; ATI Radeon™ series: ATI Radeon 9500 series of greater, X300, X600, X700, X800, X850, X1300, X1600, X1800, X1900, X1950, 2400, 2600, 2900, 3450, 3650, 3850, 3870, 4850, 4870, 4890 series or greater; Intel® Graphics Media Accelerator (GMA): GMA 3-Series, GMA 4-Series
*Please note that the GeForce 6100 and 7100 cards are not supported
There are no public reviews for this product yet
You can write your own review for this product to share your experience with the community. Use the area above the purchase buttons on this page to write your review.