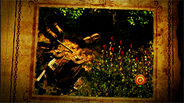 Vaga por el denso follaje de Sherwood, enfréntate cara a cara con el problema de la realeza y lucha contra las fuerzas del Príncipe Juan al tomar el papel del legendario noble, Robin Hood.
Fecha de lanzamiento: 1 Nov 2002
Ver vídeo en alta definición
Análisis
"El juego lo tiene todo: el exuberante entorno creará la atmósfera perfecta de la Inglaterra medieval, y si añadimos lo bien animados que están los personajes, esto hará que te sientas parte de las aventuras de Robin Hood".
87% – ActionTrip
"…un juego absorbente al que los amantes de la estrategia estarán jugando durante algún tiempo".
87% – Gamespy
"Una agradable excursión por un momento histórico. Robin Hood ofrece un combate táctico sólido y unas preciosas animaciones".
85% – GameZone
Acerca del juego
Inglaterra, año de Nuestro Señor de 1190. Ricardo "Corazón de León" está cautivo y su hermano, el Príncipe Juan, gobierna a los campesinos con mano de hierro utilizando la fuerza bruta de las armas para someterlos a su autoridad. Sólo un hombre lucha contra los opresores, ayudado por una pequeña banda de valientes y fieles seguidores. Su nombre es Robin Hood.
Vaga por el denso follaje de Sherwood, enfréntate cara a cara con los problemas Reales y con las fuerzas del Príncipe Juan en el papel del legendario noble Robin Hood. Alíate con Pequeño Juan y el resto de los Hombres Felices, pues la batalla por el trono del Rey está asegurada en este juego de sigilo y estrategia en tiempo real.
Características Principales:
Campaña no lineal con más de 30 misiones diferentes

Variados tipos de misión, desde Robo e Infiltración hasta Ataque al Castillo y Emboscada

Combina acción y aventuras con elementos de sigilo táctico

Innovador sistema de combate, interactúa con el ratón mientras peleas para acceder a las habilidades especiales de combate

Juega como Robin Hood, Pequeño Juan, el Fraile Tuck o incluso Lady Marian, nueve personajes en total, cada uno con sus atributos y habilidades específicos

Espectaculares gráficos con condiciones atmosféricas reales como día, noche y niebla

Explora lugares históricos como el Bosque de Sherwood, el Castillo de Nottingham, York y muchos más
Requisitos del sistema
SO: Windows® XP / Vista™ / Windows® 7

Procesador: 1.0 GHz

Memoria: 512 MB de RAM

Disco Duro: 1 GB de espacio libre

Gráficos: Gráfica con 64 MB de memoria dedicada

Sonido: Dispositivo compatible con DirectX 9.0c

Versión de DirectX®: 9.0c
Las gráficas nVidia GTX 580, GTX 260 y GTS 250 no están soportadas.
2011 © Meridian4. All rights reserved. Robin Hood – The Legend of Sherwood is a trademark of Spellbound and Anuman. All rights reserved. All other trademarks and copyrights are the properties of their respective owners.
Análisis útiles de usuarios