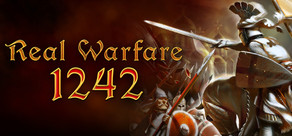 Real Warfare: 1242, is a realistic real-time strategy game based on authentic historic events.
Releasedatum: 11 jun 2010
Pakketten die deze game bevatten
1C War Games Collection kopen
Bevat 9 items: Men of War™, XIII Century – Gold Edition, Men of War: Red Tide, Theatre of War, Theatre of War 2: Africa 1943, Theatre of War 3: Korea, Men of War: Vietnam, Real Warfare 2: Northern Crusades, Real Warfare 1242
16 juni 2014
A small gift for our German customers.
4 opmerkingen
Meer informatie
Info over het spel
Russia during the XIII century was a huge state, much larger than any other European country. Split by internal conflicts, and yet standing strong against numerous outer threats, it was attacked by the infamous Mongol Horde. They came suddenly and pierced through the country like a blazing arrow. The native people fought valiantly, led by a fierce warrior and prince, Prince Alexander Nevsky. Real Warfare: 1242, is a realistic real-time strategy game based on authentic historic events. It invites you to experience the glorious times of princes, knights and vast battles.
The player's goal is to direct Alexander Nevsky through meticulously recreated historic battlegrounds and achieve the greatest of victories by repelling the attacks of Teutonic and Swedish knights, bringing Lithuania to peace and eliminating every single invader in 1242.
Key features:
The engine incorporates state-of-the-art technologies used in real-time strategy titles

Vivid, lifelike real-time graphics

Carefully maintained historic realia

Vast territories to conquer and control

Significant level of depth and in-game freedom

Improved unit animation (with the transition to motion capture)

Systeemeisen
Besturingssysteem: Microsoft® Windows® XP SP2 / Vista SP2 / 7

Processor: Intel® Pentium 2.0 GHz of AMD Athlon 2000+

Geheugen: 512 MB RAM

Schijfruimte: 3 GB vrije ruimte

Videokaart: 100% DirectX 9.0c-compatibel - (AMD): Radeon 9200 of (Nvidia): Geforce 7300

Geluidskaart: DirectX® 9.0c-compatibel

DirectX®: DirectX® 9.0c
Operating system: Microsoft® Windows® XP SP2 / Vista SP2 / 7 SP1

Processor: Intel® Core 2 Duo 1.6 GHz or AMD Athlon 3000+

Memory: 1.5 Gb

Hard disk space: 3 Gb free hard disk space

Video: (AMD): Radeon X 1900 - (Nvidia): Geforce 8800

Sound: DirectX® compatible

DirectX®: DirectX® 9.0c


Internet Internet and LAN (TCP/IP) multiplayer supported, broadband Internet connection required for Internet multiplayer (at least 128Kb/s).
© 2011 1С Company. All rights reserved. Developed by Unicorn Games.
Nuttige klantrecensies
55 van de 63 mensen (87%) vonden deze recensie nuttig
135 producten op account
6 recensies
4.5 uur in totaal
Very solid strategy title.
Good unit variety, in depth unit stats and statistic effects from combat, challenging and varied battles bought to you in great graphical detail.
Very surprised with the quality of this game, I am really enjoying it and definitely recommend it for fans of strategy games set in this Era.
Titel:
Real Warfare 1242
Genre:
Strategie
Ontwikkelaar:
Unicorn Games Studio
Uitgever:
1C Company
Releasedatum:
11 jun 2010
Talen:
| | Interface | Spraak | Ondertiteling |
| --- | --- | --- | --- |
| Engels | | | |
| Russisch | | | |
| Duits | | | |