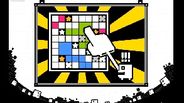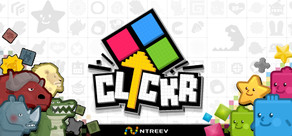 クリック、ターニングそして四つのブロックをマッチングする!スマートでスピード感のあるパズルアクションを楽しめる! 「Clickr」はPangyaやTricksterを手かけたNtreevSoftスタジオが開発した次世代のゲーム! 2010年に Independent Games Festival に参加し、DIY Gamerから「Top 10 Break Out Indie Games of 2010」に受賞されたゲームである。
リリース日: 2010年12月23日
高画質版を見る
8月21日
Zero Rock Entertainment and Ntreev Soft are happy to announce the availability of Clickr in Brazil!

This newly added region now makes Clickr a globally distributed title on Steam.

Thank you for your continued support and interest in the game!
7 件のコメント
詳細を見る
レビュー
"If you're a puzzle gamer or even just a casual gamer who likes to play a bit of Bejeweled, give this one a look, as all the elements come together here to create a unique and, more importantly, worthwhile experience."
8.5/10 – Harry Hughes, MMGN

"Clickr is charmingly addictive, and gets better the longer you play it, as you brain works it all out better and gets nippy at finding those combos."
Michael Rose, IndieGames

"In terms of design and presentation, I got a kick out of the weird, annoying "It's A Small World"-on-crack music and SFX, the smooth vectors graphics and sugary Harajuku animation. Don't have much to complain about."
4/5 – Indie Game Freak, Indie Game Reviewer

ゲームについて
クリック、ターニングそして四つのブロックをマッチングする!スマートでスピード感のあるパズルアクションを楽しめる!
「Clickr」はPangyaやTricksterを手かけたNtreevSoftスタジオが開発した次世代のゲーム!
2010年に Independent Games Festival に参加し、DIY Gamerから「Top 10 Break Out Indie Games of 2010」に受賞されたゲームである。
キーフィーチャー
4つのゲームメインモード:パズル、バトル、プッシそれから 色々なサーブモードがあるIQのモードやミッション

マルチプレイモード:バトルとプッシモードに一代一のマッチ対戦

3つのユニークなテーマ:ベーシック、アフリカそれからゾンビテーマなど色んなキャラクターやエフェクツ、スキン、サウンドを提供!

70回以上のスチームアチーブメント

追加フィーチャー:チュートリアル、 左利きのコントロールそしてグロ-バルなリーダーボード
システム要件
Minimum
OS: Windows 2000/XP/Vista/7
Processor: 1.4 GHZ Single Core or higher
Memory: 512 MB RAM or higher
Graphics: DirectX 9 GPU w/64 MB VRAM
Screen Resoltion: 1024x768 or higher
Hard Drive: 415 MB available disk space
Sound: DirectSound compatible sound card
© 2010-2014 Zero Rock Entertainment and Ntreev Soft.
Developed by Ntreev Soft. Clickr is a registered trademark of Ntreev Soft.
All other trademarks are property of their respective owners. All rights reserved.
参考になったカスタマーレビュー
タイトル:
Clickr
ジャンル:
カジュアル
,
独立系開発会社
開発元:
Ntreev Soft Co., Ltd.
パブリッシャー:
Zero Rock Entertainment
リリース日:
2010年12月23日
言語:
| | インターフェース | 吹き替え | 字幕 |
| --- | --- | --- | --- |
| English | | | |
受賞リスト
Top 10 Break Out Indie Games of 2010 - DIYGamer