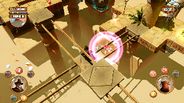 Kokonaan uusi lisäsisältö, Retro Fever, nyt saatavilla!
Julkaisupäivä: 31 toukokuu(ta) 2011
Katso HD-video
Huomautus: Hamilton's Great Adventure tukee vain Windows Vista ja Windows 7 -käyttöjärjestelmiä.
Osta Hamilton's Great Adventure
Tämän pelin lisäsisältö
Arvostelut
"I was supposed to be crossing the 20-hour mark in Deus Ex: Human Revolution yesterday afternoon and yet, I found myself playing a downloadable game called Hamilton's Great Adventure. That should say something."
8.2/10 – PSXExtreme
"It sets a few new standards for the puzzle-genre and has the ability to leave you speechless because it doesn't meet your expectations but outnumbers them!"
81% – GAMINGXP
"A blend of third-person platformer and unforgiving puzzle that pulls you in with impeccable logic - then spits you out, entertained"
84% – PSM3 Magazine UK
Tietoja pelistä
Hamilton's Great Adventure puts your problem solving and timing skills to the test. Outsmart the enemies, rush through the levels and collect all the bling to ensure your place on the leaderboards.
In single player, switch between Hamilton and Sasha the bird to get through more than 60 challenging levels, or play the game in offline co-op mode and control one character each! The game supports both keyboard/mouse and game pads.
The increasing difficulty will keep even the most seasoned gamers on their toes and only the players with Mad Skillz will make it to the end. Will you be one of the select few in the world to complete the Toader level 100%?
Key Features:
Highly addictive puzzle adventure!

Embark on a fantastic journey & unravel an ancient mystery!

Puzzle solo or take a friend along on the adventure with simultaneous hotseat coop!

Järjestelmävaatimukset
Käyttöjärjestelmä: Windows Vista / Windows 7

Prosessori: Tuplaytiminen 2.4GHz:n prosessori

Muisti: 2Gt

Kiintolevy: 1Gt

Näytönohjain: Shader 4.0 -yhteensopiva näytönohjain (vähittäisvaatimus: Nvidia GeForce 8xxx, AMD Radeon 2xxx)

DirectX®: Direct3D 11
©Fatshark AB. 2011 ALL RIGHTS RESERVED.
Hyödylliset arvostelut