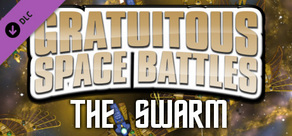 Krever hovedspillet Gratuitous Space Battles i Steam for å kunne spilles.

Utgivelsesdato: 19 Mai 2010
Se HD-video
Kjøp Gratuitous Space Battles: The Swarm
Pakker som inkluderer dette spillet
Kjøp Gratuitous Space Battles - Complete Pack
Inkluderer 6 objekter: Gratuitous Space Battles, Gratuitous Space Battles: The Tribe, Gratuitous Space Battles: The Order, Gratuitous Space Battles: The Swarm, Gratuitous Space Battles: The Nomads, Gratuitous Space Battles: Galactic Conquest
Om spillet
Pack up your spacesuits and head for the exits. Your time in this galaxy is over. The swarm is on the way. They are heading towards us, and like the tide, they cannot be stopped. Your lasers and missiles may destroy the first wave, but that is the first of many. There seems to be no end to their numbers and they will never give up. The swarm have no home to retreat to, no territory to fall back to. They will attack in wave after wave with suicidal determination. There can be no negotiation, we must flee. THE SWARM are upon us.
Key Features:
A whole new race for Gratuitous Space Battles
10 new ships
New ship bonuses
New weapons types (Fusion Guns, Disruptor beams, Smart Bombs)
2 new scenarios to play single player or online
Systemkrav (PC)
OS: Windows XP, Vista or 7
Processor: 1.5 GHZ
Memory: 1 GB
Graphics: 3D card with 128 MB Memory
DirectX®: 9.0c
Hard Drive: 300 MB
Sound: Any
Other Requirements:
Systemkrav (MAC)
OS: OS X version Leopard 10.5.8, Snow Leopard 10.6.3, or later.
Processor: Intel 1 Ghz
Memory: 512 MB
Graphics: 32MB video card
Hard Drive: 75 MB
Det finnes ingen offentlige anmeldelser av dette produktet enda
Du kan skrive din egen anmeldelse for å dele din erfaring med samfunnet. Bruk området over kjøpeknappene på denne siden for å skrive din anmeldelse.
Tittel:
Gratuitous Space Battles: The Swarm
Sjanger:
Strategi
,
Indie
,
Simulering
Utvikler:
Positech Games
Utgiver:
Positech Games
Utgivelsesdato:
19 Mai 2010
Språk:
| | Grensesnitt | Full lyd | Teksting |
| --- | --- | --- | --- |
| Engelsk | | | |