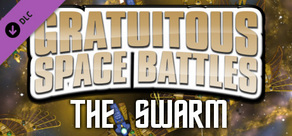 Om dit spel te kunnen spelen moet je het originele spel Gratuitous Space Battles hebben.

Releasedatum: 19 mei 2010
HD-video bekijken
This item does not have support for your local language. Please review the supported language list before purchasing
Gratuitous Space Battles: The Swarm kopen
Pakketten die deze game bevatten
Gratuitous Space Battles - Complete Pack kopen
Bevat 6 items: Gratuitous Space Battles, Gratuitous Space Battles: The Tribe, Gratuitous Space Battles: The Order, Gratuitous Space Battles: The Swarm, Gratuitous Space Battles: The Nomads, Gratuitous Space Battles: Galactic Conquest
Info over het spel
Pack up your spacesuits and head for the exits. Your time in this galaxy is over. The swarm is on the way. They are heading towards us, and like the tide, they cannot be stopped. Your lasers and missiles may destroy the first wave, but that is the first of many. There seems to be no end to their numbers and they will never give up. The swarm have no home to retreat to, no territory to fall back to. They will attack in wave after wave with suicidal determination. There can be no negotiation, we must flee. THE SWARM are upon us.
Key Features:
A whole new race for Gratuitous Space Battles
10 new ships
New ship bonuses
New weapons types (Fusion Guns, Disruptor beams, Smart Bombs)
2 new scenarios to play single player or online
Systeemeisen (PC)
OS: Windows XP, Vista or 7
Processor: 1.5 GHZ
Memory: 1 GB
Graphics: 3D card with 128 MB Memory
DirectX®: 9.0c
Hard Drive: 300 MB
Sound: Any
Other Requirements:
Systeemeisen (Mac)
OS: OS X version Leopard 10.5.8, Snow Leopard 10.6.3, or later.
Processor: Intel 1 Ghz
Memory: 512 MB
Graphics: 32MB video card
Hard Drive: 75 MB
Er zijn nog geen openbare recensies voor dit product
Je kunt je eigen recensie voor dit product schrijven om je ervaring met de community te delen. Gebruik het gebied boven de aankoopknoppen op deze pagina om je recensie te schrijven.
Titel:
Gratuitous Space Battles: The Swarm
Genre:
Strategie
,
Indie
,
Simulatie
Ontwikkelaar:
Positech Games
Uitgever:
Positech Games
Releasedatum:
19 mei 2010
Talen:
| | Interface | Spraak | Ondertiteling |
| --- | --- | --- | --- |
| Engels | | | |