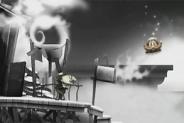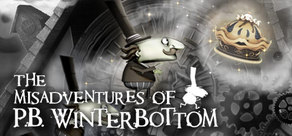 Enter a macabre and comical silent world filled with mischief, time travel and delicious pie. Includes Steam Achievements, Cloud, and Leaderboards!
Releasedatum: 20 apr 2010
HD-video bekijken
Recensies
"The game stands alone when compared to other highly acclaimed downloadable titles, due in large part to the game's devious puzzle design, entertaining writing, and striking artistic style." - Game Informer Magazine
"Satisfying with a near-perfect consistency throughout." – Destructoid, 95 out of 100
"The Misadventures of P.B. Winterbottom's creative challenges play with your emotions, deftly alternating between making you feel like a genius and an absolute buffoon." - GamePro, 90 out of 100
 
Info over het spel
Creëer je eigen paradox... voor de liefde van gebak
Treed een macabere en komische stille wereld binnen die gevuld is met ondeugendheid, reizen door de tijd en heerlijk gebak. Neem jezelf op en gebruik je vermogen om de tijd te buigen om met jezelf uit het verleden, het heden en de toekomst samen te werken, te concurreren en te onderbreken. De ongelukkige avonturen van Winterbottom geven een wispelturige draai aan de noties van tijd, ruimte en spel.
Ga mee met Winterbottom op zijn prijswinnende debuut Misadventures terwijl hij door meer dan 80 unieke puzzels reist. Winterbottom veroorzaakt onheil en chaos terwijl hij de mysterieuze en moeilijk te pakken Chronoberry Pie achtervolgt op zijn spectaculaire tocht door ruimtetijd.
Systeemeisen
Minimum:


OS: Windows® XP (Service Pack 1 or higher) / Vista / 7

Processor: Intel Pentium 4 @ 2.0 GHZ processor or equivalent

Memory: 512 MB on XP, 768 MB on Vista/7

Graphics: DirectX® 9.0c-compatible 128 MB video card with Shader Model 2.0, GeForce 6200 or better, Radeon X1300 or better

DirectX®: DirectX® 9.0c

Hard Drive: 500 MB Free

Sound: DirectX® 9.0c compatible

Recommended:


OS: Windows® XP (Service Pack 1 or higher) / Vista / 7

Processor: Intel Core 2 Duo E6420 Dual Core 2.13Ghz or equivalent

Memory: 1.0 GB on XP, 1.5 GB on Vista/7

Graphics: GeForce 7800 GT or Radeon HD3600

DirectX®: DirectX® 9.0c

Hard Drive: 500 MB Free

Sound: DirectX® 9.0c compatible

Nuttige klantrecensies