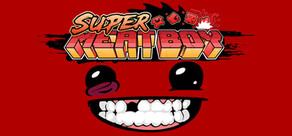 The infamous, tough-as-nails platformer comes to Steam with a playable Head Crab character (Steam-exclusive)!
Releasedatum: 30 nov 2010
HD-video bekijken
Pakketten die deze game bevatten
Indie Game The Movie Bundle kopen
Bevat 5 items: Braid, Super Meat Boy, Indie Game: The Movie, FEZ, Indie Game: The Movie Special Edition DLC
Info over het spel
Super Meat Boy is een supermoeilijke platformer waarin je speelt als een levende kubus vlees die z'n vriendin (die toevallig uit verband bestaat) probeert te redden van een kwaadaardige foetus in een pot met een smoking aan.
Onze vlezige held zal van muren, over zeeën van cirkelzagen, door instortende grotten en bakken vol oude injectienaalden springen. Hij zet zijn eigen gezondheid op het spel om z'n vriendin te redden. Super Meat Boy brengt de moeilijkheid van klassieke NES-titels als Mega Man 2, Ghost and Goblins en Super Mario Bros. 2 (de Japanse versie) en stroomlijnt ze tot essentieel, geen-nonsens, simpel, zenuw-reflexplatforming.
Omhooggaand in moeilijkheid van uitdagend tot zielvernietigend zal SMB Meat boy door bespookte ziekenhuizen, zoutfabrieken en zelfs de hel slepen. En alsof meer dan 300 singleplayerlevels niet genoeg zijn, gooit SMB ook nog eens epische baasgevechten, een leveleditor en tonnen aan ontgrendelbare geheimen, warpzones en verborgen karakters in de mix.
Verhaalmodus, met meer dan 300 levels verdeeld over meer dan 5 hoofdstukken

Speel als een Head Crab! (Steam-exclusief)

33 legitieme prestaties

Warpzones die je andere spellen in warpen

Meer dan 16 ontgrendelbare en speelbare karakters uit populaire onafhankelijke titels, zoals Minecraft, Bit.Trip, VVVVVV en Machinarium

Epische baasgevechten

Volledige leveleditor en levelportaal (januari 2011)

Een verhaal zo aangrijpend dat je je de rest van je leven in slaap huilt
Systeemeisen (PC)
OS: Microsoft® Windows® XP / Vista / 7 (Windows 8 is not officially supported)

Processor: 1.4GHz or faster

Memory: 1 GB RAM

Graphics: Graphics Card made within the last 4 years (Pixel Shader 3.0, Vertex Shader 3.0)

DirectX®: DirectX® 9.0c

Hard Drive: 300 MB

Controller Support: Microsoft Xbox 360 Controller or Direct Input compatible controller

Systeemeisen (Mac)
OS: 10.7 through 10.9 have been tested.

Processor: Intel based Macs only.

Memory: 1 GB RAM

Graphics: Graphics Card made within the last 4 years (Pixel Shader 3.0, Vertex Shader 3.0)

Hard Drive: 300 MB

Controller Support: Microsoft Xbox 360 Controller or Direct Input compatible controller

Systeemeisen Linux
OS: If you're running the Steam client, you're good

Processor: 1.4GHz or faster

Memory: 1 GB RAM

Graphics: Graphics Card made within the last 4 years (Pixel Shader 3.0, Vertex Shader 3.0)

Hard Drive: 300 MB

Controller Support: Microsoft Xbox 360 Controller or Direct Input compatible controller

Nuttige klantrecensies