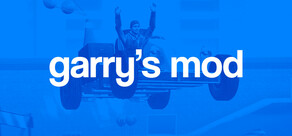 Garry's Mod är en fysiklekstuga. TIll skillnad från vanliga spel finns det inga förbestämda mål här. Vi ger dig verktygen och låter dig leka med dem. Du hittar på grejer, svetsar ihop delar och skapar egna apparater – det kan vara en bil, en raket, en katapult eller en manick som inte har något namn än.
Utgivningsdatum: 29 Nov 2006
Paket som innehåller detta spel
Köp Counter-Strike: Source + Garry's Mod
Innehåller 2 saker: Counter-Strike: Source, Garry's Mod
4 April 2014
Here are a few quick fixes for the issues introduced by yesterday's update. Servers will need to be restarted.
Some known issues remain and will be addressed next week.


TTT: Fixed ironsights being broken due to changes from last update

Fixed .mp3 and .ogg playback becoming very expensive due to changes from last update

Fixed Father Grigori not being the king of animals

Entity:FireBullets no longer inflicts ammo-specific damage if the damage is 0 unless an ammo type is explicitly specified

IGModAudioChannel:SetTime now prints a warning if it is called on a non block streamed channel

Added IGModAudioChannel:IsBlockStreamed
126 kommentarer
Läs mer
3 April 2014
Due to character limits, the list below does not include changes contributed by the community.
The full changelog can be found here.

FIXES

Fixed viewmodel bobbing snapping when jumping or noclipping

Fixed flashlight getting duplicated when receiving a full packet update

Fixed spawnicons not always regenerating at the correct resolution when resized

Fixed lamps projecting backwards!

Fixed gamemode name reported by Steam not being updated after a changelevel

Fixed key bindings not working correctly in the main menu

Fixed GMod decals not working when used on props

Fixed debug textures not being precached

Fixed rendering artifacts when some particle effects are rendered in front of the skybox

Fixed nav files remaining open after loading a map

Fixed shell ejection issues on the HL2 pistol and SMG

Fixed viewmodel jittering when overwriting viewmodel position

Fixed viewmodel prediction errors when switching to thirdperson and back

Fixed sound spam with weapon_rpg when no ammo is left

Fixed jigglebones occasionally snapping into impossible positions when rapidly moving

Fixed keyframe_rope ignoring attachment points

Fixed combine balls not colliding with players

Fixed env_zoom not working at all

Fixed metrocops holding the stunstick going into a T-pose when attacked

Fixed metrocops not turning their stunstick on before attacking

Fixed NPCs not receiving the appropriate amount of damage from HL2 weapons
IMPROVEMENTS
Improved mounting system

sv_kickerrornum now defaults to 0 and its value is now saved to the config file

sv_allowcslua is now saved to the config file

Clientside Lua is now always allowed in singleplayer

Improved some spawn icons

TextEntry panels no longer filter '\t' characters

Restored old damage force behaviour

Singleplayer jump boost from HL2 is now implemented in Lua as a sandbox feature
ADDITIONS
Added clientside convar cl_steamoverlay_pos
LUA SCRIPTING
Fixes


Fixed render.SetStencilWriteMask setting the test mask instead of the write mask

Fixed CLuaEmitter:Finish not freeing the emitter

Fixed util.TableToJSON not encoding floating point values with enough accuracy

Fixed Player:ScreenFade not taking color alpha into account

Fixed GM:GravGunPickupAllowed not preventing the gravity gun from trying to pick up forbidden entities

Fixed GM:GravGunPunt not being called clientside when holding an object

Fixed CSoundPatch:Stop not actually stopping the sound when the game is paused

Fixed memory leak when calling timer.Create on an already existing timer

Fixed surface.GetTextSize ignoring '&'

Fixed the gravity gun and crowbar being removed when dropped using Player:DropWeapon

Partially fixed functions from the render and surface library not writing alpha when drawing on a render target

Fixed Entity:GibBreakClient not taking skin number into account

Fixed Entity:MapCreationID returning different values after a map cleanup

Fixed NEXTBOT:Use not being called

Fixed panels not feeding mousewheel events to their parent if the PANEL:OnMouseWheeled hook is defined

Fixed long-term performance issues with Entity:Remove

Fixed Entity:EnableMatrix not propagating matrix transform to child bones

Fixed an exploit with require, Player:ConCommand and game.ConsoleCommand

Fixed nan and +/-infinity returning a non null terminated string when converted into a string

Fixed Pre/PostDrawOpaqueRenderables receiving incorrect arguments

Fixed file functions not working with file names containing certain special characters

Fixed VMatrix:SetAnglesnot preserving translation and scale

Fixed surface.CreateFont disconnecting clients when an invalid table is passed

Improvements


HTTP requests now accept a "headers" table

game.AddDecal now accepts a string table as its second argument

Entity:IsValid no longer returns true on entities which have been removed during the current frame

Player:LagCompensation should now work in any predicted hook

Changed GM:CalcViewModelView, return a position and an angle to override viewmodel position

vm_origin and vm_angles fields in table returned from GM:CalcView are now deprecated

sound.PlayURL second parameter can now contain the "noblock" flag, which disables streaming in blocks

IGModAudioChannel:Stop now permanently deletes the channel

IGModAudioChannel:SetPos now takes an orientation vector as an optional second argument

Improved command blacklisting for Player:ConCommand and game.ConsoleCommand

sound.Add now accepts a table as its pitch and volume parameters

Moved Vector:__unm from Lua to C

Moved Angle:__unm from Lua to C

Matrix can now take an optional 4x4 table as an argument

Matrices can now be multiplied by vectors

Player:ViewPunchReset first argument is now optional (defaults to 0)

All trace functions from the util library now accept an 'ignoreworld' boolean parameter in their trace data

net.Start now starts an unreliable message if its second argument is true

Changed Entity:DispatchTraceAttack arguments to (dmginfo, traceres, dir)

Additions


Added chat.Open

Added chat.Close

Added render.SetLightmapTexture

Added render.PushRenderTarget

Added render.PopRenderTarget

Added GM:EntityEmitSound

Added NEXTBOT:OnRemove

Added timer.TimeLeft and timer.RepsLeft

Added render.OverrideAlphaWriteEnable

Added render.OverrideColorWriteEnable

Added render.SetWriteDepthToDestAlpha

Added a few requested ACT enums

Added PANEL:OnRemove hook

Removed PANEL:OnDeletion hook

Replaced Entity:GetTextures with Entity:GetMaterials

Added IGModAudioChannel:GetPos

Added IGModAudioChannel:GetVolume

Added IGModAudioChannel:SetTime

Added IGModAudioChannel:Set3DFadeDistance

Added IGModAudioChannel:Get3DFadeDistance

Added IGModAudioChannel:Set3DCone

Added IGModAudioChannel:Get3DCone

Added IGModAudioChannel:GetState

Added IGModAudioChannel:IsLooping

Added IGModAudioChannel:IsOnline

Added IGModAudioChannel:Is3D

Added IGModAudioChannel:GetLength

Added IGModAudioChannel:GetFileName

Added IGModAudioChannel:GetSamplingRate

Added IGModAudioChannel:GetBitsPerSample

Added IGModAudioChannel:GetLevel

Added IGModAudioChannel:FFT

Added IGModAudioChannel:GetPlaybackRate

Added IGModAudioChannel:SetPlaybackRate

Added the GMOD_CHANNEL_* and FFT_* enums

Added sound.GetTable

Added sound.GetProperties

Added GM:StartCommand

Added GM:EntityFireBullets

Added util.GetSurfacePropName

Added system.FlashWindow

VMatrix objects can now be printed to the console

Added VMatrix support for the following operators: ==, ~=, +, -

Added VMatrix:ToTable

Added VMatrix:Set

Added VMatrix:Identity

Added VMatrix:IsIdentity

Added VMatrix:IsRotationMatrix

Added VMatrix:Invert

Added VMatrix:GetRight

Added VMatrix:GetUp

Added VMatrix:SetForward

Added VMatrix:SetRight

Added VMatrix:SetUp

Added VMatrix:GetField

Added VMatrix:SetField

Added VMatrix:SetScale

Added VMatrix:InvertTR

Added VMatrix:GetInverse

Added VMatrix:GetInverseTR

Added VMatrix:GetForward

Added Player:GetCurrentViewOffset

Added Player:SetCurrentViewOffset

Added Entity:AddFlags

Added Entity:RemoveFlags

Added Entity:IsFlagSet

Added FL_* enums

Added Player:GetViewPunchAngles

Added Player:SetViewPunchAngles
234 kommentarer
Läs mer
Om spelet
Garry's Mod är en fysiklekstuga. TIll skillnad från vanliga spel finns det inga förbestämda mål här. Vi ger dig verktygen och låter dig leka med dem.
Du hittar på grejer, svetsar ihop delar och skapar egna apparater – det kan vara en bil, en raket, en katapult eller en manick som inte har något namn än.
Du behöver inte ens vara särskilt bra på att bygga grejer! Det går också sätta massor av olika figurer i fåniga ställningar.
Systemkrav (PC)
Minimum:


Operativsystem: Windows® Vista/XP/2000

Processor: 1.7 GHz-processor

Minne: 512MB RAM

Grafik: DirectX® 8.1 level grafikkort (kräver stöd för SSE)

Hårddisk: 150 MB

Andra krav: Internetanslutning
Rekommenderas:


Processor: Pentium 4-processor (3.0GHz, eller bättre)

Minne: 1GB RAM

Grafik: DirectX® 9-nivå-grafikkort
Systemkrav (MAC)
Minimum: OS X version Leopard 10.5.8, Snow Leopard 10.6.3, 1GB RAM, NVIDIA GeForce 8 eller högre, ATI X1600 eller högre, eller Intel HD 3000 eller högre Mus, Tangentbord, Internetanslutning
Hjälpsamma kundrecensioner
NA
Ingen recension än.
Titel:
Garry's Mod
Genre:
Indie
,
Simuleringar
Utvecklare:
Facepunch Studios
Utgivare:
Valve
Utgivningsdatum:
29 Nov 2006
Språk:
| | Gränssnitt | Fullt ljud | Undertexter |
| --- | --- | --- | --- |
| Engelska | | | |