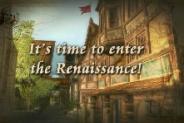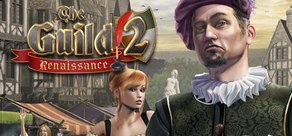 Európa fölött évszázadokon át az egyház és a nemesség uralkodott. A köznép nyakán élősködő nemesi családok és isten szolgái megindokolták jogukat a hatalomhoz és vagyonhoz. Ez volt a kétségbevonhatatlan, szent világrend. Egy valóban sötét korszak… A 14. században a világrend kezd átalakulni.
Megjelenés dátuma: 2010. júl. 28.
Nézd meg a HD videót
The Guild II: Renaissance vásárlása
Stand-Alone version, The Guild II or any of its add-ons are not required to play this game.
Ezt a játékot tartalmazó csomagok
The Guild Collection vásárlása
4 elemet tartalmaz: The Guild II, The Guild II - Pirates of the European Seas, The Guild II Renaissance, The Guild Gold Edition
szeptember 18.
Patch 4.17b Changelog
- Changed AI-money saving behaviour. This has a massive influence on gaming and difficulty!
- Fixed a bug that caused the AI to not buy any title higher than Citizen
- Fixed the OoS occuring in different situations like taking a bath
- AI aggression level slightly increased
- Chances for plague increased slightly on higher difficulty level
- Languages French, Italian and Spanish added
- Slightly changed moneylending system
- Changed AI behaviour: AI should try to save money for specific goals
- Fixed a bug with the new YPR-modes in startmenu
- Changed the market behaviour
- Bugfix for political actions in MP
- Bugfix for changing building names in MP
- Raw material deliveries fixed
- Changing building names is now possible
- It's now possible to choose 1, 2, 3 or 4 years per round. The setting will also be saved when you restart the game.
- Fixed the bug with the additional stock slots at the crypt and the bankhouse
- AI now buys windmills and orchards on all maps
- Fixed the missing icon when demanding ransoms
- Added the one-year-per-round-option for MP also
- Sick people don't visit hospitals that can't cure their illness because the building level is too low anymore
- AI patients leave the hospital after not being treated for 3 hours
- AI patients sit down if a place on a bank gets free
- Reworked the medicus script a bit more
- Cutscenes for trials and office-sessions now start automatically if the camera is in the room
- AI Characters are no longer beamed into the townhall if they don't manage to attend a trial in time
- New measure for listing all buildings for sale added to the townhall
- Medicus AI reacts on amount of sick people and produces the needed medicine
- Chances for plague decreased again in early game
- Fixed the fame exploit when buying a nobility title
- Allied worker don't join fights anymore
- Sermons bring XP now
- Combs/Wooden pins/Fittings problem solved
- Combs can be produced in the high-level joinery
- Mill doesn't stop production when resources are low
- Mushrooms are also available in Vienna now
- Stonelilies are also available in Transylvania now



Patch 4.17b
- KI-Sparverhalten verändert. Hat massiven Einfluss auf den Schwierigkeitsgrad
- Bug gefixt, durch den die KI keine Titel über dem Bürger kaufte teilweise
- OoS im MP bei diversen Aktionen wie gemeinsames Bad nehmen gefixt
- KI-Aggressionslevel leicht erhöht
- Chance für Pest auf höherem Schwierigkeitslevel leicht erhöht
- Sprachen Französisch, Italienisch und Spanisch hinzugefügt
- Leichte Anpassungen am Kredit-System
- Verändertes KI-Verhalten: Die KI spart nun auf bestimmte Ziele hin (Gebäudekauf, Upgrade und Titel)
- Bugfix für das Problem mit den neuen JpR-Modi im Startmenü
- Markt-Verhalten überarbeitet
- Bugfix für dynastiepolitische Aktionen im MP
- Bugfix für Gebäudenamensänderungen im MP
- Bugfix für Rohstofflieferungen im Gildenhaus
- Änderung von Gebäudenamen nun möglich funktioniert, allerdings wird im MP der neue Name nicht bei den anderen Spielern angezeigt.
- Einstellung von Jahren pro Runde auf 1,2,3 und 4 geändert. Einstellung wird gespeichert funktioniert, aber es kann Probleme im Menü nach einem Neustart geben.
- Beim Friedhof und bei der Bank gab es durch Gebäudeerweiterungen zuviele Lagerplätze. Die überschüssigen Lagerplätze wurden entfernt.
- KI kauft jetzt Windmühlen und Obstgärten auf allen Karten
- Problem mit Icon bei Lösegeld forderung behoben
- Ein Jahr pro Runde auch im MP
- Patienten besuchen keine Krankenhäuser mehr, die ihre Krankheit gar nicht heilen können, da die Gebäudestufe zu niedrig ist.
- KI-Patienten verlassen das Krankenhaus, wenn sie 3h lang nicht behandelt wurden, aber Patienten kommen zu schnell wieder
- KI-Patienten setzen sich hin, sobald ein Platz frei wird
- Behandlungsscript des Medicus weiter überarbeitet getestet, ist aber noch nicht optimal
- Gerichts- und Amtsverhandlungen gehen jetzt beim Start automatisch in die Cutscene
- KI-Spieler werden bei Gerichtsverhandlungen nicht mehr ins Rathaus gebeamt
- Measure zur Auflistung von zum Verkauf stehender Gebäude für das Rathaus hinzugefügt
- Medicus-KI reagiert auf Krankheitsaufkommen und produziert benötigte Medizin
- Wahrscheinlichkeit und Ansteckungsgefahr der Pest im frühen Spiel weiter reduziert
- Bug bei Titelkauf behoben, der unabhängig vom Kauf den Reichsruf erhöhte.
- Alliierte Arbeiter greifen nicht mehr in Kämpfe ein
- Das Abhalten von Messen bringt jetzt auch XP
- Kamm/Holzzapfen/Beschläge-Problem gefixt
- Kämme sind nun in der Kunsttischlerei auch tatsächlich herstellbar
- Produktion in Mühle bricht nicht mehr ab, wenn wenig Rohstoffe vorhanden sind
- Pilze sind nun auch in Wien abbaubar
- Steinlilien sind nun auch in Siebenbürgen abbaubar

38 megjegyzés
Tovább
A játékról:
Európa fölött évszázadokon át az egyház és a nemesség uralkodott. A köznép nyakán élősködő nemesi családok és isten szolgái megindokolták jogukat a hatalomhoz és vagyonhoz. Ez volt a kétségbevonhatatlan, szent világrend. Egy valóban sötét korszak…
A 14. században a világrend kezd átalakulni. Az iparnak és kereskedelemnek köszönhetően egyre szélesedő középosztály több és több hatalomhoz és vagyonhoz jut. Egész városok vásárolják meg szabadságukat, és további előjogokat, a nemességtől. Az olvasás és írás többé már nem csak a nemesség és papság kiváltsága, a könyvnyomtatás mestersége pedig előbb-utóbb talán mindenhová eljut. Ez a reneszánsz kezdete...
Jellemzők:
Nyolc teljesen új foglalkozás: zsoldos, sírásó, kőműves, mutatványos, fogadós, bankár, molnár és gyümölcstermesztő
Új árucikkek, épületek, környezeti elemek és hatások
Vadonatúj forgatókönyvek ("Erdély", "A Rajna-völgye" és "Alpok") és nagyobb világtérképek
Fejlesztett MI, rang és nemesi rendszer, valamint új beállítások (pl. "Isteni mérték", nehézségi szintek)
Rendszerkövetelmények
Minimum:

Operációs rendszer: Windows® XP, Vista
Processzor: 2 GHz processzor
Memória: 512 MB RAM
Grafika: DirectX9 kompatibilis videokártya, Pixelshader Model 1.1
DirectX®: DirectX 9.0
Merevlemez: 3.5 GB szabad hely
Hang: DirectX 9.0 kompatibilis hangkártya
Ajánlott:

Operációs rendszer: Windows® XP, Vista
Processzor: 2.8 GHz processzor vagy jobb
Memória: 1 GB RAM
Grafika: DirectX9 kompatibilis videokártya, Pixelshader Model 2
DirectX®: DirectX 9.0
Merevlemez: 3.5 GB szabad hely
Hang: DirectX 9.0 kompatibilis hangkártya
Hasznos vásárlói értékelések