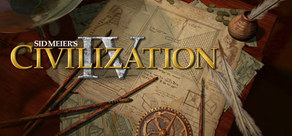 Sid Meier 的 Civilization (文明帝国) 系列在全球已售出六百多万套,并获各地支持者与媒体好评,被视为是史上最经典的电脑游戏系列之一。 现在,Sid Meier 与 Firaxis Games 更把这一款引人入迷的趣味游戏带往另一高峰,在游戏中加入了新的游戏方式、新的胜败条件、新的工具来管理扩张您的文明,并通过全新的方法让 MOD 游戏更简单、多人模式更有趣、选项更多。 Civilization IV 有细致的画面,彷佛活着的 3D 世界,把游戏体验提升至全新的境界。
发行日期: 2005年10月25日
购买 Sid Meier's Civilization IV
含有此游戏的游戏包
关于游戏
Sid Meier 的 Civilization (文明帝国) 系列在全球已售出六百多万套,并获各地支持者与媒体好评,被视为是史上最经典的电脑游戏系列之一。 现在,Sid Meier 与 Firaxis Games 更把这一款引人入迷的趣味游戏带往另一高峰,在游戏中加入了新的游戏方式、新的胜败条件、新的工具来管理扩张您的文明,并通过全新的方法让 MOD 游戏更简单、多人模式更有趣、选项更多。 Civilization IV 有细致的画面,彷佛活着的 3D 世界,把游戏体验提升至全新的境界。 Civilization IV 已被玩家赞为 2005 年十大游戏,是全球玩家一定要尝试的游戏!
系统需求(PC)
最低配置:Windows 2000/XP,1.2GHz Intel Pentium 4 或 AMD Athlon 处理器或同等级,256MB 内存,64MB 显示卡带有硬件 T&L(GeForce 2/Radeon 7500 或更高等级)DirectX7 兼容声卡,1.7GB 可用硬盘空间,DirectX 9.0c(随附)
建议配置:Windows 2000/XP,1.8GHz Intel Pentium 4 或 AMD Athlon 处理器或同等级,512MB 内存,128MB 显示卡支持 DirectX 8(Pixel 与 Vertex Shader),DirectX7 兼容声卡,1.7GB 可用硬盘空间,DirectX 9.0c(随附)
系统需求(MAC)
Recommended:


OS: Mac OS X 10.5.8 or higher

Processor: Intel chipset

CPU Speed: 2.0 GHz

Memory: 512 MB RAM

Hard Disk Space: 3.5 GB free disk space

Video Card: (ATI): Radeon 9600 Video Card (NVidia): GeForce FX 5200

Video Memory: (VRam): 128 MB RAM

Multiplayer: Internet (TCP/IP) and LAN (TCP/IP) play supported. Internet play requires broadband connection.

Media Required: DVD Drive Supported Video cards: NVIDIA GeForce 5200, 6600, 6800, 7800 ATI Radeon 9600, 9650, 9700, 9800, X600, X800, X850, X1600

NOTICE: This game is not supported on volumes formatted as Mac OS Extended (Case Sensitive).
© 2007-2013 Take-Two Interactive Software and its subsidiaries. Developed by Firaxis Games. Sid Meier's Civilization V, Civilization, 2K Games, Firaxis Games, Take-Two Interactive Software and their respective logos are all trademarks and/or registered trademarks of Take-Two Interactive Software, Inc. The ratings icon is a trademark of the Entertainment Software Association. All rights reserved.
有价值的用户评测