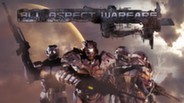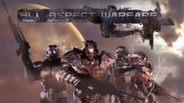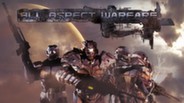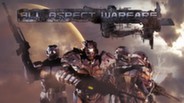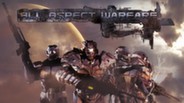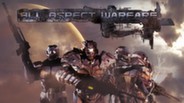 All Aspect Warfare is a thrilling planetary combat game featuring first person, vehicular and air combat over vast terrain.
Utgivningsdatum: 17 aug, 2009
Titta på alla 6 trailers
Paket som innehåller detta spel
Köp All Aspect War Pack
Innehåller 2 saker: All Aspect Warfare, Angle of Attack
9 mars
As previously advised, we have now updated this game to the latest version and should already be automatically pushed to your Steam client if you have it installed.

Enjoy!
0 kommentarer
Läs mer
Recensioner
"It's a welcome change from shooters-on-rails that feed you ammunition just before fights against improbable bosses, or military games where the biggest challenge comes from deciding whether or not to "game" the AI by picking it off from range." - Armchair General
"Bluntly put: if you want a game which will kill you regularly, which will force you to think and plan, and which will force you to learn the often confusing ways it works - but is incredibly rewarding when you pull things off and when you really start getting the hang of it - you will absolutely love this." - Inc Gamers
"And any player who's not stimulated by a challenge should stick to their favorite PopCap games." - The Adrenaline Vault
"While the level of difficulty might reserve All Aspect Warfare for the elite player, there is still a lot to like about the game for fans of both flight simulators and action games." - Out Of Eight
Om spelet
Ett elit-attacksteam — med ett kärnvapen. Strandade. På en fientlig och nästan öde planet. Lämnade att dö. Vad mer skulle kunna gå fel?
Jordborna har varit i krig med Gammulans i flera år. Placerade i ett avlägset område på andra sidan galaxen är jordbornas Galactic Command (GALCOM), och de har drabbats av upprepade nederlag och aldrig tidigare skådade förluster. I ett försök att vända striden och ta den till fienden så har GALCOM har inlett ett sista angrepp på Gammulans hemvärldar.
Efter en intensiv strid, kraschlandade ett svårt skadat GALCOM-fartyg som transporterade ett förödande "planetdödar"-vapen på en fientlig planet. Överlevande från kraschen, en grupp med stridsveteraner, måste överleva fiendens attacker samt försöka att lokalisera och desarmera vapnet - benämnt R.A.N.D.O.M. (Random Access Nuclear Destruction of Obsolete Matter) - eller ta sig av planet innan det detonerar.
SPELETS HÖJDPUNKTER
Engagerande kampanj och flera enskilda uppdrag.

Sex spelbara karaktär-klasser med olika styrkor, svagheter och begränsningar.

Över tjugofyra vapen varierande från pistoler till prickskyttegevär till kulsprutor och granater.

Olika avancerade verktyg — saker såsom osynlighetsmodules, sköldtillbehör, radarstörare etc samt olika utplaceringsbara kanontorn som avfyrar kulor eller raketer.

Över trettio spelbara enheter inklusive fordon, stridshelikoptrar, stridsflygplan och båtar. Alla enheter är spelbara i multiplayer med flera olika positioner (t.ex. förare, skytt, passagerare).

Gör dina egna enheter såsom fordon och soldater baserade på erfarenhetspoäng, rank och andra faktorer.

Flyg stridsflygs-uppdrag för att stödja marktrupper. Välj bland eskort, SAD, SEAD och CAP-uppdrag.

För befäl över gruppmedlemmar med ett intuitivt order-gränssnitt.

Stödjer 32 spelare online och fem spellägen inklusive alla mot alla, lagspel, m.fl. Du kan även spela kampanjen med tre av dina kompisar i co-op läget. Skapa och anslut till spel med din klient eller starta en dedikerad server och bjud in dina vänner.

Stöder GSC-lobby och röstchatt. Mer information finns på http://getgsc.com/

Officiellt rankade servrar med upp till 64 spelare, statistik-tracking, integrerad lobby med mera.

Dokument-läsare med snabb tillgång till spelkommandon, manual, och övnings-dokument integrerad i spelet.

Systemkrav
Minimum:


OS: Windows XP eller Windows Vista

Processor: Dual Core CPU (Intel Pentium 4 3.4Ghz, AMD Athlon 64 X2 3,0 GHz eller snabbare)

RAM-minne: 1GB

Grafik: 256MB GPU med Shader Model 3 (nVidia GeForce 7900 / ATI Radeon X1300 eller snabbare)

DirectX®: DirectX 9.0 March 2009 Runtime

Hårddisk: 600MB ledigt

Ljud: DirectX 9.0c kompatibelt (inbyggt eller som tillägg)

Rekommenderat:


OS: Windows XP eller Windows Vista

Processor: Intel Core 2 Duo E6320 / AMD X2 6000 eller snabbare

RAM-minne: 2GB

Grafik: 512MB GPU med Shader Model 3 (nVidia GeForce 8600 GTS / Radeon HD2900 XT eller snabbare)

DirectX®: DirectX 9.0 March 2009 Runtime

Hårddisk: 1 GB ledigt

Ljud: DirectX 9.0c kompatibelt (inbyggt eller som tillägg)

All Aspect Warfare © 2009, 3000AD, Inc
Hjälpsamma kundrecensioner
Titel:
All Aspect Warfare
Genre:
Action
,
Simuleringar
Utvecklare:
3000AD
Utgivare:
3000AD
Utgivningsdatum:
17 aug, 2009
Språk:
| | Gränssnitt | Fullt ljud | Undertexter |
| --- | --- | --- | --- |
| Engelska | | | |