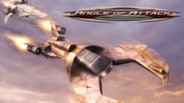 Angle Of Attack is the aerial combat action companion title to All Aspect Warfare. It features high-octane air combat against air, land and sea threats over vast planetary regions. See the action from a different perspective and get in on the action!
Julkaisupäivä: 17. elo, 2009
Katso HD-video
Paketit, jotka sisältävät tämän pelin
Osta All Aspect War Pack
Sisältää 2 kohdetta: All Aspect Warfare, Angle of Attack
Arvostelut
"Heille, jotka nauttivat lentosimulaattoreista, mutta eivät ensimmäisen persoonan räiskinnöistä, Angle of Attack saattaisi sopia itsestään, ja heidän tapauksessaan suosittelen sitä" - Out Of Eight
Tietoja pelistä
The Terrans have been at war with the Gammulan race for years. In an attempt to change the tide of war and take the battle to the enemy the Terran military body, Galactic Command (GALCOM), has launched an all out attack on the Gammulan homeworlds.
The events that take place in Angle Of Attack occur during the final days of the air campaign of the assault on LV-115 - an important planet used by the Gammulans for military purposes and as a staging area for their assault on GALCOM forces.
The GALCOM forces, locked in a lopsided air campaign, made the decision to load the 'planet killer' R.A.N.D.O.M. weapon aboard the GCV-Excalibur for its ill-fated mission.
GAMEPLAY HIGHLIGHTS
No fancy console gimmicks here. Full 3D cockpits, advanced futuristic avionics and weapons delivery systems provide total immersion that air combat jocks have come to expect. Situational Awareness (SA) is the key to survival in a fluid battle for survival in which only your skills — not gimmicks — stand between fun and your will to continue the fight.

Sixteen intense air and ground tactical strike missions in a variety of weather conditions, both day and night. Run each mission individually or in sequence as a single, seamless campaign.

Play the whole campaign and each of the missions using any of the four fighters. Each craft has unique properties and weapon systems, providing exceptional replay value.

Full combat wing command with an intuitive orders-interface system to lead your flight wing.

16 player PVP deathmatch and team deathmatch as well as four player co-op multiplayer. Host and join a game using a single instance.

Fully integrated in-game document viewer with quick access to game commands, manual and tutorial documents.

New aircraft, mission scenarios and maps in upcoming DLC.
TECHNOLOGY HIGHLIGHTS


Advanced SM 3.0 shader based graphics engine with native support for 4:3, 16:9 and 16:10 widescreen ranging from standard 720p (1280x720) and 1080p (1920x1080) resolutions up to 1680x1050. Supports various climate zones, weather conditions, dynamic twenty-four hour time of day variations, realistic day/night lighting and atmospheric conditions as well as real-world cloud layer conditions and effects. All beautifully rendered with full High Dynamic Ranging lighting and various Shader Model 3.0 shader effects.

Large seamless game world covering over 400 sq. km of varying terrain featuring high definition Digital Elevation Maps which look stunning at any altitude.

Advanced planetary terrain engine which uses high definition terrain height maps. Unlike other similar products which feature high-res maps at high altitude while being ugly and blurry at low altitudes, our latest technology is pixel perfect up to 2m/pixel for ground-zero (fps, vehicles) play using advanced geo-morphing techniques while still looking brilliant at medium to high altitudes.

Järjestelmävaatimukset
Vähimmäisvaatimukset:


Käyttöjärjestelmä: Windows XP tai Windows Vista

Prosessori: Tuplaydinprosessori (Intel Pentium 4 3.4GHz, AMD Athlon 64 X2 3.0GHz tai nopeampi)

Muisti: 1 Gt

Grafiikka: 256Mt GPU, jossa Shader-malli 3 (nVidia GeForce 7900 / ATI Radeon X1300 tai nopeampi)

DirectX®: DirectX 9.0 March 2009 Runtime

Kiintolevy: 600 Mt

Ääni: DirectX 9.0c -yhteensopiva (integroitu tai lisälaite)
Suositeltu:


Käyttöjärjestelmä: Windows XP tai Windows Vista

Prosessori: Intel Core 2 Duo E6320 / AMD X2 6000 tai nopeampi

Muisti: 2 Gt

Grafiikka: 512Mt GPU, jossa Shader-malli 3 (nVidia GeForce 8600 GTS / Radeon HD2900 XT tai nopeampi)

DirectX®: DirectX 9.0 March 2009 Runtime

Kiintolevy: 600 Mt

Ääni: DirectX 9.0c -yhteensopiva (integroitu tai lisälaite)
Angle Of Attack © 2009, 3000AD, Inc
Hyödylliset arvostelut
36/39 (92%) arvioi tämän hyödylliseksi
0.3 tuntia pelattu
Angle of Attack is yet another variation of Derek Smart's Battlecruiser 3000 "franchise". It started as a comprehensive simulation of a starship command, down to crew and food, and weapons, and trading and planets and fleet that starships moving all around you, doing their own things, and you can help your own side in the war effort. In Angle of Attack, you are down to one planet, with jump gates that takes you to other parts of the planet, and you can attack or defend as you wish against the humankind's nemesis, the Gamulons.

In practice, the game essentially has you playing lone wolf attacking things when you can and dying here and there then respawn to do it all over again. There are bazillion different combinations of weapons and crafts, but they don't really feel that different. Flightwise, controls are difficult, as the vehicles transition between VTOL (hover) and high-speed flight almost without warning, and missile avoidance is a matter of luck. You rarely if ever see friendlies and there seem to be no strategy to the miliary, making you feel as if you're just playing in someone else's sandbox.

All in all, I should have expected this as MOTS, as that's the same feeling I got from playing BC3K (and its various incarnations, such as "Universal Combat").
Nimi:
Angle of Attack
Lajityyppi:
Toiminta
,
Simulaatio
Kehittäjä:
3000AD
Julkaisija:
3000AD
Julkaisupäivä:
17. elo, 2009
Kielet:
| | Käyttöliittymä | Puhe | Tekstitykset |
| --- | --- | --- | --- |
| englanti | | | |