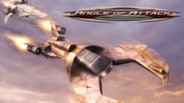 Angle Of Attack is the aerial combat action companion title to All Aspect Warfare. It features high-octane air combat against air, land and sea threats over vast planetary regions. See the action from a different perspective and get in on the action!
Utgivningsdatum: 17 Aug 2009
Se HD-film
This product does not have support for your local language. Please review the supported language list below before purchasing
Paket som innehåller detta spel
Köp All Aspect War Pack
Innehåller 2 saker: All Aspect Warfare, Angle of Attack
9 Mars 2014
As previously advised, we have now updated this game to the latest version and should already be automatically pushed to your Steam client if you have it installed.

Enjoy!
0 kommentarer
Läs mer
4 Mars 2014
We haven't updated this game from v1.37 to v1.39 yet due to various revisions to the Steam backend which requires us to migrate to the latest.

But even though v1.39 is not a major update, we are still looking into getting it migrated in the coming weeks. At which point we may also release the scripting system allowing you to create your own missions.

And in case you were wondering, these are the only things new in v1.39


1.00.39 | 11-09-10
Minor string localization corrections.
1.00.38 | 03-23-10
[MP] Revised handling of stats server update

[MP] FIXED: Joining a game from the GameLobby caused chat messages to be duplicated
0 kommentarer
Läs mer
Recensioner
"Those who enjoy flight simulations but not first person shooters might opt for getting Angle of Attack by itself, and in that case I would recommend it" - Out Of Eight
Om spelet
Jordborna har varit i krig mot Gammulans i flera år. I ett försök att vända striden och ta den till fienden så attackerar Jordbornas militära styrkor, kallade Galaction Command (GALCOM), Gammulans hemvärldar.
Händelserna i Angle of Attack är under de sista dagarna av flygkampanjen på LV-115 - en planet av stor betydelse som används av Gammulans för militära ändamål och som uppsamlingsområde för deras attack mot GALCOM-trupper.
GALCOM-trupperna som är fast i en ojämn flygkampanj gör beslutet att placera ett vapen som kallas 'planetdödaren' R.A.N.D.O.M. ombord på GCV-Excalibur för sitt olycksaliga uppdrag.
SPELETS HÖJDPUNKTER
Cockpits helt i 3D, avancerad futuristisk avionik och vapensystem som ger total immersion som luftstrids-piloter har förväntat sig. Situationsmedvetenhet är nyckeln till överlevnad i en strid där bara dina färdigheter — inget annat — står mellan och din vilja att fortsätta striden.

Sexton intensiva luft- och markuppdrag i en mängd olika väder, samt tider på dygnet. Spela varje uppdrag för sig eller i rad som en enda kampanj.


Spela hela kampanjen eller enskilda uppdrag med någon av dem fyra olika flygplanen. Varje flygplan has unika fördelar, nackdelar och vapensystem som tillåter dig att spela spelet flera gånger utan att känna att du gjort detta förut.


En komplett kommandomeny för din egen grupp med strids-flygplan som du kan beordra som du vill.

PVP-strider med upp till 16 spelare, alla mot alla eller lagspel. Dessutom kan du spela igenom kampanjen tillsammans med dina kompisar tack vare 4-spelares co-op. Starta och anslut till spel online från din klient.

Helt integrerad dokument-läsare i spelet med snabb åtkomst till spelkommandon, manual och övnings-dokument.

Mer flygplan, uppdrag och platser i kommande DLC.
TEKNIKENS HÖJDPUNKTER


Avancerad SM 3.0 shader-baserad spelmotor med inbyggt stöd för 4:3, 16:9 och 16:10 widescreen-skärmar från 720p (1280x720) till 1080p (1920x1080) upp till 1680x1050. I spelet finns flera olika klimat och väder med dynamiska ändringar beroende på tiden i spelet, med realistisk ljussättning och atmosfärförhållanden med ett verkligt moln-lager med olika effekter. Allting är renderat med HDR-ljus och flera olika SM 3.0 shader-effekter.


Stor spelvärld som täcker över 400 kvadratkilometer med varierande terräng med högupplösta texturer som ser häpnadsväckande ut på vilken höjd som helst

Avancerad terräng-motor som använder högupplösta terrängstexturer. I motsats till liknande spel som har högupplösta bilder på hög höjd men som blir suddiga på låg höjd tillåter detta spels teknologi att texturerna är högupplösta på marknivå men även i luften tack vare avancerade topografimorfnings-tekniker.

Systemkrav
Minimum:


OS: Windows XP eller Windows Vista

Processor: Tvåkärnig CPU (Intel Pentium 4 3.4Ghz, AMD Athlon 64 X2 3.0GHz eller bättre)

RAM-minne: 1 GB

Grafik: 256MB GPU med Shader Model 3 (nVidia GeForce 7900 / ATI Radeon X1300 eller bättre)

DirectX®: DirectX 9.0 March 2009 Runtime

Hårddisk: 600 MB ledigt

Ljud: DirectX 9.0c kompatibelt (inbyggt eller som tillägg)

Rekommenderat:


OS: Windows XP eller Windows Vista

Processor: Intel Core 2 Duo E6320 / AMD X2 6000 eller bättre

RAM-minne: 2 GB

Grafik: 512MB GPU med Shader Model 3 (nVidia GeForce 8600 GTS / Radeon HD2900 XT eller bättre)

DirectX®: DirectX 9.0 March 2009 Runtime

Hårddisk: 600 MB ledigt

Ljud: DirectX 9.0c kompatibelt (inbyggt eller som tillägg)

Angle Of Attack © 2009, 3000AD, Inc
Hjälpsamma kundrecensioner
35 av 38 personer (92%) fann denna recension hjälpsam
597 produkter på kontot
73 recensioner
0.3 timmar totalt
Angle of Attack is yet another variation of Derek Smart's Battlecruiser 3000 "franchise". It started as a comprehensive simulation of a starship command, down to crew and food, and weapons, and trading and planets and fleet that starships moving all around you, doing their own things, and you can help your own side in the war effort. In Angle of Attack, you are down to one planet, with jump gates that takes you to other parts of the planet, and you can attack or defend as you wish against the humankind's nemesis, the Gamulons.

In practice, the game essentially has you playing lone wolf attacking things when you can and dying here and there then respawn to do it all over again. There are bazillion different combinations of weapons and crafts, but they don't really feel that different. Flightwise, controls are difficult, as the vehicles transition between VTOL (hover) and high-speed flight almost without warning, and missile avoidance is a matter of luck. You rarely if ever see friendlies and there seem to be no strategy to the miliary, making you feel as if you're just playing in someone else's sandbox.

All in all, I should have expected this as MOTS, as that's the same feeling I got from playing BC3K (and its various incarnations, such as "Universal Combat").
Titel:
Angle of Attack
Genre:
Action
,
Simuleringar
Utvecklare:
3000AD
Utgivare:
3000AD
Utgivningsdatum:
17 Aug 2009
Språk:
| | Gränssnitt | Fullt ljud | Undertexter |
| --- | --- | --- | --- |
| Engelska | | | |