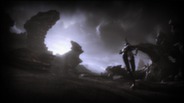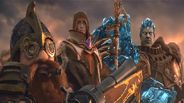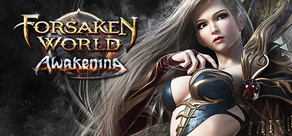 The Blood Harvest expansion is now available to all Forsaken World players.
Data de lançamento: 14 Jun, 2011
Ver todos os 2 trailers
Atualizado recentemente
The Blood Harvest expansion is now available to all Forsaken World players, free of charge. Some of the key features introduced in Blood Harvest:

Level cap increased to 90

New Skills for all classes

Two new guild base modules

Jr. Training Camp is now expanded to help players up to level 60

Take control of the battlefield with the new Blood Reaper class

Explore the new Freedom Islands map
Acerca do Jogo
Unite against the dark forces that threaten the world of Eyrda in one of the newest MMORPGs from Perfect World Entertainment – Forsaken World! Choose between six distinct races including the Stonemen, Elves, Dwarves, Humans, the Kindred, and Lycan, each with their own in-depth narrative and history. Roam through an ever-changing land, discover an advanced guild system and immerse yourself in a dark, fantasy world.
Key features:
6 Distinct Races – Choose between Humans, Elves, Dwarves, Stonemen, the Kindred, and Lycan

9 Unique Classes – Decide your path as a Warrior, Protector, Mage, Priest, Assassin, Marksman, Vampire, Bard or Blood Reaper, each offering a customized play style

Over 10 Occupations - Become a Socialite, Adventurer, Merchant, Collector, Arcanist, Botanist, Astrologist, Armorsmith, Bladesmith, Tamer or Alchemist

Floating Guild Command Centers – Gain access to special guild features such as quests, housing, NPCs and guild-versus-guild warfare

Soul Shattering PvP System – Capture your enemies' Soul Orbs to replenish HP, MP or to cast special skills during heat of battle

Auction House – Built-in auction house allows players to sell their loot to the highest bidder

Devotion System – Pray to the gods and receive special blessings

Dynamic Dungeons – Difficulty scales according to players' experience

Stunning Equipment – Weapons and gear will evolve and gain new physical appearances

Versatile Pets – Pets will serve multiple purposes and be indispensible during battle

Auto-Navigation Quest System – Never get lost during quests with auto-navigation

Visually Stunning Graphics – First game to run on Perfect World Entertainment's updated proprietary 3D graphics engine, Angelica
Requisitos do Sistema
Operating system: Windows® XP, Vista, or Windows 7

Processor: Intel® Pentium® 4 at 1GHz, (Mid to High Range Dual-Core 2.5GHz CPU or better recommended.)

Memory: 1GB of RAM (2GB or more recommended for XP, 3GB or more for Windows Vista and Windows 7)

Hard disk space: 8GB of Hard Drive Space or more (16GB or more preferred)

Video: 3D video chipset with support for Shader Model 2.0 or better. nVIDIA GeForce 6200 with 256MB RAM (nVIDIA GeForce 9800GT with 1GB RAM or better recommended) or AMD/ATI Radeon 9550 with 256MB RAM (AMD/ATI RADEON HD 3850 with 1GB RAM or better recommended)

Sound: DirectX 9.0c compatible sound chip or onboard audio capability with the latest sound drivers

DirectX®: DirectX 9.0c

Additional: Broadband Internet Connection Required

Forsaken World, Copyright © Perfect World Entertainment, Inc. All rights reserved.
Análises úteis de clientes