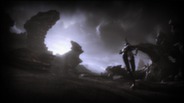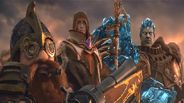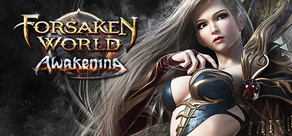 The Blood Harvest expansion is now available to all Forsaken World players.
Data de lançamento: 14 Jun 2011
Assistir a todos os 2 trailers
Atualizado recentemente
The Blood Harvest expansion is now available to all Forsaken World players, free of charge. Some of the key features introduced in Blood Harvest:

Level cap increased to 90

New Skills for all classes

Two new guild base modules

Jr. Training Camp is now expanded to help players up to level 60

Take control of the battlefield with the new Blood Reaper class

Explore the new Freedom Islands map
Sobre o jogo
Junte-se à batalha contra as forças do mal que ameaçam o mundo de Eyrda em um dos mais novos MMORPGs de Perfect World Entertainment - Forsaken World! Escolha a sua raça dentre homens de pedra, elfos, anões, humanos e kindreds, cada uma com sua própria história e narrativa. Aventure-se por uma terra em constante mudança, descubra um sistema avançado de guilda e viaje neste mundo de escuridão e fantasia.
Recursos:
5 raças diferentes – Escolha entre humanos, elfos, anões, homens de pedra e os Kindreds

8 classes únicas – Decida seu caminho como guerreiro, protetor, mago, sacerdote, assassino, atirador perito, vampiro ou bardo, cada classe oferece um estilo de jogo personalizado

Mais de 10 profissões -Torne-se socialite, aventureiro, mercador, coletor, arcano, botânico, astrólogo, forjador de equipamentos ou armaduras, domador ou alquimista

Centros de comando de guilda flutuantes – Obtenha acesso especial a recursos de guilda como missões, moradias, combate de guildas e PNJs

Sistema de captura de almas jogador contra jogador – Capture os orbes das almas dos seus inimigos para recuperar vida (HP), mana (MP) ou para conjurar habilidades especiais durante o calor da batalha

Casa de leilões – Casa de leilões integrada que permite aos jogadores venderem seus próprios saques para o maior lance

Sistema de devoção – Reze aos deuses e receba bênçãos especiais

Masmorras dinâmicas – Nível de dificuldade de acordo com a experiência do jogador

Equipamento excelente – Armas e equipamentos evoluem e ganham novas aparências

Mascotes versáteis – Mascotes servem em diversos propósitos e são indispensáveis na batalha

Sistema de missões com autonavegação – Use a autonavegação para não se perder durante as missões

Gráficos impressionantes – Primeiro jogo a rodar no motor gráfico 3D atualizado de Perfect World Entertainment, Angelica
Requisitos de sistema
Operating system: Windows® XP, Vista, or Windows 7

Processor: Intel® Pentium® 4 at 1GHz, (Mid to High Range Dual-Core 2.5GHz CPU or better recommended.)

Memory: 1GB of RAM (2GB or more recommended for XP, 3GB or more for Windows Vista and Windows 7)

Hard disk space: 8GB of Hard Drive Space or more (16GB or more preferred)

Video: 3D video chipset with support for Shader Model 2.0 or better. nVIDIA GeForce 6200 with 256MB RAM (nVIDIA GeForce 9800GT with 1GB RAM or better recommended) or AMD/ATI Radeon 9550 with 256MB RAM (AMD/ATI RADEON HD 3850 with 1GB RAM or better recommended)

Sound: DirectX 9.0c compatible sound chip or onboard audio capability with the latest sound drivers

DirectX®: DirectX 9.0c

Additional: Broadband Internet Connection Required

Forsaken World, Copyright © Perfect World Entertainment, Inc. All rights reserved.
Análises úteis de usuários