Three Heroes make their way through dangers untold in a fairytale world of great castles and strange machinery, featuring physics-based puzzles, beautiful sights and online co-op.
Megjelenés dátuma: 2009. júl. 2.
Mind a(z) 6 előzetes megnézése
Ezt a játékot tartalmazó csomagok
Trine Complete vásárlása
2 elemet tartalmaz: Trine Enchanted Edition, Trine 2: Complete Story
Frozenbyte Collection vásárlása
4 elemet tartalmaz: Shadowgrounds, Shadowgrounds Survivor, Trine Enchanted Edition, Trine 2: Complete Story
július 24.
We launched a beta of the Enchanted Edition on Steam in June, and now we are happy to report the time has come for the official launch.

Check out the launch trailer below and prepare to be enchanted. :)

https://www.youtube.com/watch?v=H4sMJdAP2-4&feature=youtu.be
You can read more about the Enchanted Edition from our blog and from the Trine Enchanted Edition page at our website. The short version below:

The Enchanted Edition is a free update for Trine with added features, such as the online multiplayer. The updated version does not impact the original game. Instead, both versions are available and can be selected from the game launcher. At the moment the Enchanted Edition is only available in Steam for Windows, but we will be adding the Mac and Linux versions afterwards.

We also want to give big thanks to the Steam community! We have received lots of support and help with the beta. Working on the Enchanted Edition for you wonderful people has been great.

But enough, talk, right? We'll shut up (in a bit) and leave you a screenshot featuring the three heroes below. You can see more enchanting screenshots from our blog post. Have fun playing! :)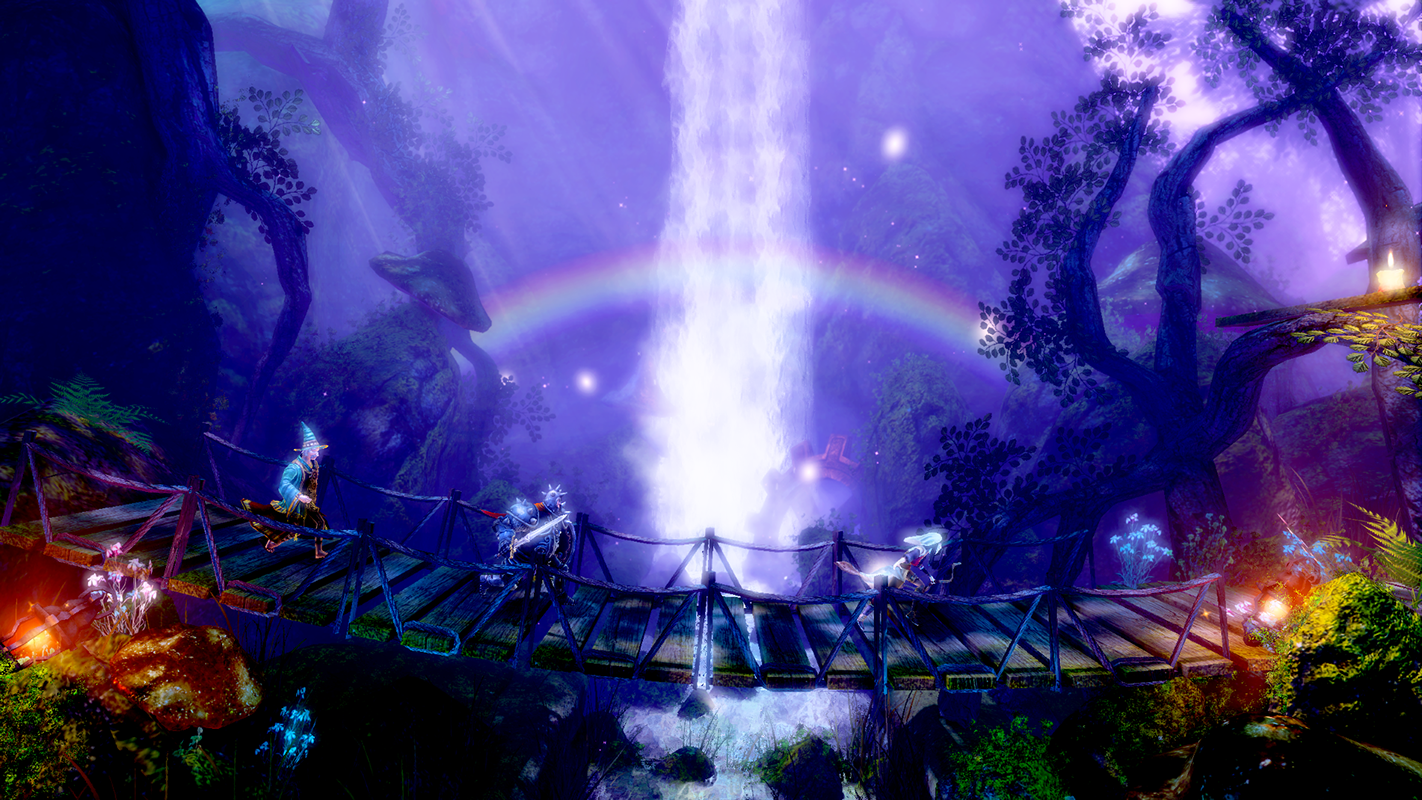 102 megjegyzés
Tovább
június 25.
Have you already participated in the Trine Enchanted Edition BETA? If not, now is your chance! The Enchanted Edition is a free update for all who own Trine on Steam. If you want to participate, you can read more from the official Beta thread pinned at the Steam Trine Community Discussions.

Note that this is still a work in progress, so you can expect to run into some bugs and issues. You can add your contribution by posting bug reports to the official BETA thread on the Steam Community. We ask that all bug reports be posted in the official thread instead of here to make sure we notice them.


WHAT IS TRINE ENCHANTED EDITION?

In short, Trine Enchanted Edition is a port of Trine to the Trine 2 engine, and as a result, many of the "missing" features of the original game, such as online multiplayer, have been added! We have also updated the visual appearance of the game and improved the gameplay – the game should look and feel even better now. At the moment this patch is only for Windows. We will add Mac and Linux versions afterwards, but we can't give an estimate of the time frame for those yet.


HOW TO LAUNCH THE ENCHANTED EDITION?

1. Open your Steam Library
2. Right-click Trine and choose Properties
3. Navigate to the BETAS tab
4. Enter the following password to the access code field: TrineEEBeta2014
If the code does not work, try to restart your Steam client.
5. Make sure you have the beta chosen from the upper "Select the beta you would like to opt into:" menu and then close the window.
6. Make sure the Enchanted Edition is chosen from a drop down menu in the game's launcher when you start Trine.


Please find the official Beta thread pinned at the Steam Trine Community Discussions for instructions on how to report issues. We are also updating all the known issues into that thread, to try and keep everything in one place. General feedback is always welcome of course.


Thank you all for your continued support and feedback, we hope you enjoy this update!
57 megjegyzés
Tovább
Értékelések
A GameSpot E3 Editors' Choice Awards "Legjobb letölthető játék" kategóriájának győztese.

"Ami a gyönyörű grafika mellett még kiemelkedővé tette a játékot, az volt, hogy mennyire el van találva benne minden; az irányítás, a három karakter közti együttműködés, a rejtvénymegoldás módja... A fejlesztők nyilvánvalóan sok időt áldoztak a játékmenet finomítására." Teljes értékelés
A játékról:
A Trine fantasy akciójáték, melyben a játékos fizikai objektumok létrehozásával és használatával győzhet le veszélyes rejtvényeket és fenyegető ellenségeket. A nagyszerű kastélyokból és fura gépezetekből álló világban három hős sorsa fonódik össze a Trine nevű rejtelmes szerkezetével, akiknek meg kell óvniuk a királyságot a gonosztól…
A játékmenet a teljesen interaktív fizikára épül; a karakterek eltérő képességei segítik a játékost a hadseregnyi élőhalott leküzdésében és a veszélyes szerkentyűk legyőzésében. A játékos minden pillanatban szabadon eldöntheti, melyikük a legalkalmasabb a soron következő kihívás vagy rejtvény megoldására: a Varázsló tárgyakat idézhet meg, melyek segítségével megoldhatók a rejtvények vagy új lehetőségek hozhatók létre az akadályokon való átjutáshoz, a Tolvaj gyorsaságával és halálos pontosságával fürgén meglepheti a szörnyeket, a Lovag pedig fizikai pusztulást és rombolást hoz, amerre csak jár.
Keverd össze a Prince of Persia és a Flashback játékokat, adj hozzá némi valódi újítást és egy remek grafikai motort, és az eredmény… egy új játéklegenda!

Három teljesen eltérő karakter irányítható a játék bármely pillanatában:


A Varázsló fizikai szimulációval rendelkező tárgyakat hozhat létre és lebegtethet a teljesen interaktív játékkörnyezetben.

A Lovag olyan felfordulást tud okozni, mint senki más; fegyvereivel, például a nagy erejű Viharpöröllyel tárgyakat semmisíthet meg és csontvázakat zúzhat szét!

A Tolvaj a távolból támadhatja az ellenséget pontosan kilőtt nyilaival, de csáklyája is van, amivel könnyedén lendülhet át egyik platformról a másikra.


A kihívások és rejtvények számos különféle módon megoldhatók; kombináld karaktereid képességeit, és engedd, hogy elméd még sosem látott kreatív megoldásokkal álljon elő.

A karakterek tapasztalati pontokat kapnak, melyekkel fejleszthetők képességeik.

Teljesen interaktív játékvilág élethű fizikával, "rongybaba" ellenségekkel, és megszámlálhatatlan fizikai objektummal!

Egygépes együttműködő mód akár három játékos számára.

A saját fejlesztésű "Frozenbyte GDE" játékmotorra épülő játék.

Nagyszerű grafika következő generációs látvánnyal, olyan lenyűgöző technikai megoldásokkal, mint a kisugárzás, tükröződés és valósághű árnyékok, melyeket a legmodernebb vertex és pixel shader eljárások hoznak létre.

15 gondosan megtervezett és kihívást jelentő, egyedi és különleges légkörrel és grafikával rendelkező pálya, például az Asztrál-akadémia, a Kristálybarlangok, a Sárkányok Temetője, az Elhagyatott Kazamaták, a Növendékerdő és az Elkárhozott Romok.

Számos különféle összegyűjthető tárgy, melyek hatással vannak a karakterek képességeire.

Jól eldugott titkos ládák minden pályán.

Három választható nehézségi szint.

19 bámulatos számból álló zenei anyag, melyet az elismert Ari Pulkkinen készített.

Steames teljesítmények.

A Trine immár Steam Felhő támogatással is rendelkezik a mentett játékok számára. Így bárhonnan játszhatsz, ott folytatva a játékot, ahol legutóbb abbahagytad.
A játék kapott még francia, német, olasz és spanyol nyelvi támogatást is.
Olvasd el
a frissítéssel hozzáadott újdonságok teljes listáját.
PC-s rendszerkövetelmények
Operációs rendszer: Windows XP, Windows Vista vagy Windows 7

Processzor: 2.0 GHz CPU (Dual-core ajánlott)

Memória: 512 MB (XP), 1 GB (Vista)

Merevlemez: 600 MB

Videokártya: Radeon X800 vagy GeForce 6800 vagy jobb*

DirectX®: 9.0c

Hang: DirectX kompatibilis hangkártya (nem követelmény)

Kiegészítő: Együttműködő játékhoz játékvezérlő szükséges.

*Vedd figyelembe, hogy a Trine a legtöbb Intel integrált grafikus lapkakészleten nem fut.
Mac-es rendszerkövetelmények
Operációs rendszer: OS X Leopard 10.5.8, vagy újabb.

Processzor: Intel Mac

Memória: 1 GB RAM

Merevlemez: 600 MB

Videokártya: OpenGL 2.0 kompatibilis videokártya 256 MB megosztott vagy saját memóriával (ATI vagy NVIDIA)

Szükséges: Billentyűzet, egér engedélyezett másodlagos kattintással

Kiegészítő: Vedd figyelembe, hogy a játék Intel grafikus eszközökön nem fut (pl. 2006-2008-as MacBook-ok), kivéve az új, 2011-es MacBook Pro modelleket. A játék a legtöbb 2009. utáni Mac-en fut, melyek külön grafikus kártyával rendelkeznek (nVidia/ATi). nVidia 9400M vagy ATi Radeon X1600 kártyákon a játék nem feltétlenül fut simán.
Trine™ © 2008-2014 Frozenbyte, Inc. Developed by Frozenbyte, Inc. All rights reserved. All other trademarks are properties of their respective owners.
Hasznos vásárlói értékelések
Díjak
A GameSpot E3 Editors' Choice Awards "Legjobb letölthető játék" kategóriájának győztese