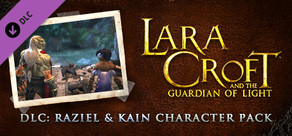 Per giocare è necessario possedere su Steam il gioco di base Lara Croft and the Guardian of Light.

Data di rilascio: 7 Gen 2011
Acquista Lara Croft GoL: Raziel and Kain Character Pack
Informazioni sul gioco
Grab a friend or go at it alone as Kain and Raziel from the Legacy of Kain games. The two iconic characters must work together to defeat a new threat in an unfamiliar world.
Requisiti di sistema
OS: Windows 7 / Vista / XP
Processor: 3+ GHz Intel or 2.5+ GHZ AMD
Memory: 1 GB RAM (XP) / 2 GB RAM (Vista)
Graphics: NVIDIA GeForce 6 Series (6800GT or better) / ATI 1300XT or better
Hard Drive: 7GB
Sound: DirectX 9.0c compatible sound card and drivers
Lara Croft and the Guardian of Light © Square Enix Limited 2010. SQUARE ENIX and the SQUARE ENIX logo are registered trademarks or trademarks of Square Enix Holdings Co., Ltd. LARA CROFT AND THE GUARDIAN OF LIGHT, CRYSTAL DYNAMICS, the CRYSTAL DYNAMICS logo, EIDOS, and the EIDOS logo are trademarks of Square Enix Limited. All rights reserved. The rating icon is a registered trademark of the Entertainment Software Association. All other trademarks are the property of their respective owners.
Recensioni utili dai clienti
40 di 46 persone (87%) hanno trovato questa recensione utile
262 prodotti nell'account
195 recensioni
All it is, literally, is just replacing Lara and Totec's models with Raziel and Kain's. You have Raziel using dual pistols and grappling hooks despite having a sword bound perminantly to his arm or the two wings on his back. There is voice acting, but it sounds like they just took audio tracks from Soul Reaver 1&2 and just repitched it in an audio program.

And I payed 4$ for something I could have easily done in a mod for Half Life 2 or Fallout 3
Titolo:
Lara Croft GoL: Raziel and Kain Character Pack
Genere:
Azione
,
Avventura
Sviluppatore:
Crystal Dynamics Inc.
Editore:
SQUARE ENIX, Eidos Interactive
Data di rilascio:
7 Gen 2011
Lingue:
| | Interfaccia | Audio completo | Sottotitoli |
| --- | --- | --- | --- |
| Italiano | | | |
| Inglese | | | |
| Francese | | | |
| Tedesco | | | |
| Spagnolo | | | |