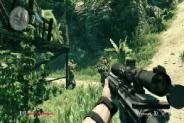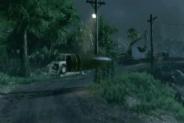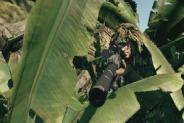 In qualità di Ghost Warrior, un cecchino d'élite in un'unità per operazioni speciali altamente allenata, le tue abilità uniche nello stalking, nella rilevazione degli obiettivi, nella sorveglianza e nell'uso delle armi determineranno il successo della missione.
Data di rilascio: 24 Giu 2010
Guarda tutti e 4 i trailer
Pacchetti che includono questo gioco
Acquista Sniper Ghost Warrior Gold Edition
The Gold Edition includes the Map Pack and Second Strike DLC.
Acquista Sniper: Ghost Warrior Trilogy
Include 6 oggetti: Sniper: Ghost Warrior, Sniper: Ghost Warrior - Map Pack, Sniper: Ghost Warrior - Second Strike, Sniper: Ghost Warrior 2, Sniper Ghost Warrior 2: Digital Extras, Sniper Art of Victory
Contenuti scaricabili per questo gioco
Recensioni
"…hugely satisfying, especially for gamers that enjoy sniping in first-person shooters."
–IGN.com Editorial
"In game terms, stealth is a big part of Sniper's challenge. Because many of the missions take place in the Amazon jungle, there will often be plenty of thick vegetation to hide in."
– Gamespot.com
"I can see appeal to both ways of playing Sniper: one for its increased sense of satisfaction for hitting the shot -- complete with bullet chase cam to the perfect strike; the other for its simple pleasure of hitting a steady stream of headshots."
– ShackNews.com Editorial
"The great thing about Sniper: Ghost Warrior is that the "vision cone" of the game is insanely huge, so even though you might be hundreds of feet away from an enemy, they are more than capable of seeing you through a crack in a fence, or from across a canyon. It's a weird little element of the game that I found to be very impressive, something that was oddly realistic."
– Destructoid.com
Informazioni sul gioco
Quando il governo democratico di Isla Trueno viene spodestato, un commando militare ostile ed aggressivo sale al potere. Una unità di forze speciali altamente addestrata viene mandata in aiuto ai ribelli per compiere degli obiettivi che solo un cecchino riesce a gestire.
In aggiunta alle intense missioni da cecchino, i giocatori prenderanno parte in una varietà di scenari d'assalto dove le loro abilità con le armi saranno di grande aiuto agli esigui ribelli.
Sniper: Ghost Warrior cerca di sfidare i giocatori in vari modi cosicché il gioco sia impegnativo e divertente.
Sviluppato dallo studio di produzione di giochi di prossima generazione di City Interactive, Sniper: Ghost Warrior porta un'esperienza di gioco tecnologica e visiva impressionante, ed è caratterizzato da un sistema realistico di balistica che misura la traiettoria e la caduta dei proiettili ed effetti ambientali tra cui vento,
nebbia e pioggia. Assieme ad un vasto numero di livelli a singolo e multigiocatore, i giocatori incontreranno una grande varietà di terreni impegnativi. I giocatori si
caleranno nei panni di un Ghost Warrior, un cecchino d'elite in un'unità di forze speciali altamente addestrate, le cui capacità uniche nell'arte dello stalking,
rilevazione dei bersagli, sorveglianza ed accuratezza di ingaggio determineranno il successo della missione. Le missioni sotto copertura forzano i giocatori
ad agire inosservati mentre cercano di eliminare i nemici ostili con un colpo in testa alla volta.
Caratteristiche principali:
L'esperienza di cecchinaggio più realistica mai realizzata in un videogioco, potrai persino gestire il tuo respiro per migliorare l'accuratezza dei tuoi colpi.

Goditi un sistema di balistica completamente realistico che registra la traiettoria del proiettile, ed include la caduta dei proiettili ed effetti ambientali quali vento, nebbia e pioggia.

Punta al colpo alla testa perfetto e guarda nei dettagli il proiettile che raggiunge il nemico attraverso la modalità Bullet Cam.

4 tipi di fucili da cecchino: AS50, MSG90, SR25 & SVD Dragunov.

Una varietà di missioni che spazia dall'eliminazione diretta tra due cecchini agli assalti tattici in tempo reale, fino ai combattimenti con mitragliatrici.

Gioca come due personaggi separati: il cecchino e il ricognitore
Requisiti di sistema
Minimum:


OS: Windows® XP (SP3) / Vista™ (SP1) / 7

Processor: Intel Pentium 4 3,2 GHz, Intel Pentium D 2,66 GHz, AMD Athlon 64 3500+

Memory: 1GB for XP / 2GB for Vista and 7

Graphics: 256 MB RAM compatible with DX10.0 or DX9.0c, Shader Model 3.0

Cards: GeForce ( 6800/7600-7950/8600-8800/9600-9800/GTX 260-280 ) or Radeon (X1650-1950/ HD2400-2900 / 3650

DirectX®: DirectX® 9.0c

Hard Drive: 6.5GB

Sound: Compatible with DirectX® 9.0c

(c) 2011 City Interactive S.A., all rights reserved. Published by City Interactive S.A. Sniper: Ghost Warrior is a trademark of City Interactive S.A. This product contains the CHROME ENGINE 4.0 Technology licensed by Techland Sp. z o.o. All Rights reserved. All other copyrights and trademarks are the property of their respective owners.
Recensioni utili dai clienti