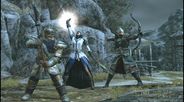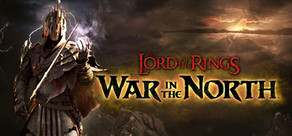 Együtt kell küzdenetek, vagy egyedül haltok meg ezen az epikus küldetésen a Gyűrű Háborújában.
Megjelenés dátuma: 1 Nov 2011
Nézd meg a HD videót
A játékról:
A The Lord of the Rings: War in the North együttműködő akció-szerepjáték, melyben te és barátaid elmerülhettek a Gyűrű Háborújának egy új és kegyetlen fejezetében. A Snowblind Studios abban a különleges helyzetben van, hogy Középfölde világának írásos és filmes anyagaiból is joga van ihletet meríteni, ami lehetővé teszi, hogy a játékosok halálos ellenségek széles skálájába vághassák fejszéjüket, és beutazhassanak már ismert, és még sosem látott helyszíneket. Az eredmény olyan utazás, mely egyszerre epikus és testközeli, ismerős, mégis váratlan.
Fő jellemzők:
Akció és szerepjáték találkozása - intenzív, zsigeri és kielégítő harc. Gazdag, sokrétű és jelentőséggel bíró karakterfejlődés. A War in the North-ban mindkettőt megkapod. Keresd meg és használd a legjobb zsákmányt, fejleszd hősödet képzettségek és tárgyak széles választékával, és érezd az elégedettséget, mikor valós idejű csatákra indulsz barátaiddal az oldaladon. Küzdd át magad a háború kegyetlen valóságán a történet alapján életre keltett frontokon. Merülj el Középfölde világában, és hagyj rajta nyomot.
Alapvető együttműködés - szervezd meg saját, három hősből álló társaságod, hogy szembeszálljatok Észak gyülekező seregével. Csapatod, és egész Középfölde túlélése múlik egyedi képzettségű hőseitek együttműködésén. Együtt kell küzdenetek, vagy egyedül haltok meg, és ez a hatalmas tét teszi a közös játék élményét társaságivá és rendkívül kielégítővé. Mikor először mented meg egy barátod, akit elkapott egy troll, és kétségbeesetten kiabál segítségért, megérted majd, mire gondolunk.
Egy elmondatlan történet - bár az Egy Gyűrű útját kísérte nagy figyelem, a háború Középfölde minden szegletében zajlik. A War in the North figyelmünket a történet egy olyan szerves része felé fordítja, mely a könyvekben és a különféle függelékekben szereplő részleteken alapul. Ez nem valaki más küzdelme. Ez a te saját erőfeszítésed az átjutásra a sötét, veszedelmes és ismeretlen tájon, azt védelmezve, ami a tiéd. Ez a te háborúd.
Rendszerkövetelmények
Minimum:


Operációs rendszer:Windows XP, Windows Vista vagy Windows 7
Processzor:Intel Core2 Duo 2.4 GHz vagy AMD 64 X2 4400
Memória:2 GB RAM
Grafika:2006-os vagy újabb GeForce 8600 vagy Radeon HD 2600
DirectX®:dx90
Merevlemez:10 GB merevlemez-terület
Hang:100% DirectX 9 kompatibilis hangeszköz
Ajánlott:


Processzor:Intel Core2 Duo 3 GHz vagy AMD X2 5000 vagy AMD Phenom X4 9600
Memória:4 GB RAM
Grafika:GeForce 2xx sorozat vagy Radeon HD 6xxx sorozat vagy jobb
DirectX®:dx90
Egyéb követelmények:Szélessávú internet-kapcsolat
THE LORD OF THE RINGS: WAR IN THE NORTH software © 2011 Warner Bros. Entertainment Inc. Developed by Snowblind Studios, Inc. All other trademarks and copyrights are the property of their respective owners. All rights reserved.
© 2011 New Line Productions, Inc. All The Lord of the Rings content other than content from the New Line films © 2011 The Saul Zaentz Company, d/b/a Middle-earth Enterprises ("SZC"). The Lord of the Rings: War in the North, The Lord of the Rings, and the names of the characters, events, items, and places therein are trademarks or registered trademarks of SZC under license to Warner Bros. Interactive Entertainment. All rights reserved.

SNOWBLIND STUDIOS LOGO, WB GAMES LOGO, WB SHIELD: ™ & © Warner Bros. Entertainment Inc.
Hasznos vásárlói értékelések