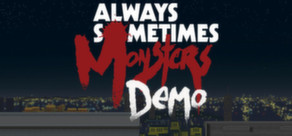 Set out on a cross-country journey to win back the love of your life and endure the hardship of making story-defining choices that affect your life and the lives of those around you.
Release Date: Aug 13, 2014
Watch HD video
Free Demo
Play Always Sometimes Monsters Demo
Buy Always Sometimes Monsters
MIDWEEK MADNESS! Offer ends in
About the Game
Video game media from all over the world are converging on Dubstown to attend the Always Sometimes Monsters launch party hosted by independent game developer Vagabond Dog. The prestigious Daily News Times has tasked you with attending the event to play the game many are touting as an "introspective ethical role-playing game" and write a review for the paper. Can you endure the unenviable torment of interviewing game developers? Will you survive the all-you-can-eat assortment of appetizers and hors d'oeuvres? How much free alcohol will you drink?!
Mingle amongst your peers at the event to glean their thoughts about the game or down a cocktail before interviewing the developers.


Settle in at a demo kiosk and play a short slice of Always Sometimes Monsters to see what all the fuss is about.


Write your review of the game and assign a score which ultimately decides the fate of developer Vagabond Dog forever.
About Always Sometimes Monsters
Out of money and out of luck you find yourself heart broken and on the verge of collapse. Your landlord's taken the key back, you can't finish your manuscript, and your beloved is marrying someone else. With no choice but to handle whatever life throws at you, you set out on the open road on a mission to win back the love of your life. The story from there is up to you. Can your life be salvaged, or are we always sometimes monsters?
Choice
A story-driven experience focusing on relationships and emotional bonds rather than traditional RPG combat and adventuring. Indecision is your enemy and empathy is your weapon in a quest to earn one last chance to win back the love of your life.
Circumstance
Choose from characters of different gender, race, and sexual preference and live through the common experiences and unique hardships of each based on your selection. NPCs may treat you differently based on your gender, race, or sexual preference opening and closing different paths along the way.
Consequence
Each playthrough is filled with a staggering number of diverging paths that can be discovered through both overt actions and subtle choices in conversation. The journey you experience will be tailored to your personal ethical compass as your decisions both conscious and subconscious change your fate.
http://store.steampowered.com/app/274310/
Reviews
"Always Sometimes Monsters deals in chaos and quantum theories – in every second of our lives, we make choices that forever impact our timelines going forward, dictating whether we keep or lose friends, maintain a job or succeed in our goals. We are the masters of our destinies, Always Sometimes Monsters says – but we can't control other people's lives. That's where it gets tricky."
4/5 – Joystiq
"It's an earnest look at life under tough economic pressure, at love when things don't go according to plan and at a creative career during its shittiest lows. It has a lot to say, and importantly, it speaks from the heart."
8/10 – Polygon
"Always Sometimes Monsters isn't the first game to get clever with morality. It's not the first game that's had a few grey areas. It also isn't about either of those. It's about perspective. It's about empathy. It's about who we are and why we do what we do. That narrative is one of contradiction and hypocrisy, because that's what real people are about."
9/10 – Eurogamer
System Requirements
Minimum:


OS: Windows XP, Vista, 7, or 8 (32-bit or 64-bit)

Processor: Intel Pentium 4, 2.0 Ghz or faster

Memory: 512 MB RAM

Graphics: 1024 x 768 desktop resolution or better

Hard Drive: 200 MB available space
Copyright © Vagabond Dog 2013. All Rights Reserved
Helpful customer reviews
73
Title:
Always Sometimes Monsters Demo
Genre:
Indie
,
RPG
Developer:
Vagabond Dog
Publisher:
Devolver Digital
Release Date:
Aug 13, 2014
Languages:
| | Interface | Full audio | Subtitles |
| --- | --- | --- | --- |
| English | | | |
Awards
Indie Megabooth PAX Prime 2013
Indie Megabooth PAX East 2014