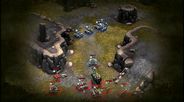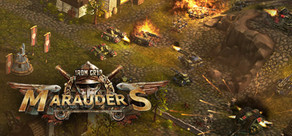 Atelia, a new region, has been added with battlefields, missions and PVP maps!
Megjelenés dátuma: 30 Szept 2011
Mind a(z) 2 előzetes megnézése
Iron Grip: Marauders indítása
A játékról:
Az Iron Grip: Marauders az első olyan online stratégiai játék, ami látványos, 3D-ben kivitelezett taktikai csatákat tartalmaz, melyek a böngésződben jelennek meg. A böngészőalapú stratégiai játékok és a Unity szoftver innovatív egyesítésének köszönhetően a játék képes lehetővé tenni a fejlett stratégiai tervezést, remekül kinéző körökre osztott egyedi csatákkal körítve, és könnyű gyorsan belevágni az akcióba.
Az Iron Grip: Marauders az Iron Grip sorozat legújabb darabja. A játék sok évvel az Iron Grip: Lords of War után játszódik.
Kathos földjén belső konfliktus robbant ki egy arisztokratikus országban, és a feszültség és forrongás végül elérte a robbanáspontot. A Rahmos Protectorate States csapatai a déli határhoz vonultak, felkészülve a szomszédos Confederation of Nallum elleni háborúra, így egész régiók maradtak védtelenül.
A helyzet felkeltette a fosztogatók figyelmét: zsoldos kalózokét, akik között a magasan képzett volt katonáktól kezdve a közönséges tolvajokig mindenki megtalálható. Sokan e fosztogatók közül Ateliából jöttek, ahol egykor zsoldoskatonákként szolgálták az ateliai törzsi vezetőket.
Egy horda léghajós fosztogató kapitányaként a játékosok Kathos hatalmas régióit járva keresik a jó csempészlehetőségeket és a kifosztható tehetős célpontokat. A kivételesen vakmerő fosztogatók még a Főnökök titkos bázisait is megostromolhatják, feltéve, hogy sikerül elég szövetségest találniuk egy sikeres támadáshoz.
Fő jellemzők:
Taktikai csata – kihívást jelentő körökre osztott csaták az ádáz MI ellen.

Együttműködő többjátékos játék – nagy hatalmú Főnökök kifosztása barátaiddal, nagy jutalmakért.

Izgalmas küldetések – haladj végig egy sor történetalapú küldetésen.

Folyamatos játékfejlesztés – új játékelemek folyamatos hozzáadása.

Magával ragadó látvány - hangulatos grafika kelti életre az Iron Grip univerzumot.

Táguló univerzum – gazdag háttértörténet a folyamatosan fejlődő Iron Grip univerzum alapján.

PvP csaták - harcolj barátaid vagy véletlenszerű ellenfelek ellen PvP meccseken.
PC-s rendszerkövetelmények
Minimum:


Operációs rendszer:Windows XP

Processzor:Pentium 4

Memória:1 GB RAM

Grafika:128 MB-os videokártya Shader Model 2.0 támogatással

DirectX®:dx90c

Hang:Bármilyen hangkártya

Egyéb:Internet-kapcsolat
Ajánlott:


Operációs rendszer:Windows 7

Processzor:Core 2 Duo

Memória:2 GB RAM

DirectX®:dx90c

Egyéb követelmények:Szélessávú internet-kapcsolat
Mac-es rendszerkövetelmények
OS: OS X version Leopard 10.5.8, Snow Leopard 10.6.3, or later.

Processor: Intel Mac

Memory: 1 GB

Graphics: 128MB graphics card with shader model 2.0

Hard Drive:

Sound: Generic Sound Card

Other: Internet Connection
OS: OS X version Leopard 10.5.8, Snow Leopard 10.6.3, or later.

Processor: Core 2 Duo

Memory: 1.5GB

Graphics: 128MB graphics card with shader model 2.0

Hard Drive:

Sound: Generic Sound Card

Other: Broadband Internet Connection
Terms & Conditions Iron Grip: Marauders
http://igmarauders.isotx.com/index.php?Itemid=115

Privacy Policy Iron Grip: Marauders
http://igmarauders.isotx.com/index.php?Itemid=117
Hasznos vásárlói értékelések
Cím:
Iron Grip: Marauders
Műfaj:
Ingyenesen játszható
,
Stratégia
,
Indie
,
Sokszereplős többjátékos
Fejlesztő:
ISOTX
Kiadó:
ISOTX
Megjelenés dátuma:
30 Szept 2011
Nyelvek:
| | Felület | Hang | Feliratozás |
| --- | --- | --- | --- |
| Angol | | | |