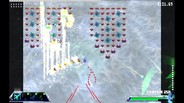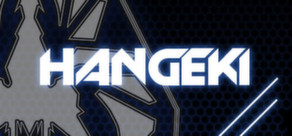 Hangeki is an arcade style shooter that emphasizes the use of over 50 spectacular weapon. Formulate new strategies and take on the alien invasion in this reimagining of the classic shoot em up.
Release Date: Aug 11, 2014
Watch HD video
September 5
We've been hard at work these past weeks preparing our biggest update yet!

Leading the changelist is the first release of the Japanese version of the game. Simply set the game to Japanese in Steam or change the language from the in-game options menu.

Following up is the complete redesign of all the main levels of the game. We've heard your feedback, and have responded with a complete reimagining of the levels. New beautiful and challenging firing patterns await. For all veteran players, this unfortunately means clearing most of the leaderboards, but don't worry, special emblems have been assigned to all current players ranked on the leaderboards. Think of this as a new opportunity to shoot for that number one spot. Rest assured, level redesigns shouldn't be happening again for a long, long time. So learn these levels, master them, they'll be around for a while.

Sound effects have been completely overhauled, giving familiar weapons a new feel.

Weapons have been tweaked, balanced, and fixed. So things like the Artillery Blaster, whose cooldown was as long as some level 2 weapons, have been buffed by a reduced cooldown.

New key bindings menu makes selecting control schemes much easier. Right now there isn't an option to create custom bindings, but that is coming very soon.

And of course a ton of minor visual bugs have been fixed.

Enjoy the update, and thanks for playing!
0 comments
Read more
August 19
海外プレイヤーたちに発表です、Hangeki 日本語版が今翻訳されています。今後のアップデートをチェックして楽しみにしてください。 皆さんの応援有難うございますこれからもドンドンとスコアを上げていってください!

Translation in English:
We are happy to announce to overseas players that Hangeki is currently being translated into Japanese. Look forward to it in the coming weeks, thanks for your support and keep those scores going!

Extra special thanks to CueZero for the text and translation! Be sure to check out CueZero on twitter: https://twitter.com/CueZero2
0 comments
Read more
About the Game
Rethink everything you've come to expect from a shooter game.

A game made by fans, for fans, Hangeki seeks to infuse a classic genre with new ideas. Utilize multiple spectacular weapons to decimate the enemy, and formulate new strategies as you take on the alien invasion in this reimagining of the classic shoot em up.

Intense arcade action
Fight against waves of enemies using a diverse arsenal of weapons. While the first levels may start out easy, the later parts of the game will pose a formidable challenge for even the most hardened shooter fan.

Highly Competitive Design
Everything in Hangeki has been designed with competitive players in mind, starting with the scoring system. All levels are scored by time. No arbitrary points. No arbitrary multipliers. Just you, your skill, and a finish line. How you get to the end is completely up to you. Will you play it safe and focus on staying alive? Or go full aggressive and burst down the waves at the risk of getting hit. Or maybe somewhere in between, the choice is yours.

Multiple Game Modes
10 main levels, over 15 challenges, Boss Rush, Endless, and extra stages. Everything you'd expect from a game like this and more.

Over 50 Weapons
Lots of weapons, each one unique. Try out different combinations and come up with your own strategies to decimate the opposition.

Local Co-op
Fight with a friend. All main levels support 2 player local co-op.

Global Leaderboards
Compete on a global scale for the best times on levels. Whether you are a seasoned bullet hell player, or a dedicated speed runner, Hangeki has been built from the ground up to be competitive. All leaderboards show the weapons other players used, facilitating a rich metagame where you can get ideas for new strategies and tactics.

Full Controller Support
Play with a keyboard. Play with a controller. Players demand the right tools, and Hangeki supports whatever your preference.
System Requirements
Minimum:


OS: Windows Vista Service Pack 2

Processor: 2.5Ghz i3 Equivalent Processor

Memory: 2 GB RAM

Graphics: DirectX 9 Compliant Graphics Device, Radeon 5450, NVidia 8600

DirectX: Version 9.0

Hard Drive: 250 MB available space
Recommended:


OS: Windows 7

Processor: 2.8Ghz i5 Equivalent Processor

Memory: 2 GB RAM

Graphics: DirectX 9 Compliant Graphics Device, Radeon 5770, NVidia GTX 470

DirectX: Version 9.0

Hard Drive: 250 MB available space
Helpful customer reviews
Title:
Hangeki
Genre:
Action
,
Indie
Developer:
Pentavera
Publisher:
Pentavera
Release Date:
Aug 11, 2014
Languages:
| | Interface | Full audio | Subtitles |
| --- | --- | --- | --- |
| English | | | |
| Japanese | | | |