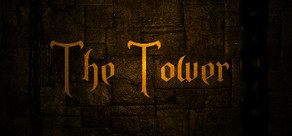 "I awake once again. Shackled. Beaten. Broken. And yet there is hope. An opportunity..." Enter the darkness of The Tower. A unique, constantly expanding dungeon crawling experience. Use your hearing to find your way through the breathless shadow of the tower's corridors.
Release Date: Aug 4, 2014
July 9
Hello everybody,

In a few days time, we'll be putting up special access to the pre-alpha version of The Tower: 2015 Edition, which will be available from Steam for the low, low price of £0.99.

We've come to realise that if we engage players now, even at this very early stage in development, we hope to acquire valuable feedback and pretty much work it in a.s.a.p. This is a build that will constantly update. Some of it might not even be playable, some of it may only be in-game cutscenes or dialogue, but we hope you can start to see the differences immediately.

Here's a short FAQ for what to expect:

q) The pre-alpha is cheap. Why?
a) The pre-alpha at this stage, is exactly that. Experimental and unfinished. You can help us shape it's future by seeing what we're doing and giving feedback. It all helps!

q) If I buy the pre-alpha, will I receive the final version for free?
a) No. The pre-alpha will only contain content up until Beta. After that, the game will be considered 'shaped' and all further development will be locked until release.

q) What can I expect as the pre-alpha develops?
a) Story chapters to finalise, first-look gameplay and your name in the credits if you choose to help!

The pre-alpha will be live in a few days, so stay tuned!

***UPDATE: Scratch that. We've decided to generate 50 Alpha Keys to give away for FREE, to those who request them below. Fifty people is far easier to manage and communicate with! Once you have your key, you can access the 'Beta' tab, by right clicking on The Tower in your Steam library and opting in via the drop down box.
663 comments
Read more
July 2
A previously discovered issue with saves has now been rectified. A small update (roughly 10mb) will be available within ten minutes.

Thank you to the community for helping us discover and kill this one off!
0 comments
Read more
Reviews
"I have only played the beginning so far but the moment I passed through the darkness I really felt that this was genius... I have surround sound headphones and it took a while to adjust but then I heard the water and decided to head towards the noise. I could sense the distancing and the placing of the water through my headphones and I walked towards it and splashed the water... I was amazed when I heard a faint sound of air and follwed that toi the next area. I havew never played a game that requires senses and I instantly want more. I congratulate you. However are you going to put a price on it? And I have a good computer but it stills lags? However amazing game and so far have been fascinated. I don't give 10s ever but after seeing well hearing this and that it actually worked and I had to rely on senses I was astounded. I was tempted to give 9 since I donnt know what is up ahead but I thought the genius behind it all was magnificient?!"
10 – IndieDB

"Brilliant game and an absolutely genius game concept! I was sceptic at first, a total darkness sound guided game, but they made it work perfectly =3"
10 – IndieDB

"A refreshingly novel approach to interactive sensory entertainment with well-done storytelling to keep it enthralling. Lots of potential."
9 – Desura

Steam Greenlight
About the Game
- Unlimited future content

The Tower is constantly being updated with regular expansions that allow you to continue the story of Elliot and venture higher in your search for sunlight

- Forge tools

Within the darkness lies secrets. Craft new tools and weapons to help you survive the endless traversals

- Brutal, gritty combat

Ambush. Hunt. Survive. Extinguish torches and create diversions to overwhelm guards and create shadows

- Experience blinding, crippling and truly disorientating darkness

No way forward. No way back. In this bleak place, the dungeons of the tower claim more than lives. Use your sense of hearing to guide you to the next torch, because your eyes can't help you

- A tale of what man becomes when pushed to the edge

Prisoner or hunter? Survivor or murderer? When all else is forgotten, what humanity remains?
System Requirements
Minimum:


OS: Windows XP / Vista / 7

Processor: 2.2 GHz Dual Core CPU

Memory: 2 GB RAM

Graphics: 512 MB NVIDIA GeForce 9800GTX / ATI Radeon HD 3xxx series

DirectX: Version 9.0c

Hard Drive: 5 GB available space

Sound Card: DirectX Compatible
Recommended:


OS: Windows Vista / 7 / 8 - 64 bits

Processor: 2.8 GHz Quad Core CPU

Memory: 4 GB RAM

Graphics: 1GB NVIDIA GTX 460 / ATI Radeon HD 6850 or better

DirectX: Version 9.0c

Hard Drive: 5 GB available space

Sound Card: DirectX Compatible
© 2014 Narrow Monolith. All Rights Reserved. All trademarks are the property of their respective owners.
Helpful customer reviews
Title:
The Tower
Genre:
Action
,
Adventure
,
Indie
Developer:
Narrow Monolith
Publisher:
Narrow Monolith
Release Date:
Aug 4, 2014
Languages:
| | Interface | Full audio | Subtitles |
| --- | --- | --- | --- |
| English | | | |