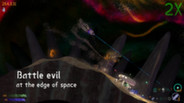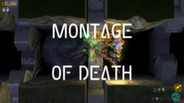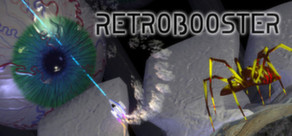 A reinvention of the cave-flyer for players who love games of skill. You control an extremely responsive ship, which opens up new possibilities for speed flying challenges, puzzles, and bullet hell scenarios. This game is set at 1980s difficulty--Survive it if you can.
Release Date: Jul 11, 2014
Watch all 3 trailers
July 22
This update fixes specific problems playing on Windows: the time played was not being counted, and Retrobooster was launching in the background in Big Picture Mode. After updating, these behaviors should be fixed.

There are also some tiny improvements to game controller menu input and some sound fx. And a small bug was fixed that you probably never encountered because it was very rare.
0 comments
Read more
Reviews
"Retrobooster is an extremely polished indie game with excellent graphics that offers many hours of challenging gameplay."
TruePCGaming

"Each level is unique in its own way; some will have heavy puzzle elements whilst others will have legions of enemies to clear out. The differences between them mean that no two levels ever feel the same, and they are always throwing new ideas your way."
God is a Geek

"The physics engine felt extremely responsive and created a gravitational experience unique to this game."
Twinfinite

About the Game
A tough-as-nails cave-flyer for players who want a solid challenge. Stay on your toes or this galaxy will devour you.
Retrobooster is an exceptionally difficult 2.5D shooter, focused on skill-based flying and enemy blasting. Pilot your nimble thrust ship through bizarre worlds littered with vicious enemies. Each new level takes you farther from home and, ultimately, into the deadliest reaches of the galaxy. Retrobooster also has speed-flying challenges, puzzles, juicy monsters, a warped sense of humor, and a healthy dose of bullet hell action. Survive to the end if you can, and use your new flying skills to replay for high scores.
Features
Classic thrust ship controls, plus reverse thrust

Detailed physics with plenty of death by crushing

30+ levels (20+ hours of gameplay for most players)

Unlocked levels can be replayed any time

10 weapons

4 difficulty levels

Customizable controls


Keyboard

Mouse and keyboard

Game controller (Some popular controllers are recognized automatically)

Split-screen multiplayer for up to 4 players

Cooperative and deathmatch multiplayer modes

Electronic soundtrack by Subatomicglue frontman, Kevin Meinert
PC System Requirements
Minimum:


OS: Windows XP (with Service Pack 3)

Processor: Intel Core 2 Duo | AMD Athlon 64 X2 3.0GHz

Memory: 512 MB RAM

Graphics: NVidia GeForce 8xxx or 9xxx Go | AMD Radeon HD 4xxx or 7xxxM | Intel HD Graphics 2500

Hard Drive: 200 MB available space
Linux System Requirements
Minimum:


OS: Ubuntu 12.04

Processor: Intel Core 2 Duo | AMD Athlon 64 X2 3.0GHz

Memory: 512 MB RAM

Graphics: NVidia GeForce 8xxx or 9xxx Go | AMD Radeon HD 4xxx or 7xxxM | Intel HD Graphics 2500

Hard Drive: 200 MB available space
Helpful customer reviews
25 of 29 people (86%) found this review helpful
1.2 hrs on record
There are games that cash-in on our nostalgic values and harken back to the 8 or 16-bit era without changing or adding much at all, in a way that just makes some content with taking a trip down memory lane.

Then there are games that turn that nostalgia upside-down on it's head, taking the retro formula and bending it into an intense and cutting-edge new experience. Retrobooster falls into this second category, taking the familiar space shoot'emup concept and injecting it with refined and stylish modern flair.

Most noticeable early on in the players' journey is the very responsive control of your ships main thrusters. Reminiscent of classics as far back as Asteroids all the way up to more recent space shooters such as Sub-Space or Continuum is the full 360° control as well as precise propelling forward and backwards.

Getting a hang of the super sensitive and extremely spot-on controls of your individual thrusters is as imperative as it is fun, given that overshooting your propulsion will end in the humiliation of smashing your ship into pieces against the rocky surface of the terrain below. It takes a bit of practice and some determination but the better you get the smoother things feel, and the quicker you'll be powering your way through levels.

Retrobooster is a game of skill, reflexes, brain power, and top-notch hand-eye coordination. The speed is set to overdrive and the only limit is your ability to master the maneuvering of your ship.

The game boasts some of the most impressive and engrossing visuals I've seen for any title in the genre, with the wonderfully detailed lighting and particle effects giving a realistic look to the dust flying up from nearby rocks, the exhaust from your individual thrusters, and the flames of burning enemies all powered by very convincing physics.

The puzzles, an element rarely seen in these sort of games, are actually enjoyable and very engaging even for those like myself who aren't too great at them, which really took me by surprise. They don't feel tedious or overly complex, giving a lot of breathing room for how players approach each solution.They require not just logic solving skills but the addition of quick reflexes and coordinated shooting in order to pass each cleverly constructed obstacle. This makes figuring out solutions challenging yet appealing and accessible to all levels and class of skill.

With elements in bullet-hell style shooter action, tricky physics evading cave exploration, the sometimes brain-wracking yet clever and engaging puzzles, this is a kind of space shooter any action fan can easily become hooked into.

It's insanely hard at times in classic retro fashion, but the controls and laser guiding system are intuitive and provide a robust learning curve which give it that edge of progression and accessibility that the classics just don't have, giving Retrobooster an addictive and lasting appeal.

The variety of diverse gameplay mechanics is incredible, especially for a shooter. There's a memorable experience to be found for all types of players; from speed running demons, puzzle masterminds, to reflex endowed shmup aficionados who remember the days of 1 credit clearing their favorite arcade games.

Retrobooster has no "pre-fun B.S.", no filler or fluff, no complex systems to learn, hand-hold-y tutorials, or overcomplicated plots. You're thrown right into the thick of things. Just you and your ongoing struggle against gravity, the fear of realistic physics crushing you from all sides, and the terror of watching your human compatriots trampled by a robotic spider in your panic stricken efforts to save them.
Title:
Retrobooster
Genre:
Action
,
Indie
Developer:
Really Slick
Publisher:
Really Slick
Release Date:
Jul 11, 2014
Languages:
| | Interface | Full audio | Subtitles |
| --- | --- | --- | --- |
| English | | | |