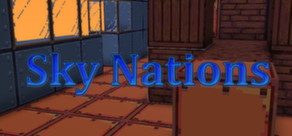 Construct Airships and wage war in a sandbox world populated by floating islands, sprawling skies and adventure. Ride on ships and build them while your motley drive you forward, toward exploration. Persistent player servers and much more await!
Release Date: Jul 17, 2014
Watch HD video
Early Access Game
Get instant access and start playing; get involved with this game as it develops.
Note: This Early Access game may or may not change significantly over the course of development. If you are not excited to play this game in its current state, then you may want to wait until the game progresses further in development. Learn more
What the developers have to say:
Why Early Access?
"Sky Nations has been iterative game from it's initial release on other platforms. Developed by lone developer Ben Johnson it has been hugely beneficial to have community input and experiment with mechanics and change them based on feedback. Early Access fits this perfectly and will help to make Sky Nations a better game when it releases it's complete state!"
How long will this game be in Early Access?
"Sky Nations will hopefully be leaving Early Access in Q4 2014 as a more completed and rounded experience."
How is the full version planned to differ from the Early Access version?
"The full version will be a combination of all the updates during Early Access.
Features planned for the finished game are:
Capturable Sectors for Nations. Which can defend your ships and creations.

More player and ship weapons of various different types.

More island types with creatures and mechanics based around them.

Manufacturable ships and other perks for Nations.

Music that adapts to what is happening to the player.

A sound overhaul to many of the current placeholder sound effects.

Further access to server functionality in the Modding API.
"
What is the current state of the Early Access version?
"Sky Nations has a lot of the base mechanics available to play that will make up the finished game.
However this is still a game in development
. There is still quite a lot of content based on these mechanics to come and a lot of community driven bug testing too reach a stable build and balanced builds."
Will the game be priced differently during and after Early Access?
"Sky Nations will likely rise in price when the game is more complete and has more content, however those who purchase the game now will receive these updates for free up to the game's completion."
How are you planning on involving the Community in your development process?
"Since Sky Nations receives iterative updates every couple of weeks community feedback is super important to both balancing and improving the game. Since it's first public release the community has helped find bugs and suggest features and changes that have improved the game significantly."
Read more
August 11th, 2014
Update 0.5 is finally out and with it brings some major changes to gameplay and some more subtle changes. Nations can now claim Systems for themselves. Once a System is claimed it's marked the on the in-game map as your Nations and becomes protected. Protection prevents players from outside of your Nation placing, editing or interacting with blocks in the System owned by you. However they can still be damaged by weapons such as Cannons. A claimed System has a Nation Beacon created in the middle when it's claimed. This is a largish structure that unusually has it's own health bar, which you simply need to hover your mouse over to view. Attacking this and destroying it will lose the claim on the System and it's protection will be nullified. The beacons have quite a lot of health and will regenerate it's health during downtime.

To go with the above changes, Ships have also received similar protection. To protect your ship you need to grab a Ship Protection Field block which can be purchased currently from Merchant Cat. Once placed these will protect your ship from placing, editing and block interactions(most blocks) by players not in your Nation. However if the SPF is destroyed then this protection will be lost.

The last thing you need to know about the new protection is that Copper Defense Guns have been remade into Copper Missile Pods. These essentially work the same but fire slow removing projectiles with trails so you can pro-actively seek out their origins and destroy them when attacking a System. Instead of the previous situation of them being very hard to locate. They can also only be placed in claimed Systems, pods that currently in exist in non-claimed areas will be inactive. They do a lot more damage to players now and are subject to future balancing.

Borders preventing you from sailing too far out from the Systems have also implemented. They are fairly far out so they don't limit your movement during combat. For a full list of all changes check out the Change Log below.


The client updates are already deployed for the Launcher and Steam. Unusually the server files are out right away. You can grab them on the download page:
http://skynations.net/?page=download

If you're hosting a server check my twitter for updates on fixes that we may come across during first day of the update so you can stay up to date with fixes.

Update 0.5
Changes

Added a border to systems. When you fly out so far you will see a border appear as you get close to it and you cannot pass it with a ship.

Added System Status to top right of screen.

Added claiming systems. Each Nation has a minimum of 1 claim. For every 5 members they can claim a new system. A player not in the Nation that claimed a system cannot mine, place or interact with most blocks in that system. However they can damage them with weapons. You can claim the system you're in via the Nation window Territory tab. Once claimed it will create a Nation beacon between 0 to the ceiling vertically depending on space. If this Nation beacon is destroyed your claim is lost. Mousing over it will tell you it's health. To damage it you must fire weapons at it from a ship.
Claimed areas will appear on the World map so you can tell if you're flying into someone else's territory. Their names are also colored red.

Added ClaimRange to setting to Settings.xml that allows you to choose how far away players can claim Systems from the spawn. The default is 6.

Added Ship Protection Field(SPF). Placing this on your ship will protect it to your Nation. Only your Nation members can place blocks, interact with the majority of blocks and use tools on the ship. However the ship can still be damaged from offensive weapons. If the block is destroyed then the ship loses it's protection. Ship fields can be purchased from Merchant Cat.

Altered Max speed to 20. Ships over 200 weight can still only max out at 10 though.

Defense Turrets can only be placed in Claimed systems now.

Defense Turrets have been changed to Missile pods and are now called Copper Missile Pods. This is so they are easier to spot the firing position when being attacked by them. The projectiles are slowish and provide a trail so you have more time to escape. They do however do more damage, pending balancing.

Defense Turrets left over from before this update that are in unclaimed areas will become deactivated.

Removed System status icon from System title when entering a System.
Fixes
Fixed System title/status being wrong if you enter it before it's loaded.

Fixed lighting not always correctly effecting Defense Turrets.

Fixed individual particle fading.

Fixed achievements causing a crash on Steam version if the game is unable to query the achievement list from steam fast enough.
2 comments
Read more
July 25th, 2014
New server files are now available with a small set of bug fixes for the remaining major bugs that have been reported to me. You can grab them here:
http://skynations.net/?page=download



0.458
Changes
Changed order of items in inventory so it makes sense vs right item bar.

Changed max player skin size from 4kb to 25kb so more skins should work now.
Fixes
Improved memory build up from jumping, teleporting or reseting graphics device(alt+tabbing/minimizing) so it shouldn't cause a Memory Overflow if you have enough memory.

Fixed ghost blocks.

Fixed players dying when they login and fall through the land.

Fixed items falling through the floor in most cases.

Fixed players occasionally being thrown out of their ship after a jump.

Fixed clicking Remove Bookmark in the map causing a crash.

Fixed it being possible to end up below map floor when jumping from certain angles.

Fixed merch cat buying items from player from wrong slots.

Fixed a crash when alt+tabing back into the game when item sculpter was used previously.

Fixed merch cat from losing his ship if he was caught in an area as it unloaded.

Fixed radar not refreshing after jump.

Fixed lasers not cutting through grass.
1 comments
Read more
About the Game
Set in a world where the planets surface is no longer habitable. Sky Nations takes place above the clouds where large airships are the only means of travel. Join up with your friends and build a ship to explore and do battle with players you meet a long the way or the various creatures inhabiting the skies.
Sky Nations is centred around multiplayer cooperative and versus play in a voxel sandbox. Using blocks players can build, destroy and take with harsh but fair mechanics based around freedom for player vs player. There aren't invisible barriers stopping you from destroying blocks or rules against attacking other players. The skies are tough and you need to be tough to survive them!
Build ships - As a completely multiplayer orientated experience you are free to roam, interact with and build on the ship as it's piloted by another player. As well as design custom ships for custom jobs such as mining.

Crafting - Create unique items for your ship such as radars, generators and cannons!

PVP - Whether it's with your ships using cannons, lasers and more or with shotguns as invade enemy bases and form boarding parties players are free to attack or group up with others they may encounter in their travels.

Create Nations - Organize your friends to dominate the map and hold key resource points.

Modding Support - Textures can be reskinned and the game server comes with a Mod API allowing you to write custom scripts in C#. Which will be expanded with updates.

Buildable Wearable Items - Craft items out of blocks to wear and stand out of from other players and use as bartering items.

Persistent Player Servers - Host your own servers or join other players servers with ease. Each a unique world generated the first time it is started.
Please Note: Sky Nations is Early Access and still in development. That means that not all the content is finished and many things are place holders or subject to change. There will be bugs! However through the community of players we can get these bugs found and fixed as well as use your suggestions to help balance and improve the game.
System Requirements
Minimum:


OS: Windows Vista

Processor: 2.3Ghz Multicore CPU or better.

Memory: 2 GB RAM

Graphics: Modern Dedicated GPU with Shader Model 3+

DirectX: Version 9.0

Network: Broadband Internet connection

Hard Drive: 100 MB available space

Sound Card: Intergrated or Dedicated Soundcard

Additional Notes: Minimum requirements may change through game updates.
Recommended:


OS: Windows 7 or above

Processor: 2.3Ghz Multicore CPU or better.

Memory: 4 GB RAM

Graphics: Modern Dedicated GPU with Shader Model 3+

DirectX: Version 9.0

Network: Broadband Internet connection

Hard Drive: 1000 MB available space

Sound Card: Intergrated or Dedicated Soundcard

Additional Notes: Recommended requirements may change through game updates.
Helpful customer reviews
Title:
Sky Nations
Genre:
Adventure
,
Indie
,
Early Access
Developer:
Damaged
Publisher:
Damaged
Release Date:
Jul 17, 2014
Languages:
| | Interface | Full audio | Subtitles |
| --- | --- | --- | --- |
| English | | | |