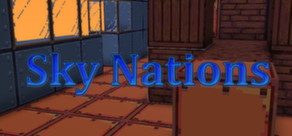 Construct Airships and wage war in a sandbox world populated by floating islands, sprawling skies and adventure. Ride on ships and build them while your motley drive you forward, toward exploration. Persistent player servers and much more await!
Release Date: Jul 17, 2014
Watch HD video
Early Access Game
Get instant access and start playing; get involved with this game as it develops.
Note: This Early Access game may or may not change significantly over the course of development. If you are not excited to play this game in its current state, then you may want to wait until the game progresses further in development. Learn more
What the developers have to say:
Why Early Access?
"Sky Nations has been iterative game from it's initial release on other platforms. Developed by lone developer Ben Johnson it has been hugely beneficial to have community input and experiment with mechanics and change them based on feedback. Early Access fits this perfectly and will help to make Sky Nations a better game when it releases it's complete state!"
How long will this game be in Early Access?
"Sky Nations will hopefully be leaving Early Access in Q4 2014 as a more completed and rounded experience."
How is the full version planned to differ from the Early Access version?
"The full version will be a combination of all the updates during Early Access.
Features planned for the finished game are:
Capturable Sectors for Nations. Which can defend your ships and creations.

More player and ship weapons of various different types.

More island types with creatures and mechanics based around them.

Manufacturable ships and other perks for Nations.

Music that adapts to what is happening to the player.

A sound overhaul to many of the current placeholder sound effects.

Further access to server functionality in the Modding API.
"
What is the current state of the Early Access version?
"Sky Nations has a lot of the base mechanics available to play that will make up the finished game.
However this is still a game in development
. There is still quite a lot of content based on these mechanics to come and a lot of community driven bug testing too reach a stable build and balanced builds."
Will the game be priced differently during and after Early Access?
"Sky Nations will likely rise in price when the game is more complete and has more content, however those who purchase the game now will receive these updates for free up to the game's completion."
How are you planning on involving the Community in your development process?
"Since Sky Nations receives iterative updates every couple of weeks community feedback is super important to both balancing and improving the game. Since it's first public release the community has helped find bugs and suggest features and changes that have improved the game significantly."
Read more
September 1st, 2014
Update 0.6 is out and with it comes a bunch of gameplay features and some new stuff exposed to the Mod API.
Parachutes have been added allowing a safer descent to the ground if you happen to lose your footing. Parachutes are now default gear and are given to you when you first enter a server or use the reset block. Jetpacks are also in which allow you short travel between cliffs and platforms with a boost bar that refills on landing. Both these items use a new slot in the equipment window called the backpack slot.

Artillery Cannons are also new which are the equivalent to the Iron Cannons however they can be manually aimed like Mounted Repeated allowing for much more precise shots during battle using the same ammo as their predecessor.

Missile Pod Missiles have been changed a little, they will no longer damage protected land of the Nation that owns the Missile Pod that fired them. Meaning they won't break your own things! They will also speed up over time while chasing their target.

Much of the UI art has been remade to make it much cleaner and slicker with more sane text colours being used making it easier to read. Something I hadn't time to do until recently but makes a huge difference to interacting with the game.

For a full list of changes scroll down to the change log below.

How to update
Clients will be updated automatically be the launcher for the website version and automatically in your Steam library for the Steam version.

You can download the server update here. To update your pre-existing server. Make a backup of your files. Then just copy and paste the files in the new server zip over your current ones you're running the server from. It's as simple as that!

For those that use custom scripts via the modding API for their Servers if you're familiar with Mercurial you can use it to merge your scripts with the changes for 0.6 via this repository:
https://bitbucket.org/MrBenjammin/sky-nations-scripts/

Update 0.6
Changes

Created new icon for: Steering Panel, Copper Door, Missile Pod.

Added backpack slot.

Added Jetpack. It requires 6 steel and 2 burntout cores to build.

Added Parachute. Parachutes are part of the default gear and come equipped to the player in the backpack slot when starting out or resetting.

Added Artillery cannon which is an aimable cannon that fires cannon balls. It's crafted with 10 Steel and 2 Burntout Cores.

Turret missiles no longer damage protected land of the same Nation. They will also accelerate over time to catch speedy targets.

Server now states script files it's using at startup so you can tell exactly what files are being loaded for mods and debug problems.

Added on-screen Block so you can see the current block you're holding.

Much of the UI art has been remade.

Added particle effect to breaking blocks.

Changed dropped items so they follow the same gravity rules as players. They now fall at a max of 20 gravity and steadily increase at the same rate as a player's gravity.

Changed respawn chambers so they can't be placed on ships to remove confusion.

Improved font sampling/rendering for GUI and changed general use font. Though still not perfect when in windowed mode.

Improved item icon rendering. All blocks should be the correct proportions and have correctly mapped textures now(which was incorrect on oddly sized blocks such as steps).

Added a CTF mode example script in the Server scripts.

Added OnServerWriteLog to IGameServer in the Mod API so you can grab console input.

Added ICTFFlag to Mod API. You can create flags by IGameServer.CreateFlag. See: http://skynations.net/modapi/interface_s_n_script_1_1_i_c_t_f_flag.html

Added IScoreboard to Mod API. Which will create a scoreboard scoring system both server and client side with a UI based on the Community CTF mode events. See: http://skynations.net/modapi/interface_s_n_script_1_1_i_scoreboard.html

Added IActor.IsPlayer to determine if an actor is a player or not to mod API.

Added ISpecialBlock and IChunk.GetSpecialBlocks() to the mod API so you have access to various block meta data which will be expanded in the future.

Added IShipRegister which contains a list of all loaded/unloaded ships. You can access it via IGameServer.Ships. See: http://skynations.net/modapi/interface_s_n_script_1_1_i_ship_register.html and http://skynations.net/modapi/interface_s_n_script_1_1_i_ship_properties.html
Fixes
Fixed item slots showing 4 of a 32x32 icon texture repeated.

Fixed a couple of item icons being the wrong size.

Fixed Mounted Repeaters not showing their rotation correctly after being reloaded.

Fixed a server crash caused by removing Respawn Chambers in some cases.

Fixed crafting window starting position being offset from inventory height.
0 comments
Read more
August 27th, 2014
Hey guys,
I've started a short series about how to get started playing Sky Nations. Covering your first ship and in the future more complex mechanics such as combat and a larger explanation of energy. For those getting started and having trouble understanding what to do, this should give you enough information to expand on as you play.

https://www.youtube.com/watch?v=5XxDgixF7Go
Check out the video here
0 comments
Read more
About the Game
Set in a world where the planets surface is no longer habitable. Sky Nations takes place above the clouds where large airships are the only means of travel. Join up with your friends and build a ship to explore and do battle with players you meet a long the way or the various creatures inhabiting the skies.
Sky Nations is centred around multiplayer cooperative and versus play in a voxel sandbox. Using blocks players can build, destroy and take with harsh but fair mechanics based around freedom for player vs player. There aren't invisible barriers stopping you from destroying blocks or rules against attacking other players. The skies are tough and you need to be tough to survive them!
Build ships - As a completely multiplayer orientated experience you are free to roam, interact with and build on the ship as it's piloted by another player. As well as design custom ships for custom jobs such as mining.

Crafting - Create unique items for your ship such as radars, generators and cannons!

PVP - Whether it's with your ships using cannons, lasers and more or with shotguns as invade enemy bases and form boarding parties players are free to attack or group up with others they may encounter in their travels.

Create Nations - Organize your friends to dominate the map and hold key resource points.

Modding Support - Textures can be reskinned and the game server comes with a Mod API allowing you to write custom scripts in C#. Which will be expanded with updates.

Buildable Wearable Items - Craft items out of blocks to wear and stand out of from other players and use as bartering items.

Persistent Player Servers - Host your own servers or join other players servers with ease. Each a unique world generated the first time it is started.
Please Note: Sky Nations is Early Access and still in development. That means that not all the content is finished and many things are place holders or subject to change. There will be bugs! However through the community of players we can get these bugs found and fixed as well as use your suggestions to help balance and improve the game.
System Requirements
Minimum:


OS: Windows Vista

Processor: 2.3Ghz Multicore CPU or better.

Memory: 2 GB RAM

Graphics: Modern Dedicated GPU with Shader Model 3+

DirectX: Version 9.0

Network: Broadband Internet connection

Hard Drive: 100 MB available space

Sound Card: Intergrated or Dedicated Soundcard

Additional Notes: Minimum requirements may change through game updates.
Recommended:


OS: Windows 7 or above

Processor: 2.3Ghz Multicore CPU or better.

Memory: 4 GB RAM

Graphics: Modern Dedicated GPU with Shader Model 3+

DirectX: Version 9.0

Network: Broadband Internet connection

Hard Drive: 1000 MB available space

Sound Card: Intergrated or Dedicated Soundcard

Additional Notes: Recommended requirements may change through game updates.
Helpful customer reviews
Title:
Sky Nations
Genre:
Adventure
,
Indie
,
Early Access
Developer:
Damaged
Publisher:
Damaged
Release Date:
Jul 17, 2014
Languages:
| | Interface | Full audio | Subtitles |
| --- | --- | --- | --- |
| English | | | |