다운로드 가능한 콘텐츠
플레이하려면 Steam 버전인 Firefall 기본 게임이 필요합니다.
게임 정보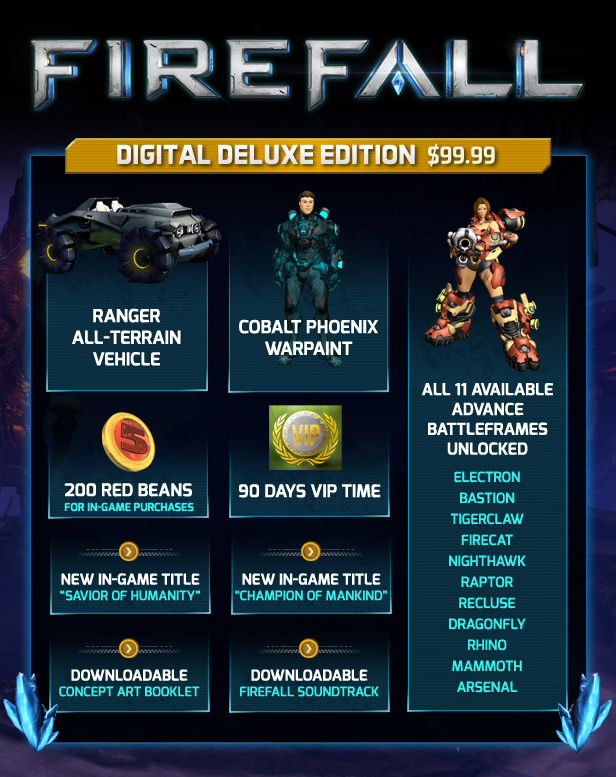 Begin your adventure in New Eden at the top of your class! The Digital Deluxe Edition includes:
Ranger All-Terrain MGV
• Ride in style with you AND a trigger-happy passenger!
• Exclusive to the Digital Deluxe Edition ONLY.
All 11 Existing Advanced Battleframes Unlocked
• Every single Battleframe that is currently available is unlocked.
• Experience the game anyway you like right from the beginning.
90 Days VIP Time
• +25% Earned Crystite
• +25% Earned XP
• +25% Earned Reputation Vouchers
• +2 Crafting Workbench Slots
• +8 Market Slots
• Access to the VIP Boosted Glider Pad
200 Red Beans
• Currency used to purchase additional in-game items and perks.
• Great for getting players started in New Eden.
Exclusive 'Cobalt Phoenix' Warpaint
• Exclusive warpaint color for your Battleframe!
• Look uniquely stylish while destroying the Chosen!
New In-Game Titles – "Savior of Humanity" and "Champion of Mankind"
• Exclusive in-game titles for digital packages!
• Titles that will drive fear into the hearts of the Chosen!
Downloadable Firefall Concept Art Booklet and Digital Soundtrack
• Digital Concept Art Booklet with gorgeous illustrations that showcase the world of Firefall.
• Digital Soundtrack with beautiful and haunting tunes for your listening pleasure.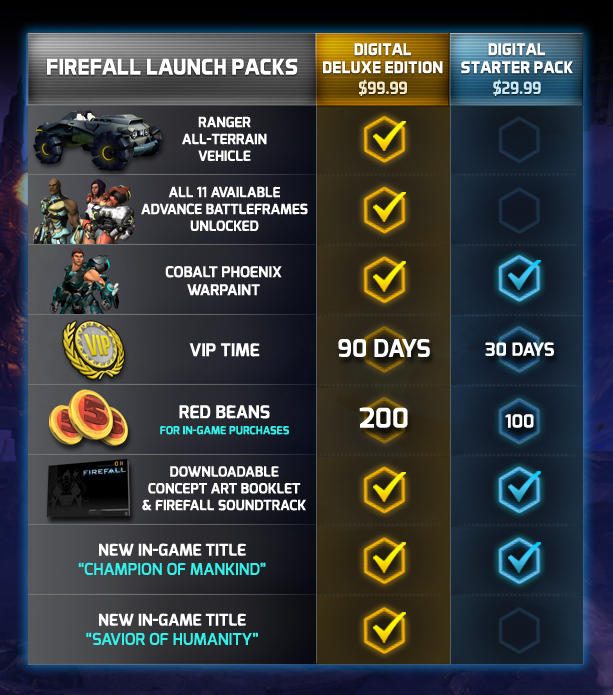 시스템 요구 사항
Minimum:


OS:Windows XP SP3

Processor:AMD Dual Core @ 2.6GHz; Intel Dual Core @ 2.2GHz

Memory:4 GB RAM

Graphics:Nvidia 8600 or ATI 4xxx with 1GB of VRAM

DirectX®:9.0c

Other Requirements:Broadband Internet connection
Within the United States and/or other territories, Firefall, Red 5 Studios and all associated logos and designs are trademarks or registered trademarks of Red 5 Studios, Inc. All rights reserved. The content of this video game is fictional and it is not intended to represent or depict an actual event, persons or locations in the video game setting. The makers of this video game do not in any way endorse, condone or encourage engaging in any conduct depicted in the video game. Firefall may not be available on all platforms or in all territories. Release dates may vary by territories.
이 제품에는 아직 공개된 평가가 없습니다
이 제품의 평가를 직접 써서 자신의 경험을 커뮤니티와 공유할 수 있습니다. 구매 단추 위의 기입란을 이용하여 자신만의 평가를 써 보세요.
제목:
Firefall: Digital Deluxe Edition
장르:
액션
,
무료
,
대규모 멀티플레이어
,
롤 플레잉
개발자:
Red 5 Studios
배급사:
출시 날짜:
2014년 7월 15일
언어:
| | 인터페이스 | 음성 지원 | 자막 |
| --- | --- | --- | --- |
| 영어 | | | |
| 독일어 | | | |
| 프랑스어 | | | |