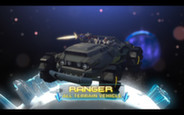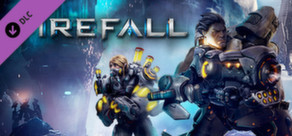 E tartalomhoz szükség van a(z) Firefall alapjáték Steames változatára.

Megjelenés dátuma: 2014. júl. 15.
Nézd meg a HD videót
Letölthető tartalom
E tartalomhoz szükség van a(z) Firefall alapjáték Steames változatára.
A játékról: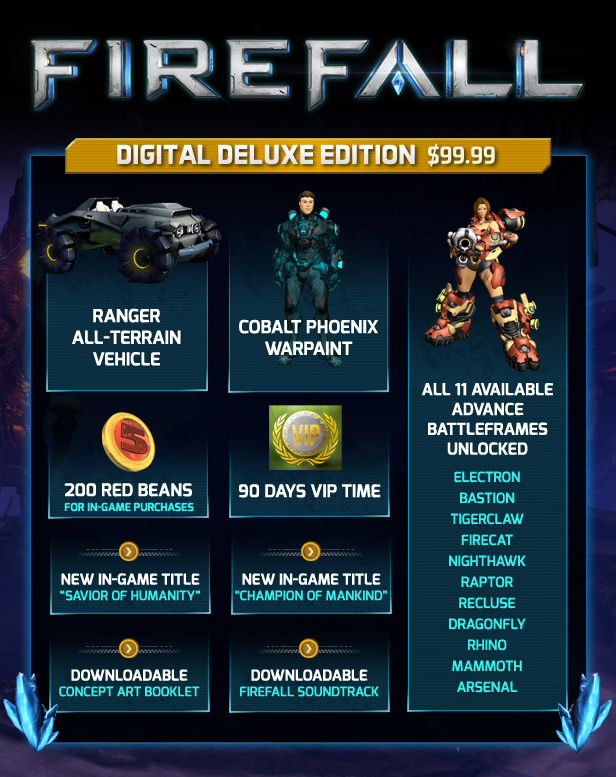 Begin your adventure in New Eden at the top of your class! The Digital Deluxe Edition includes:
Ranger All-Terrain MGV
• Ride in style with you AND a trigger-happy passenger!
• Exclusive to the Digital Deluxe Edition ONLY.
All 11 Existing Advanced Battleframes Unlocked
• Every single Battleframe that is currently available is unlocked.
• Experience the game anyway you like right from the beginning.
90 Days VIP Time
• +25% Earned Crystite
• +25% Earned XP
• +25% Earned Reputation Vouchers
• +2 Crafting Workbench Slots
• +8 Market Slots
• Access to the VIP Boosted Glider Pad
200 Red Beans
• Currency used to purchase additional in-game items and perks.
• Great for getting players started in New Eden.
Exclusive 'Cobalt Phoenix' Warpaint
• Exclusive warpaint color for your Battleframe!
• Look uniquely stylish while destroying the Chosen!
New In-Game Titles – "Savior of Humanity" and "Champion of Mankind"
• Exclusive in-game titles for digital packages!
• Titles that will drive fear into the hearts of the Chosen!
Downloadable Firefall Concept Art Booklet and Digital Soundtrack
• Digital Concept Art Booklet with gorgeous illustrations that showcase the world of Firefall.
• Digital Soundtrack with beautiful and haunting tunes for your listening pleasure.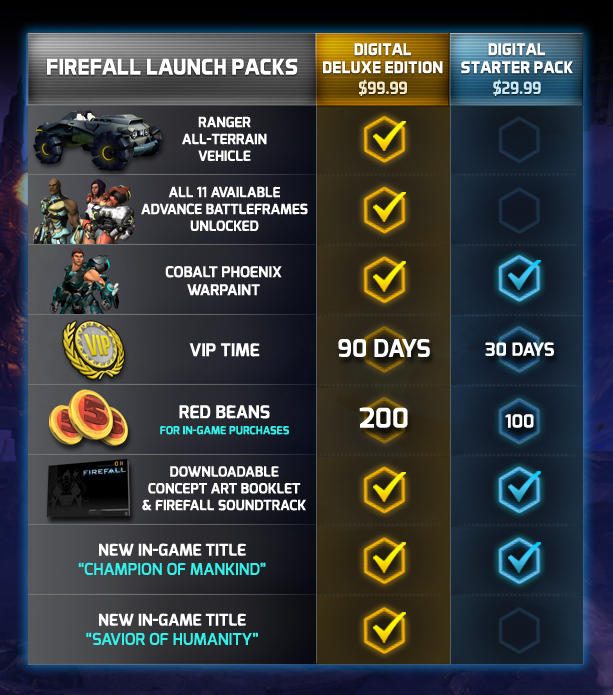 Rendszerkövetelmények
Minimum:


OS:Windows XP SP3

Processor:AMD Dual Core @ 2.6GHz; Intel Dual Core @ 2.2GHz

Memory:4 GB RAM

Graphics:Nvidia 8600 or ATI 4xxx with 1GB of VRAM

DirectX®:9.0c

Other Requirements:Broadband Internet connection
Within the United States and/or other territories, Firefall, Red 5 Studios and all associated logos and designs are trademarks or registered trademarks of Red 5 Studios, Inc. All rights reserved. The content of this video game is fictional and it is not intended to represent or depict an actual event, persons or locations in the video game setting. The makers of this video game do not in any way endorse, condone or encourage engaging in any conduct depicted in the video game. Firefall may not be available on all platforms or in all territories. Release dates may vary by territories.
Ehhez a termékhez még nincs nyilvános értékelés.
Írhatsz saját értékelést ehhez a termékhez, hogy megoszd élményedet a közösséggel. Használd a vásárlás gomb feletti részt ezen az oldalon értékelésed megírásához.
Cím:
Firefall: Digital Deluxe Edition
Műfaj:
Akció
,
Ingyenesen játszható
,
Sokszereplős többjátékos
,
Szerepjáték
Fejlesztő:
Red 5 Studios
Kiadó:
Megjelenés dátuma:
2014. júl. 15.
Nyelvek:
| | Felület | Hang | Feliratozás |
| --- | --- | --- | --- |
| Angol | | | |
| Német | | | |
| Francia | | | |