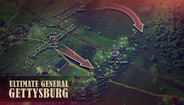 Ultimate General: Gettysburg is a Tactical Battle Simulator that allows you to lead thousands of soldiers in the famous Battle of Gettysburg as commander of either the Union or Confederate army. The game will feature the most accurately created map, complex morale, innovative control mechanics and smart AI.
Дата виходу: 11 чер 2014
Переглянути відео в HD-якості
Гра з дочасним доступом
Отримайте доступ і відразу почніть грати, беручи участь у процесі розробки.
Увага: ця гра з дочасним доступом може як істотно змінитися за час розробки, так і ні. Якщо вам не дуже кортить зіграти у неї в її поточному стані, то радше зачекайте, доки гра не прийме більш завершений вигляд. Дізнайтеся більше тут
Що бажають сказати розробники:
Чому дочасний доступ?
"Ultimate General Gettysburg is almost finished, but we wanted to involve community in improving the game. We plan to implement weekly patches focused on adding new features, improving AI, balance and game performance. In the Early Access version, you may encounter bugs, performance and compatibility issues, FPS drops that may affect your experience."
Як довго гра буде у дочасному доступі?
"From 30 to 60 days depending on the amount of new feature requests from players."
Чим повна версія гри буде відрізнятись від версії для дочасного доступу?
"Certain features that we believe are important to players are not in the game yet and are in process of internal testing.
Early access supports English language only - we want to fix all texts first before we start localization.

It is initially available for PC only - we will be adding Mac and Linux with patches

It does not have multiplayer yet - it is in internal testing

Some functionality could be missing
For full list of known issues please refer to:
http://forum.game-labs.net/index.php?/topic/906-known-issues-please-read/#entry20892
"
Який поточний стан версії для дочасного доступу?
"70% of content is in the game. For more information refer to the
known issues
link above"
Чи буде відрізнятись ціна гри на протязі дочасного доступу та після його завершення?
"Early access edition is cheaper than the release version. As the game is improved and new features are added the price will increase."
Як ви плануєте залучати спільноту до розробки гри?
"We fully endorse community driven development. We want players to actively participate in shaping the product, by providing feedback on existing content, by offering new ideas, and by voting on development priorities."
Читати далі
15 вересня
Hi all Generals,

There was need to fix fast various buggy issues. We just uploaded the hotfix.


Ultimate General: Gettysburg Patch 0.91 HotFix
---------------------
TECHNICAL
• Fixed issue of non-working saves
• Fixed bug in MP, that caused disconnections in some cases
• Added win/lose music
• Fixed Confederates' wrong achievement award
• There is now ping information in MP
• Corrected wrong info of online players
• Bug reporter button fixed
• Added bug report button into Single Player menu
• Added label in multiplayer "Select avatar" if avatar is not selected
GAMEPLAY
• Fine tunes in AI Determined/Cunning/Dynamic
• Morale not so fragile as before, especially close to the end of battle
• Combat pace a little slower
• Climping hills gives more movement penalty
• Melee damage and mechanics fixes
---------------------
We need your feedback to continue improving. Provide it at Game-Labs Forum and Steam Forum.
-
Game-Labs Forum
-
Steam Forum
.
Enjoy,
Game-Labs
PS.
Mac users will get this update as soon as possible tomorrow.
Коментарів: 3
Читати далі
12 вересня
Our next update leads Ultimate General: Gettysburg closer to final release. Multi-saves capability, Multiplayer fixes and new maps, AI & Gameplay enhances, the 4th day of the battle and other new features and improvements enrich the game experience!

Read the news in our blog with images:
http://www.ultimategeneral.com/blog/ultimate-general-pre-release-patch

or below:


Ultimate General: Gettysburg Patch 0.9
---------------------
MULTIPLAYER
•
+ 3 New Multiplayer Maps:
"The battle of Devil's Den", "Conquer the map", "The Union attacks Benner's Hill".
•
Multiplayer avatars:
5 officers that played big role in the battle for each side can be used to personalize your profile:
•
Union:
Meade, Reynolds, Howard, Sickles, Buford
•
Confederates:
Lee, Longstreet, Ewell, Hill, Stuart
•
Multiplayer Support for MAC PC:
Known issues*
- Multiplayer via Single player menu does not work yet (you can only choose from Steam launch window).
- Some sections of the menu have very tiny letters in Retina displays.
- Steam In-Home streaming may cause multiplayer disconnection. It is advised to turn it off or close steam in other PC of your local network while you play with your Mac.
• Multiplayer can now be accessed from the Single Player menu (PC version).
• Steam friend invitation is available.
• Steam names now visible during multiplayer match under the forces bar.
• Battle result window is more informative.
• Various Bug fixes.
• Several disconnection problems were fixed for multiplayer.
NEW FEATURES
•
Multi-save:
There is auto-save as before when you start a new battle and exit the game but you can also create your own save games (during battle go to options to save). The save stores the unit positions which are demonstrated in the preview map when you load the battle. The date and time is always visible in the battle briefing to have exact knowledge of the campaign situation.
Note
: Unit actions such as charge or retreat are not saved.
•
Final battle Statistics:
When you finish the campaign you get the final report for all the units that fought the battle via Order of Battle or Full Unit list.
•
Menu music:
Added music to main menu. Other music tracks pending to be added.
•
Easier custom battle unlock:
After completing a battle phase you unlock the rest custom battles of the same phase. Some battles unlock only when you play them with specific side. So to unlock all scenarios you need to finish a campaign with both Union and Confederates passing through the maximum phases which are now 8.
•
Extra custom battles:
All Multiplayer maps are now playable in Single Player Custom battles to practice them against the AI.
•
3 Achievements added
NEW CONTROLS
•
Multi-selection with lasso:
Use left mouse click to create a custom area to select units. Previous functionality using the Ctrl key remains an alternative.
•
Zoom with keyboard keys:
Zoom in/out with +/- keys.
GAMEPLAY IMPROVEMENTS
•
AI overhaul:
All AI personalities will be able to attack and defend according to their special stance much more efficiently, make lines and respond to any threat. In particular the AI is now better in handling artillery, reinforcing areas and flanking. Additionally all personalities will be aggressive enough to push for an assault when it is needed to win the battle.
•
Gameplay balance fine tunes:
Several important changes to all the battle mechanics, especially to morale, combat lethality and battle pace with aim to increase realism and challenge.
•
Artillery targeting major improvement:
Issues that were reported should be now fixed.
•
Melee mechanics improvement:
Melee will last longer and will be more bloody.
TEXT/CAMPAIGN BATTLE FLOW
•
The multi-day battle is now finalized including 4th day.
• Numerous fixes in texts.
• Battle Flow improvements.
BUG FIXES
• Fixed several bugs that could result in game freezes.
• Fixed freeze when pushing out of map units that were still in reinforcement movement mode.
• Fixed melee tremble (flag and soldiers to move very fast left-right).
• Fixed units cancelling their reinforcement path to target enemies from far distance, issue especially annoying for AI artillery.
• Fixed morale not regenerating fast enough in some cases.
• Fixed issues that could result in wrong retreat paths.
• Fixed all remaining Decision room maps that were not visible.
• Partial fix of units not firing enemies near them.
---------------------
The tutorial videos we wrote about in the preview notes of the patch will be available in the next update. We would like very much to know how you find all these new improvements and await you in our much more more improved multiplayer. Your feedback is always taken into consideration. Provide it at Game-Labs Forum and Steam Forum.
-
Game-Labs Forum
-
Steam Forum
.
Enjoy,
Game-Labs
Коментарів: 3
Читати далі
Рецензії
"What I played was...fantastic"
Kotaku

"If you're a strategy fan, you should definitely keep Ultimate General on your radar"
Strategy Informer

"This is the way a Gettysburg game should be made. Between the Incredible Map, intuitive gameplay, and Line of Sight system I know of no other Civil War game that can compete with how awesome this game has become"
Wargamer

Про гру
Ultimate General: Gettysburg
is a Tactical Battle Simulator that allows you to lead thousands of soldiers in the famous Battle of Gettysburg as commander of either the Union or Confederate army. The game will feature the most accurately created map, complex morale, innovative control mechanics and smart AI. You will have the freedom to use different strategies while the battle progresses. Your decisions and military performance play a crucial role in the result. Lead your army and win the Battle of Gettysburg!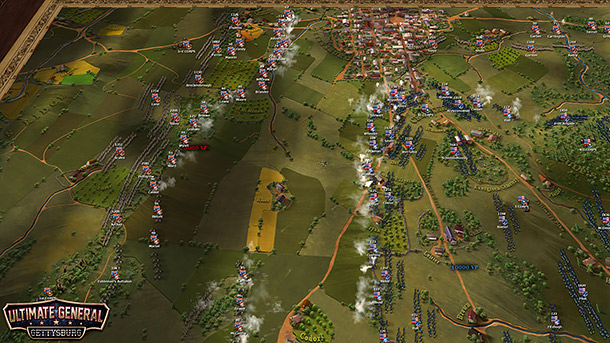 Early Access Features
Smart AI Commanders
Ultimate General: Gettysburg does not use "AI gameplay cheats" because it does not need them. The game's difficulty is accomplished only by nine distinctive AI personalities, each with their own advantages and special skills. AI Commanders are able to evaluate and gain tactical superiority in real time, reacting according to their different commanding skills, aggressively or defensively, heroically or cunningly and resemble different, competent human players.
What players say: "Fantastic AI - don't know what kind of brain you put in this game but it works"
Easy Controls & Unit Self-Awareness
Drag simple movement arrows to command large forces easily. Units do not need your micromanagement because they are able to act on their own initiative and re-align, switch targets, withdraw and form battle lines without player input. Consequently, you are able to give generic commands to your units and can rely on them to fight efficiently without the need for "babysitting".
What players say: "Innovative movement system - this is by far an awesome system they developed. It's not only insanely easy to learn, but also incredibly innovative"
Detailed Map of Gettysburg
Utilizing satellite images and historical maps, every major location, house, ridge and hill are depicted as accurately as possible within the game's unique art style. If you are an American Civil War enthusiast, you will be especially happy to notice the amount of precision and information that the map provides. Not only will you be able to better understand the historical layout of the map, you will also be able to make use of each location and landmark in battle, thanks to the simulation of cover, concealment, terrain and high ground in the game.
What players say: "Incredible Gorgeous Map - I had to capitalize that because this map is by far one of the best maps of Gettysburg I have ever seen either in a game or even in books"
Advanced Line of Sight
Elevation and obstructions will affect unit visibility realistically. Units may make use of concealment and cover to survive artillery barrages, stage ambushes and more, but beware – the AI will attempt to do the same to you. The units enter or exit the Fog of War gradually with a fade in/out effect that helps you perceive their hiding and course seamlessly.
What players say: "The way Game Labs implemented Line of Sight in this game should be held as an example to other developers to do the same"
Numerous Tactical Factors
In Ultimate General: Gettysburg, you will realize that army units are not "machines" that blindly follow orders, but will need to conserve strength and courage for decisive battle actions. Every basic tactical element that is expected for a strategy game is incorporated into gameplay. Most importantly, morale is affected by many factors including flank or rear attacks, casualties, volley shocks, artillery fire and fatigue.
What players say: "... positioning of units matters. You really bring the struggles of 19th century warfare to life here"
Historically Accurate Forces and Leaders
Ultimate General: Gettysburg includes the full order of battle for the Union Army of the Potomac and the Confederate Army of Northern Virginia. Unit sizes will range from the small artillery batteries to vast infantry brigades with cavalry and skirmishers in between.
All brigades have troop numbers and differing competencies based on historical facts. Additionally, all artillery battery numbers and types are correctly simulated. Lastly, major generals and officers actively participate in the battlefield to organize and support the armies and will also appear in after action battle reports to help you monitor battle progress.
What players say: "Immersive American Civil War feel: sounds, portraits and general historical authentic really make this one of the most immersive historical games I have played, and I am a total history buff"
Furthermore, every inch of the map has a strategic role. Sloping, terrain type and obstructions will affect unit movement realistically. Elevations, ridges and hills provide excellent firing positions and give increased sight, morale and accuracy to troops stationed there.
By placing your units close to each other, they become more resilient to charges and flank attacks but get more vulnerable to projectile fire. Thus, forcing your enemy to keep his lines dense while you shell him with artillery can be a valid tactic. As the condition of your units changes dynamically during the battle, the effectiveness of your whole army is affected. For example, units fire more coordinated volleys when they have high morale and have more discipline and tight formations.
These and many more deep gameplay mechanics are packed into a simple and intuitive GUI that aims to ease the game experience for the player without overwhelming with complex statistics.
Ultimate General: Gettysburg
is developed by Game Labs and designed by Nick Thomadis, known for his successful and popular "DarthMod" series.
How to Play
Please read our web guide:
http://forum.game-labs.net/index.php?/topic/746-online-short-guide/
Вимоги до системи (Windows)
Minimum:


OS: Windows 7 32-bit

Processor: Dual Core CPU 1.6Ghz

Memory: 2 GB RAM

Graphics: 512Mb VRAM, Minimum 1024x768 resolution, Intel HD 3000 and higher, GeForce 8800 and higher, AMD Radeon X1600 and higher

DirectX: Version 9.0

Hard Drive: 2 GB available space

Sound Card: DirectX 9.0 compatible

Additional Notes: 2gb memory is needed for 32-bit operating system, 4gb memory for 64-bit windows
Вимоги до системи (Mac OS)
Minimum:


OS: 10.7

Processor: 2.0 Ghz Dual Core CPU or faster

Memory: 4 GB RAM

Graphics: GeForce or AMD gpu or Intel 4000 and higher

Hard Drive: 2 GB available space
Ultimate General is a trade mark of Game-Labs LLC. Copyright © 2013-14 Game-Labs LLC. All Rights Reserved.
Корисні рецензії покупців
Назва:
Ultimate General: Gettysburg
Жанр:
Інді
,
Симулятори
,
Стратегії
,
Дочасний доступ
Розробник:
Game-Labs
Видавництво:
Game-Labs
Дата виходу:
11 чер 2014
Мови:
| | Інтерфейс | Озвучення | Субтитри |
| --- | --- | --- | --- |
| англійська | | | |