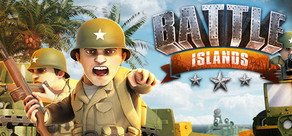 Battle friends over air, land and sea in this epic WW2-themed battle strategy game.
Release Date: Aug 6, 2014
Watch HD video
August 6
The year: summer of 1942. The theatre of operations: an undisclosed chain of tropical islands in the South Pacific. Your mission: to seize these strategically critical islands, establish a base and hold your ground in the face of overwhelming odds.

You will not be alone. At your command will be some of the hardest-fighting leathernecks in the service, and you'll have the finest military hardware at your disposal to bring about total victory. Fight with (or against) your friends and show them what makes the grass grow!


Master the art of offence and defence in this action-packed WWII-themed strategy game

Deploy units on land, sea and air

Build up and fortify your island garrison with everything from machine guns and land mines to howitzers!

Form Alliances with friends and earn your place on the leader board!

If someone hits you, hit him harder! Keep track of your rivals and choose your moment to strike!

Unprecedented multiplayer support - fight against users on iOS and Android!

Engage your enemy across platforms! Play on Steam at home and your mobile device when on manoeuvres - Battle Islands is supported on iOS, Android and Amazon!

Join a growing, thriving community of fellow commanders and benefit from the supreme knowledge of our very own Sarge!

Beautiful graphics custom-built for Steam
Your mission will not be easy. Your enemy is well trained, well equipped and battle-hardened. They will fight savagely. You must fight them on the beaches. You must fight them on the landing grounds, on the fields and in the hills.
You must never surrender!
15 comments
Read more
About the Game
"It's 1942, and deep in the South Pacific your platoon of crack troops lands on a tropical island, but can you defeat enemy forces and hold your ground to fight another day?
You'll need to act quickly in this action-packed, WW2-themed battle strategy game – Control air, sea, and land forces, build your garrison, battle against friends and create powerful allegiances!
Control troops, jeeps, tanks, boats and warplanes over air, sea, and land as you vie for superiority deep in the South Pacific

Build and improve your military might, and use it to raid and pillage enemy islands and capture their resources

Make sure you've a strong garrison - your enemies are itching to invade!

Exciting Real-time strategy and combat gameplay

Battle against friends in the fight for supremacy
IT'S TIME FOR BATTLE, SOLDIER!
"
System Requirements
Minimum:


OS: Windows XP SP2, Windows Vista SP1, Windows 7

Processor: 1GHz

Memory: 512 MB RAM

Graphics: DirectX9 Compatible

DirectX: Version 9.0

Network: Broadband Internet connection

Hard Drive: 150 MB available space
505 MOBILE AND THE 505 MOBILE LOGO ARE TRADEMARKS AND REGISTERED TRADEMARKS OF 505 MOBILE SRL OR ITS AFFILIATES
Helpful customer reviews
Title:
Battle Islands
Genre:
Free to Play
,
Simulation
,
Strategy
Developer:
DR Studios
Publisher:
505 Mobile Games
Release Date:
Aug 6, 2014
Languages:
| | Interface | Full audio | Subtitles |
| --- | --- | --- | --- |
| English | | | |
| French | | | |
| Italian | | | |
| German | | | |
| Spanish | | | |
| Portuguese | | | |
| Portuguese-Brazil | | | |
See all 7 supported languages