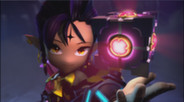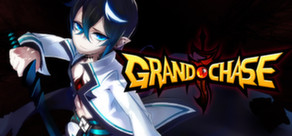 Grand Chase : The ORIGINAL online brawler! Grand Chase is a Free-To-Play, side-scrolling MMORPG fantasy epic!
Release Date: Jul 17, 2014
Watch all 2 trailers
Downloadable Content For This Game
September 12
What's up Chasers!

A lot of exciting things were patched in tonight. Since there's much content to cover, let's get right into it!



Log in today and receive an Ultimate Weapon mission along with a Maid for Him coordi chest!
With the Ultimate Weapon Chest, you can acquire a special coordi weapon for Rufus, Asin, Zero, Dio or Veigas.

Also, make sure to open the Maid for Him chest to acquire a Maid outfit.. for HIM! We know all the boys have been secretly been wanting to dress like the girls.



Of course we can't forget about the main event! There have been sightings all over Aernas of this mysterious Uno character. He seems to have been through a lot and requires some protection. If you are able to protect him successfully, you'll receive Uno's Tokens. Collect the tokens and they'll be exchanged during the next maintenance for some awesome rewards... like a Shadow Necklace for Uno!!!



That's right! Gone are the days where you had to write all the restrictions in the room name. Now you can normalize stats, prohibit pets and 4th bar skills. You can even restrict certain ranks and those pesky Arme players with their Firebolts!



It's time for a Super Encore Gacha, but this one is a special one! Not only are Sia and Rui back for another round, the all new Aslan has decided to join us too! Check out Aslan and his Liones armor for all it's golden glory.



Lastly, we have some new items updated in the Shop. Level 80 Relic Evil Kaiser set is now available, along with Coordi Bags that will increase the size of your inventory. Also, don't miss out on the limited time sale of the all new Pet Glyphs!

As always check out the full details on our website! LINK

4 comments
Read more
August 29
What's up Chasers!



Our passionate fighter and #1 Amy fanboy has received an update!
With this update, he's now a little bit faster and does a lot more damage than before. Many of his skills have also received a visual update.

Also, level up events, missions, and Job Coordi sets have been added too!
*Jin's level up events are also rewarding VP Coupon Random Chests!!!

Check Jin out in game to see what all the fuss is about!

*VP Coupons can be used to purchase K-Ching(Cash) items in shop




We have a really fun event that just started today! Receive fun rewards have just gotten easier!
-Log in to the game each day to receive SPIN Tokens.
-Play Grand Chase for at least 2 hours a day to receive additional SPIN Tokens.
-Check the event page after 3am the following day to see your SPIN count updated.
-Click on the SPIN button and that's it!

Rewards are distributed to your temporary warehouse (which will appear when you log in).
Select the character that will receive the rewards and move the rewards for that character.




Cordelia is back for an encore! If you missed out on this Seal Breaker Gacha set, make sure you don't miss it this time!

As always, you can check out the patch notes here! Patch Notes 08/28/2014
3 comments
Read more
About the Game
The original online brawler, Grand Chase is a Free-To-Play, side-scrolling MMORPG fantasy epic. Players will join as a Knight of the heroic Grand Chase; an elite corps of warriors that fight to save the world of Aernas from the evil Kaze'aze and the wicked army that follows her. Grand Chase offers a bright, anime-inspired world with a fluid visual presentation, precise controls, a sophisticated combo-system, impressively strategic battle structure, and seemingly limitless customization of the look and feel of your characters.
Key Features
Completely free-to-play:
No Tricks, No Questions, No Mess… Not Ever!
From level 0 to End-Game, Grand Chase is completely free-to-play

A playable character roster like none other:
With 19 playable characters, and up to 4 completely unique Job Classes per character, Grand Chase offers one of the most dynamic and versatile MMO character rosters ever.
Change up your game and play the way you want to play!

Co-op Or Single-player Dungeons:
Join together with up to 3 other players or go it alone in an immersive and comprehensive anime-inspired RPG world.
A vibrant realm chalked full of High-Fantasy, Steam-Punk, Sci-Fi and Anime aspects spectacularly tied together into a unique tale of heroism. Join the Grand Chase and become a part of a fantasy epic that will captivate you from the very beginning.

PvP Combat:
Earn PvP specific ranks, put your name up in lights on the community leaderboard, get epic loot and level-up! Grand Chase PvP offers competitive players the center stage.
From 1v1 to 3v3 and a myriad of options in between, trounce the competition in fiercely competitive, industry leading PvP
System Requirements
Minimum:


OS: Windows XP or higher

Processor: Pentium4 1.5GHz/AMD 1GHz

Memory: 1 GB RAM

Graphics: Nividia Geforce4 MX440 or better (ATI Radeon 9500)

DirectX: Version 9.0c

Hard Drive: 4 GB available space
Recommended:


OS: Windows 7 or higher

Processor: Intel/AMD 2 GHz or higher

Memory: 2 GB RAM

Graphics: Nividia Geforce 6 Series or better (ATI Radeon 9800)

DirectX: Version 11

Hard Drive: 6 GB available space
Helpful customer reviews
Title:
Grand Chase
Genre:
Action
,
Adventure
,
Free to Play
,
Massively Multiplayer
,
RPG
Developer:
KOG
Publisher:
KOG Games
Release Date:
Jul 17, 2014
Languages:
| | Interface | Full audio | Subtitles |
| --- | --- | --- | --- |
| English | | | |