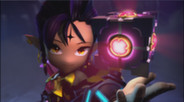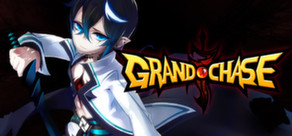 Grand Chase : The ORIGINAL online brawler! Grand Chase is a Free-To-Play, side-scrolling MMORPG fantasy epic!
Release Date: Jul 17, 2014
Watch HD video
Downloadable Content For This Game
August 13th, 2014
What's up Chasers!

After all these years, Mari's Skill Tree has finally arrived.

Click on Practice Mode from the Server Select Screen to check out her new skill tree!

As part of the celebration for her skill tree release, all Mari characters will receive an additional 10% to Attack, Defense, and Vitality.

Log in each day to receive 3 Mari Summon Scrolls. When Mari is summoned, she will use her new skill to help you defeat your enemies!

Also, a special coordi set, Enlightened Rune Caster and Enlightened Ruby Rune Caster can be found under the Academy tab in the K-Ching Shop



Seal Breaker Gacha - Devilion
Souls beware - a wicked new set arrives in Seal Breaker Gacha!
If you'd like to check out the armor in game, click on the Menu and then the Seal Breaker Gacha icon to see the armor in action!




New System - Pet Glyphs

The all new Pet Glyphs system allows you to add glyphs to your pet to enhance the pet's skills!

Pet Glyphs can be access from the Pet UI



When you complete a Gacha set, you'll receive the pet + an Epic Pet Glyph Chest.
Open the chest and select a glyph of your choice.

Red Glyphs: Increases pet damage
Yellow Glyphs: Retains a percentage of the pet's MP when advancing to the next stage
Blue Glyphs: MP(AP) recovery increases when pet skill is used
Green Glyphs: Pet gauge recovery increases
Purple Glyphs: Add AP recovery function (Effects will not stack on pets that already recover AP)




Lastly, Moonlight Village Dungeon is back! The dungeon can be accessed from the Event Dungeon Icon on the World Map.




For more detailed information on any of these events, check out the website! http://grandchaseonline.com
6 comments
Read more
August 1st, 2014
From the Magical War of Kounat to the creation of the Tower of Disappearance, Aernas was constantly at war. In the past, the Dimension's Door connecting Aernas and Elyos caused the realms to be thrown out of balance, and thus the Gods, recognizing its risk, decided to destroy Aernas.

The three goddesses that were once in charge of Aernas—Ernasis, Lisnar, and Amenias—voiced dissent and pled for Aernas to receive a final chance to determine its own fate, putting the decision in the hands of its inhabitants. The goddess of love and spirits, Lisnar, sent Harkion to Aernas to serve as their test.

Harkion, the divine beast, appears to the people of Aernas at once.

"To all who are living in Aernas, listen well…
Try and stop me with everything that you have…
Decide by your own power whether to live or die!"

The time has come to save Aernas and restore balance to the world. Play the Land of Judgment!




ALL levels are welcome!
Rewards are based on the tier acquired, so do your best to reach to the top!

Shop Update
Miracle Summer and Lovely Miracle Swimsuit packages are now available in shop.
Each package comes with 1 weapon coordi chest and a Pet Miracle Nerissa!


6 comments
Read more
About the Game
The original online brawler, Grand Chase is a Free-To-Play, side-scrolling MMORPG fantasy epic. Players will join as a Knight of the heroic Grand Chase; an elite corps of warriors that fight to save the world of Aernas from the evil Kaze'aze and the wicked army that follows her. Grand Chase offers a bright, anime-inspired world with a fluid visual presentation, precise controls, a sophisticated combo-system, impressively strategic battle structure, and seemingly limitless customization of the look and feel of your characters.
Key Features
Completely free-to-play:
No Tricks, No Questions, No Mess… Not Ever!
From level 0 to End-Game, Grand Chase is completely free-to-play

A playable character roster like none other:
With 19 playable characters, and up to 4 completely unique Job Classes per character, Grand Chase offers one of the most dynamic and versatile MMO character rosters ever.
Change up your game and play the way you want to play!

Co-op Or Single-player Dungeons:
Join together with up to 3 other players or go it alone in an immersive and comprehensive anime-inspired RPG world.
A vibrant realm chalked full of High-Fantasy, Steam-Punk, Sci-Fi and Anime aspects spectacularly tied together into a unique tale of heroism. Join the Grand Chase and become a part of a fantasy epic that will captivate you from the very beginning.

PvP Combat:
Earn PvP specific ranks, put your name up in lights on the community leaderboard, get epic loot and level-up! Grand Chase PvP offers competitive players the center stage.
From 1v1 to 3v3 and a myriad of options in between, trounce the competition in fiercely competitive, industry leading PvP
System Requirements
Minimum:


OS: Windows XP or higher

Processor: Pentium4 1.5GHz/AMD 1GHz

Memory: 1 GB RAM

Graphics: Nividia Geforce4 MX440 or better (ATI Radeon 9500)

DirectX: Version 9.0c

Hard Drive: 4 GB available space
Recommended:


OS: Windows 7 or higher

Processor: Intel/AMD 2 GHz or higher

Memory: 2 GB RAM

Graphics: Nividia Geforce 6 Series or better (ATI Radeon 9800)

DirectX: Version 11

Hard Drive: 6 GB available space
Helpful customer reviews
Title:
Grand Chase
Genre:
Action
,
Adventure
,
Free to Play
,
Massively Multiplayer
,
RPG
Developer:
KOG
Publisher:
KOG Games
Release Date:
Jul 17, 2014
Languages:
| | Interface | Full audio | Subtitles |
| --- | --- | --- | --- |
| English | | | |