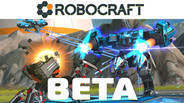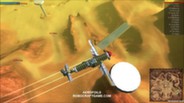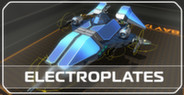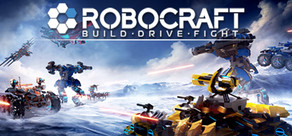 If Minecraft smashed straight into World of Tanks you'd get Robocraft. BUILD, DRIVE & FIGHT in this Free-To-Play MMO Robot vehicle shooter. Build a robot battle vehicle, add wheels, jets, guns, wings and take it into intense online team battles.
Release Date: Jul 8, 2014
Watch all 3 trailers
Early Access Game
Get instant access and start playing; get involved with this game as it develops.
Note: This Early Access game may or may not change significantly over the course of development. If you are not excited to play this game in its current state, then you may want to wait until the game progresses further in development. Learn more
What the developers have to say:
Why Early Access?
"Robocraft has been built with a dedicated community of Robocrafters from the very beginning. It's first release was in April 2013 and had no multiplayer and no combat. From that point and to now the game has grown to it's full MMO state and whilst we still call it a 'Live Alpha' you will find it a very polished and fully featured experience."
How long will this game be in Early Access?
"We expect the game to remain in Early Access for at least the next 6 months after it's initial release on Steam. This way the Steam community can help to shape the game as the rest of the Robocraft community has so far."
How is the full version planned to differ from the Early Access version?
"When Clan Battles, Tournaments, Megabots (players as bosses in Boss Battles vs. other users), plus integration of Steam Leaderboards and Steam Achievements."
What is the current state of the Early Access version?
"We call it 'Early Alpha' but we expect you to find it as polished and fully featured as most 'Beta' releases."
Will the game be priced differently during and after Early Access?
"No, Robocraft will always be Free-to-play and our prices won't change as a result of shifting from Early Access to a full release in future."
How are you planning on involving the Community in your development process?
"Freejam (the developer of Robocraft) has community in it's blood. The work Freejam is a combination of 'Free' and 'Jam' where 'Free' shows our dedication to keeping Robocraft always Free and 'Jam' stands for 'Jamming'. We like to think of Robocraft as a game that has been built from the ground up with the community and 'Jamming' with the community is ingrained in everything we do." Read more
September 18
From 3pm UTC+1, Robocraft will be in maintenance mode.
The maintenance is expected to take roughly an hour, however it may take longer if we come across any complications.

The reason for the maintenance is to apply a patch with a number of bug fixes, anti-hack improvements, and general improvements.

0.6.825 PATCH NOTES:

Anti-Hack:
- Changes to how certain values are stored to prevent some fire-rate hacks.
- Changes to chat code to prevent name changing

Bug Fixes:
- Fixed a bug which would cause a robot's rail cannons to jam when it was damaged
- Fixed a bug relating to the radar which would cause some people to crash
- Fixed a bug which would cause a crash on changing between robots
- Fixed a bug which caused guns to... bend.
- Fixed various collisions on robot parts [New]

Improvements:
- The Robocraft window is no longer forcefully above everything else
- New spotting cooldown indicator
- It's now easier to 'spot' smaller enemies from further away
- It's now easier to 'spot' enemies that are partially obscured
- Platoon mates are now green on the minimap

Update: Some complications have come up so it's taking longer than expected.
We'll keep you posted on any progress.

Update 2: We're having problems with our deploy process.
Unfortunately we still don't have an ETA, but we'll let you know when we're back up.

Update 3: We're reverting to the last version.
Our choice is to either to solve this problem and potentially leave the servers offline for several hours, or revert to the last version, let everyone play, and solve the issue with the older version of the game running.

We've decided since this isn't a major content update, people would likely prefer to play now and have the new patch tomorrow.

Sorry for the inconvenience. Hopefully we'll get the patch live tomorrow.
73 comments
Read more
September 10



Thanks to everyone that submitted their questions to the AMA!

We've compiled a list of the most highly voted questions and posted them here for your viewing pleasure!

So in descending order, here they are:

Saving robots designs

Damage over Time (DoT) weapons

ELO in Robocraft

Robo-stats

Key-Binds

+2 Weapons

Maps, CoM, Copter Blades, Competitions, Robo-Symmetry

Rockets

Weapon Distribution, Hard Countering, Considerations for E-Sports

Weapon Balance and T10 Endgame

Full-Team Platoons and 'Clan Battles'

Damage Reports and Controller Support

Electroplate Variety

Biggest Technical Challenge

Games worked on before Robocraft

What caused the Mac/Linux release down time?

Ric pretending he's actually good at Robocraft
16 comments
Read more
About the Game
Build insane Robot Battle Vehicles that drive, hover and fly; add weapons from the future and jump in the driving seat as you take them into battle in a team based capture the base Free-to-Win MMO.

BUILD - A futuristic robo vehicle from Cubes, add Wheels, Thrusters, Hoverblades, Wings, and Plasma Cannons
DRIVE - Jump in the Pilot seat of your Robot and drive it into battle in Jet Cars, Tanks, Flying Warships, anything you can dream up
FIGHT - Battle online in massively multiplayer mayhem against users from all over the world

- Over 100 cubes and components to collect and combine to make a million different Robot designs
- Watch as you enemies Robot breaks apart cube by cube as you destroy them with powerful weaponry
- Auto-repair your Robot and head into battle again gradually building your resources to make your Robots more powerful
- Invite Friends, chat in game
- Form Platoons and battle on the same team
- Save your Robots in the Garage in the cloud
- Access your game account from any PC anywhere via Robocloud
- Free-To-Win, everything required to get to the very top of the tree in Robocraft can be gained for free
PC System Requirements
Minimum:


OS: Windows 2000/XP/Vista/7

Processor: Intel from 3GHz with SSE2 support or equivilent AMD family

Memory: 2 GB RAM

Graphics: Shader Model 3.0 Compatible GPU, DirectX 9.0c

DirectX: Version 9.0c

Network: Broadband Internet connection

Hard Drive: 1 GB available space

Sound Card: DirectX compatible
Mac System Requirements
Minimum:


OS: Mac OS X 10.6+

Processor: Intel from 3GHz with SSE2 support or equivilent AMD family

Memory: 2 GB RAM

Graphics: Shader Model 3.0 Compatible GPU

Network: Broadband Internet connection

Hard Drive: 1 GB available space
Linux System Requirements
Minimum:


OS: Ubuntu 10.10+

Processor: Intel from 3GHz with SSE2 support or equivilent AMD family

Memory: 2 GB RAM

Graphics: Shader Model 3.0 Compatible GPU

Network: Broadband Internet connection

Hard Drive: 1 GB available space
Helpful customer reviews
Title:
Robocraft
Genre:
Action
,
Free to Play
,
Indie
,
Massively Multiplayer
,
RPG
,
Simulation
,
Early Access
Developer:
Freejam
Publisher:
Freejam
Release Date:
Jul 8, 2014
Languages:
| | Interface | Full audio | Subtitles |
| --- | --- | --- | --- |
| English | | | |