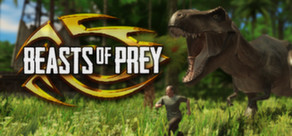 Beasts of Prey - a new survival sandbox MMOFPS! Hunt Dinosaurs, craft items, build massive structures and create your own empire in a procedual generated game-world that grows with server population.
Release Date: Jun 5
Watch HD video
Early Access Game
Get instant access and start playing; get involved with this game as it develops.
Note: This Early Access game may or may not change significantly over the course of development. If you are not excited to play this game in its current state, then you may want to wait until the game progresses further in development. Learn more
What the developers have to say:
Why Early Access?
"We are developing this game together with our community. Your feedback, your critics, your suggestions are what drives this game forward. In the last weeks this game had over 11 patches and more than 17 hot-fixes (July 2014). Our community helps us to make the game we all want to have. This is what Early Access is truely about - making a game together with the community."
How long will this game be in Early Access?
"We are aiming for an early access phase not longer than 6 months. It's planned to reach Beta-State in October 2014, however the game will stay in the alpha state until you guys think it's ready."
How is the full version planned to differ from the Early Access version?
"The full version will be based on players input from the early access phase. Right now we designed and build the game-mechanics how we think it would be cool - but maybe it isn't or the community comes up with some amazing feature requests like they already did in the past.

The full version will also have a turret system, different biomes, more wildlife and community-approved game-mechanics."
What is the current state of the Early Access version?
"While the game runs stable and contains already a lot of polished game-play this game is still unfinished so there might be still bugs, annoyances, unfinished game-mechanics, unbalanced weapons/structures, unbalanced dinosaurs, GUI bugs, servers might go up and down a lot, multiple patches in a single day. We are actively working on the game and we will supply different types of servers so you can play without our work interfering with your game-play but please do not expect a perfect game. We also tend to change things, try out mechanics, remove them again - if you are not enjoying forging the game just wait, in a few months this game will come out."
Will the game be priced differently during and after Early Access?
"Yes! Once the game is fully released the price will represent the final state of the game. Right now we are selling this game at a discounted price, without any pay-to-win scheme, without a monthly subscription."
How are you planning on involving the Community in your development process?
"We would like to fully integrate our community into the development process. Important game-play/game-mechanics decisions should be community-based. Also on future updates we would like to know what the community prefers us to work on." Read more
Buy Beasts of Prey 4 Pack
August 1
Roaming Birds, Quetzalcoatlus Dinosaurs flying on the horizon, a dense jungle - that is the new look and feel of Beasts of Prey. With this patch our game gets another major performance and graphics update . Pretty much all parts of the game have received further optimization and polishing. The graphics have been updated, the core engine got upgraded and several in-game mechanics have been adjusted based on your feedback. We were able to improve the FPS on lower-end machines while at the same time the visuals in the game improved as well. The games look and feel will give you now a much deeper immerse in-game experience.

Changes :
- New performance upgrades in almost all aspects of the game. (Engine/Graphics/Network)
- New and updated GUI Elements to improve the overall look and feel.
- New thrilling login scene.
- New beautifully redesigned game-world.
- New visuals like roaming birds, quetzalcoatlus and bats.
- Swimming and Diving is now possible.
- Building Mechanics has been improved and optimized.
- Dinosaurs are not so easy to kill anymore, their AI has been improved.
- Dinosaurs drop loot again.
- Before building you need place a flag now as a pre-requirement.
- Stone spawns have been balanced.
- Stone spawn physics have been fixed.

With the changes to performance and graphics our next updates will focus again more on content. The armor system, improved dinosaur AI and vehicles are still in development so the upcoming patch will feature a lot of new items.

Again, we would like to thank everyone who has been supporting us. Developing the game is a lot of fun with this community and by giving us your feedback you'll help us get the things done!
97 comments
Read more
July 17
Hello everyone,
as some of your requested we have added a PvE Server today with special rules for those of your that do not enjoy PvP enviroments. The PvE server has the following different rules :

- No damage to other players.
- No damage to structures that do not belong to you.
- No lootdrop on death.
- No turrets.

Patch Notes from yesterday were missing so here they are :

10.1
- Added option to disable loot-drop on servers.
- Added option to disable player damage on servers.
- Fixed the oil tower. It can now be crafted.
- Fixed dinosaur settings on private servers. Default is dinosaurs enabled now.
- Fixed a lagspike.
- Fixed indestructable turret.
- Fixed a targeting bug with turrets.
- Fixed bed spawns.

10.2
- Fixed turret bug.
- Fixed resource spawning.
35 comments
Read more
About the Game
Beasts of Prey is a survival sandbox MMOFPS, featuring a huge randomly generated world that increase based on the population of the game. Danger lurks everywhere and will make your struggle for survival even tougher. Carnivorous beasts may be lying in wait behind every tree and waiting to make you their prey.

You are starting out without anything but your combat knife and you'll have to regain access to modern technologies through gathering resources, crafting items, building structures like houses, defenses, factories and by conquering and defending resource hotspots. You can build outposts & cities, conquer them - or destroy them. Whatever is on your agenda how you want to play in the sandbox.

Create an empire, forge alliances, defend or conquer valueable resource spots. All your actions have an impact in this dynamic growing game-world, your actions matter – you can help a fellow player who is attacked by dinosaurs, or use him for targeting practise, steal his belongings. But remember, it's a single sandbox, all your actions have a meaning and you have to face the consequences of what you are doing.

Features :
- Single Server MMOFPS Sandbox with Private Server Option.
- Dynamic Procedual Terrain increasing based on server population.
- Beautiful & rich jungle world. Roaming birds, dinosaurs, bats.
- Extensive gathering and crafting system. Gather wood and stone, harvest oil by building oil pumps and towers, build your own mining drills to automate gathering.
- You build the world! From axes to rifles, from houses to massive industrials structures like Oilrigs.
- Everything built can be conquered or destroyed. Defend outposts and towns or conquer them.
- Massive Dinosaurs will hunt the weak! Be on your guard!
- Craft, Build, Gather, Expore, Hunt, Kill, Destroy - you can do it all how you want.
- Build headquarters with your friends or clanmates!
- Plan and operate energy-related production and consumption units.
- Build pre-designed houses and structures or craft your own modular home.
- Tribes System so you can play and build together with your friends.
- In-game VoIP System, communicate naturally with your friends and foes.
PC System Requirements
Minimum:


OS: Windows XP or later (Vista/7/8)

Processor: Intel/AMD x32/x64

Memory: 2048 MB RAM

Graphics: NVidia GeForce or AMD

DirectX: Version 9.0c

Hard Drive: 1500 MB available space
Recommended:


OS: Windows XP or later (Vista/7/8)

Processor: i7 CPU

Memory: 4096 MB RAM

Graphics: NVidia GeForce 560GTX or higher

DirectX: Version 9.0c

Hard Drive: 1500 MB available space
Mac System Requirements
Minimum:


OS: Mac OS X 10.6 or later

Processor: Intel/AMD x32/x64

Memory: 2048 MB RAM

Graphics: NVidia GeForce or AMD

Hard Drive: 1500 MB available space
Recommended:


OS: Mac OS X 10.6 or later

Processor: i7 CPU

Memory: 4096 MB RAM

Graphics: NVidia GeForce 560GTX or higher

Hard Drive: 1500 MB available space
Linux System Requirements
Minimum:


OS: Ubuntu 14.04 LTS or later

Processor: Intel/AMD x32/x64

Memory: 2048 MB RAM

Graphics: NVidia GeForce or AMD

Hard Drive: 1500 MB available space
Recommended:


OS: Ubuntu 14.04 LTS or later

Processor: i7 CPU

Memory: 2048 MB RAM

Graphics: NVidia GeForce 560GTX or higher

Hard Drive: 1500 MB available space
Helpful customer reviews
Title:
Beasts of Prey
Genre:
Action
,
Adventure
,
Indie
,
Massively Multiplayer
,
Early Access
Developer:
Octagon Interactive
Publisher:
Octagon Interactive
Release Date:
Jun 5
Languages:
| | Interface | Full audio | Subtitles |
| --- | --- | --- | --- |
| English | | | |