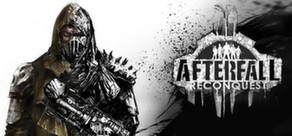 Afterfall: Reconquest is a story driven TPP action shooter, set in the post-apocalyptic Afterfall universe; a world slowly rising from the ruins of the old civilization. It will consist of nine episodes, each focusing on different, yet overlapping scenarios.
Release Date: Jul 24, 2014
Watch all 5 trailers
Early Access Game
Get instant access and start playing; get involved with this game as it develops.
Note: This Early Access game may or may not change significantly over the course of development. If you are not excited to play this game in its current state, then you may want to wait until the game progresses further in development. Learn more
What the developers have to say:
Why Early Access?
"Early access is ideal place where we can work with our fans on the living piece of game. So we decided to give players some parts of our game, evaluate and balance gameplay together to recive what we all expect. Engaging action with immersive story."
How long will this game be in Early Access?
"It depends on two groups of people. Us - developers and You - our fan base. We would like to release first episode in middle/end of summer, but it depends how much progress with a gameplay we'll do together during this summer. So this is our target and we will do what we can to acomplish that milestone but you have to remember, we want give u high quality indie game and it comes first."
How is the full version planned to differ from the Early Access version?
"First thing that has to be said is that our game will be based on story and action gamepaly. As we do episodic series its a little bit to big spoiler to share our whole story with you on early access. This is why we decided to give u only some part of our game, that will show you our setting, gameplay and some introduction to story and dialog system. It is one of missions that you enter form the Hub and is based on linear gamepley.
The final game will be fully developed as 3 hours long chapter of gameplay in semi open world map, where u decide where to go and what to do. As it is story driven game there will be much more story, characteras and whole lore stuff of Afterfall Universe. Whats more final voice overs for each dialogue line in a game, new skills for our main character and the most importent final, balanced developed with your help, combat system."
What is the current state of the Early Access version?
"What you will find on early access will be alpha version of Reconquest systems. Content wise you will get about 1 hour core gameplay and its approximately 1/4 of the full episode.. This will expand with further updates."
Will the game be priced differently during and after Early Access?
"No we do not plan base price to differ."
How are you planning on involving the Community in your development process?
"This is the most important element of the concept. We will listen to what community says. As the game has episodic format we will listen not only to bug reports but also to ideas and concepts for game improvement that may be implemented in further episodes. We may also choose epiogue from gamers ideas and concepts but this will come when the story will develop. The plan is to make as frequent updates as possible so everttime you will play the game it will be different." Read more
August 15
We were planning tech and functional update next week but weekend is coming so we have decided to hand over to you 1.2 update today, so you will have time to check and give us some feedback.

Here is the list of changes prepared :

Update 1.2

Settings and options
- resolution
- gamma
- difficulty level (1st iteration)
- keys mapping
(there will be no option to order exotic dancers !!!)

Checkpoints revision (additional saving points)
(checkpoints adjusted to kill boredoom of walking also new checkpoints presented to limit reincarnation of too many enemies)

Streaming updates
(the longest ever in gaming industry stream has been shortened - effect its still long on some PC's but we are working on it)

Collision updates
(probably we can announce contest "who will find the biggest number of collision mistakes")

Lightning updates
(we had few opinions: too dark, too light so we have choosen … adjust it yourself, ok with a bit of our help with new lightning points)

Ammo balance
(still not enough as time for game development)

Hints for ripper skills
(we know it should be at the beginning of the game)

Gameplay balance and update
(enemies willnot so often magicly appear next to you, more improvements in this area will also come in future)

Graphical updates
(hmm, Olek said he spend whole week remeshing some new locations, we will see if you noticed where)

6 comments
Read more
August 8
Two weeks since Afterfall Reconquest has been launched on Steam Early Access we come with great news announcing Afterfall Reconquest Incentive Scheme for all Early Access gamers.

The rules are very simple. Gamers who will participate in Early Access, buy Episode I of the game and have an input in the development process will get Episode II and Episode III completely FREE of charge! Purchased version of the game will be updated with new episodes when they will be ready for release. Be quick though as this deal is available throughout Early Access period only!

We are really happy to see Afterfall universe fans sharing their thoughts about the game and this way getting involved in the development process, as this is exactly what we were hoping for. We can assure you that we read every comment and watch every gameplay video you make to be sure we don't miss any feedback. We value your opinion very much and will be working really hard to deliver the kind of game you want to get.That means that for as little as $6.99 you get over 12 hours of gameplay.

We want to thank you to all gamers who supported Afterfall Reconquest thus far by buying the game via Steam Early Access, commenting, sharing their feedback, requesting additional features and spreading the word about it.

The full Episode I will be available later this year and Episode II early next year. Until that time though we will be working on updates with the first one planned to be released just 10 days from now, on August 18th. In addition to what was already planned to be delivered it will also cover first part of suggestions and comments shared by the community.


10 comments
Read more
Early Access version 1.01
Early Access v.1.01 features

- Quest: Gyula Creek (tunnels, scrapyard, passage, Gyula fort)
- Reaper skills: Shrapnel Cannon(middle range offensive weapon), Shield (deffensive) , Drain (health recovery)
- movement : sprint, crouch, evade
- two enemy classes
- one pistol
- initial lightning
- introduction to dialogue system
- compass
- GUI @ HUD
Planned Improvements ongoing:
- AI
- animations
- lightning
- covers … and many more

Planned features Episode I:
- story intro
- 4 main quests
- 6 subquests
- 6 enemy "human" classes
- 2 enemy "fauna"classes
- Reaper skills : magnet
- weapns: 2 guns, 2 machine guns, 1 shotgun
- voice overs
- language versions ???
- settings system
- keys binding system
About the Game
You're stepping into a world after the outbreak of war. A war in which nuclear warheads weren't the ultimate means of destruction, rather a stage in a self-made apocalypse. A new weapon was used. Nobody heard about the Entropy charges before the Day Zero and a few remained to tell the story after.

Only two groups of people managed to survive the apocalyptic conflict. The first consisted of the lucky ones who found shelter in one of the 'sanctuary cities' hidden deep in the mountains. Their luck, however, was the first resource to run out. Soon it became obvious that these havens weren't self-sufficient. After a few years the resources started to deplete and when they finally ran dry, worn out and embittered survivors once again were forced to find a new place to call home.

Today, former inhabitants of the sanctuary cities descended into the valleys in search of fertile soil, clean water and resources to process into fuel and tools. Thus begins the RECONQUEST - slow and ardous process of taking the land back from mutants and wildlife and rebuilding the lost cities and civilization.

As for the second group... their fate remains a mystery.


YOUR MISSION

You're one of the surviving members of the Corvin family. Your task is to find out what caused the annihilation of your family and execute vengeance upon the guilty.

Every night you're haunted by nightmares. They're somehow connected to the childhood. The problem is that you're not really sure whether it is your childhood that you're dreaming about. The path you've taken is not an easy one. Along the way you'll come to realize that there are powers at work in this barren world that don't want you to know the truth.

Despite your neutrality, more than once you'll find yourself entangled in intrigues. You will reveal many mysteries of the post-apocalyptic world. Maybe you'll even discover the secrets of mythical 'Pearl of Wastelands', the image of which looms large in everyone's mind.
System Requirements
Minimum:


OS: Windows XP SP2, Windows 7, Windows 8

Processor: Intel Core 2 Duo @ 2Ghz / AMD Athlon 64 X2 equivalent

Memory: 4 GB RAM

Graphics: NVIDIA GeForce 460 / ATI Radeon eqivalent (256 MB memory)

DirectX: Version 9.0

Hard Drive: 3 GB available space

Sound Card: DirectX Compatible
Recommended:


OS: Windows 8

Processor: Intel I5 or AMD equivalent

Memory: 8 GB RAM

Graphics: NVIDIA GeForce GTX 780/ATI Radeon equivalent

DirectX: Version 9.0

Hard Drive: 3 GB available space

Sound Card: DirectX Compatible
Helpful customer reviews
Title:
Afterfall Reconquest Episode I
Genre:
Action
,
Adventure
,
Early Access
Developer:
IntoXicate Studios
Publisher:
Nicolas Games
Release Date:
Jul 24, 2014
Languages:
| | Interface | Full audio | Subtitles |
| --- | --- | --- | --- |
| English | | | |