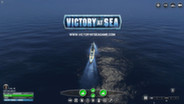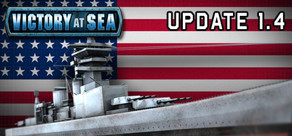 Engage in epic RTS warfare across 3 huge campaigns as well as other battle modes. Create your own fleet of ships, pick your side and enter into World War II naval combat on a global scale.
Release Date: Aug 8, 2014
Watch HD video
August 20th, 2014

Patch 1.0.2

Thanks again to everyone who's taken the time to report bugs and provide their feedback on the forums - incoming air drop of bug fixes, gameplay tweaks and AI improvements. Special thanks to everyone who has been testing on the beta branch and providing feedack.

How the AI deals with submarines has been overhauled in this patch:

Subs are now considered "undetected" if submerged at distance from the enemy. AI captains won't attempt to attack undetected submarines, however if they were targetting a previously detected sub they will sail towards its last known coordinates. Submarines become detected if they fire their weapons, surface or get too close to enemy shipping. Destroyers can detect submarines from a greater distance than any other class of ship.

Undetected friendly submarines have their UI faded out. Undetected enemy submarines show no UI (however the shadow of the submerged submarine is still visible).

Submarines will now submerge if approached by enemy aircraft as well as enemy surface vessels.

Changelog:

Submarine AA no longer defies physics, will no longer work whilst submerged.

AI ships are now ambi-turners

Surrendered ships will display a white flag. AI no longer shoots at surrendered ships.

Prelude to Matapan 1 - British ships will correctly "escape" when exiting the correct side of the arena.

Battles where no enemy ships are defeated no longer give XP (prevents an exploit with sub vs sub battles)

Fixed an issue which was slowing down AI ships on the campaign map in crowded areas.

Player's Captain will no longer be auto-assigned to the largest ship unless their ship is destroyed. Captains can be manually reassigned via the menu on the world map.

Submarines will revert to manual control when clicking on the "Submerge" icon (fixes issue where submarines would refuse to submerge because the AI wanted to stay surfaced)

"Salvage ship" changed to "Recover ship" to be clearer in the shipyard that it's paying to recover a previously destroyed vessel.

Reduced spread of ship spawns, Convoy attack placement limited to one side of arena.
(this should prevent the "Leroy-class Carrier" going solo situation…)

Escort mission convoys move slightly slower (though they still have a speed boost over non-escort mission cargo ships)

Weapon fire which fails to penetrate armour now has different sound/particle effects to a solid hit.

Cannot create a purely sub vs sub custom battle (it's pretty dull when noone can hit anyone…)

Battleships now turn to broadside when in range.

Battleships and Carriers prioritise high value targets.

Battleships Carriers and Cruisers will fire available weapons at targets of opportunity if main target not in range.

AI controlled ships will now avoid torpedoes and torpedo bombs (higher level captains in faster/more maneuvrable ships will do better at this)

Fixed an AI accuracy bug causing ships to fire ahead of target

Delivery missions will no longer have you collect the documents before the mission is assigned.

AI captains will no longer decide to target something else if you've instructed them to attack a particular vessel.

Fubuki class destroyer crews have finally found the torpedo launchers.

AI ships will try a little bit harder not to torpedo friendly units.

Depth Charges should work a bit more reliably at higher game speeds.

Submarine UI/AI changes - see above.

Planes are now also visible when zoomed out on the tactical map.

Custom battles will now always have two different colours of UI for the opposing teams

Torpedo bomber torpedoes slowed down.

Fixed bugs which were preventing Dive bombers from being effective.


Damaged friendly ships will properly engage the enemy when under AI control

pre-1.0.1 saves will now stay deleted

Fixed depth charges skipping across the water.

Projectile spread improved, Battleship guns will no longer be so
"shotgun" (at least for higher level captains). Cruiser guns will
correctly spread rather than all hitting the same point.

Ships now show their anti-air strength and range in the shipyard.

Ships show the flag of the historical country of origin in the shipyard.

Fixed a bug where the campaign couldn't finish with no enemies to
fight, those of you who have conquered everything should have the game
end correctly.

Crew can put out more than one fire in a turn, fires less likely
to instakill the crew.

Enemy ships will require more damage before they think about fleeing.

Safe retreat is now based on the enemy weapon range, rather than a
fixed radius.

Higher level AI should be more accurate with its fire.

ship HP increased - battles should last longer.

Torpedo bombs now spread on dropping.

Torpedo bomber squadrons will spread their aim a little rather
than all aiming for the same point.

AA won't shoot at dive bombers until they're into their dive

long range fire arcs higher
0 comments
Read more
August 11th, 2014
Quick hotfix to douse some burning issues.

We're rushing this one out quickly to get the save game changes to you. This update should reduce problems with saving and prevent all your save files being wiped (technically, hidden) if the save meta file gets corrupted.

We've also managed to sneak in a couple of balance changes around torpedos and torpedo boats that a lot of people have been crying out for.

Bug fixes:

Save game meta data is now separate per save file, save games should be more resilient.

Ports recently captured by enemy aggression can now be retaken.

Ports recaptured after enemy aggression can be entered once more.

"No ships left in defence" popup no longer appear instantly at end of port fight.

Fixed a crash bug on entering port (game hangs showing "autosaving")
Gameplay updates:
Torpedo speed reduced by 60%

Torpedo spread increased (torpedoes will fire in a wide spread if aimed close, narrow spread if aimed further away)

Torpedos now take 5 seconds to arm and will show "ARMING" while doing so.

Torpedo boats now always take damage from direct fire hits.

Torpedo boat "Driven Off" crew panic timer increased

Torpedo boat weapons now always take damage when it is hit.

Moving with arrow keys or WASD when in Follow Ship camera mode will switch to Free View

Ports successfully defended now have a longer period of repreive from enemy attacks.

Enemy will now wait a lot longer between launching port attacks on low-supply friendly ports (though the somewhat easier "defend nearby port" mission can still fire independently of this).

Save games can now be deleted by clicking "Delete" in the load game menu.
6 comments
Read more
About the Game
Engage in
epic Real Time Strategy
warfare across the Atlantic, Pacific and Mediterranean, this is naval warfare on a global scale.
It is
World War II
and the age of the dreadnoughts has passed and naval warfare is being dominated by Aircraft Carriers. Submarines hunt convoys like wolves and the numerous and nimble destroyers rule the oceans.
Destroy enemy battleships, torpedo enemy convoys and hunt the enemy wherever you may find them.
Advance through the naval ranks from a Captain of a Destroyer to an Admiral of a vast fleet. Win medals for your exploits, and help your chosen nation achieve victory in each campaign.
Plan your own strategy
In Victory At Sea your destiny is in your hands. Once in the campaign what you do next is up to you.
Harass enemy shipping to starve their ports of vital supplies.

Destroy the enemy patrols and weaken their defences.

Defend your friendly convoys and keep your supply lines open.

Lead an assault force with landing craft to capture enemy ports.

Go on covert operations.

Complete special missions.
With over 80 classes of ship and hundreds of ports there are a multitude of playing options. Will you build your fleet around the terrifying firepower of the battleships, sneak around with a submarine wolf pack or look to dominate the skies with carriers?
A combination of sandbox elements and the deadly combat of
RTS naval warfare
ensures a vast number of possibilities. Slow the action down or speed it up with the time slider, allowing you to command multiple ships quickly and effectively during huge battles. Weather conditions and time of day are also major factors in the game. Will it help or hamper you? Combat at night can be an intense experience.
Other combat Modes
Victory at Sea also offers the chance to experience some of World War II's most famous battles. The Historical Battle mode sets all the victory conditions for you. You just pick a side to fight on.
Create your own custom battles from small skirmishes to epic conflicts, choosing from
Axis or Allied fleets
with ships from 6 playable nations to choose from.
Facebook
https://www.facebook.com/victoryatseagame
Twitter
https://twitter.com/VAS_naval_war
PC System Requirements
Minimum:


OS: Windows XP SP3

Processor: Core 2 duo 2.4Ghz

Memory: 2 GB RAM

Graphics: GeForce 9500 GT

Hard Drive: 4 GB available space
Recommended:


OS: Windows 7

Processor: Intel i5 3.0Ghz or equivalent

Memory: 4 GB RAM

Graphics: Nvidia GTX 470

Hard Drive: 4 GB available space
Mac System Requirements
Minimum:


OS: Mountain Lion

Processor: Core 2 duo 2.4Ghz

Memory: 2 GB RAM

Graphics: NVIDIA GeForce 320M

Hard Drive: 4 GB available space
Recommended:


OS: Mavericks

Processor: Intel i5

Memory: 4 GB RAM

Graphics: NVIDIA GeForce GT 750M

Hard Drive: 4 GB available space
Linux System Requirements
Minimum:


OS: Ubuntu 12.04

Processor: Core 2 duo 2.4Ghz

Memory: 2 GB RAM

Graphics: GeForce 9500 GT

Hard Drive: 4 GB available space
Recommended:


OS: Ubuntu 12.04

Processor: Intel i5

Memory: 4 GB RAM

Graphics: Nvidia GTX 470

Hard Drive: 4 GB available space
Victory at Sea © 2013 Mongoose Publishing Ltd. All rights reserved. Reproduction of this work by any means without the written permission of Mongoose Publishing Ltd is expressly forbidden. All significant characters, names, places, items, art and text herein are copyrighted by Mongoose Publishing Ltd.
Helpful customer reviews
Title:
Victory At Sea
Genre:
Action
,
Simulation
,
Strategy
Developer:
Evil Twin Artworks
Publisher:
Evil Twin Artworks
Release Date:
Aug 8, 2014
Languages:
| | Interface | Full audio | Subtitles |
| --- | --- | --- | --- |
| English | | | |