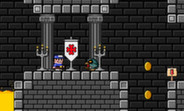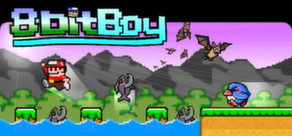 Huge classic platformer with several power-ups and 16+ hours of main story & 300+ hidden locations just begging for exploration · 56 big Levels · 5 huge worlds
Release Date: May 6, 2014
Watch HD video
July 13
The every level in every world is undergoing a design overhaul. This is to make some of the first levels I made for the game, up to the standard of the complexity of the later levels. This also means alternative routes and much more content.

This is also to stash a lot more hidden places in even more inventive ways. 8BitBoy has so much hidden content you won't believe it. Most people isn't going to find many of these hidden spots, but just knowing they are there to find, makes the game that much more exciting to play. And it's e


All levels in World 1 to 4 has received a major design overhaul.

Level 5-1, 5-2, 5-3, 5-4 has received a design overhaul and new hidden places or alternative routes to exit.

Extra warp zone hidden early in World 1 & World 4.

Quit from World map possible

Hidden coins and power-ups in some rocks

Fire particles on jumping fireballs

New loading screen for game booting up.

More time to complete each level (time for exploration).

Unable to shoot when green/red/black bug - fixed

Fireball in lava sound not tuned to volume settings - fixed
3 comments
Read more
July 4
Polishing up and improving 8BitBoy in various places. New features and content are coming to an end for now, but there is still small bits that need to be tweaked and polished before I'm satisfied.


All levels in World 2 has received a major design overhaul.

Run and Shoot is now assigned to one key on both gamepad and keyboard. Keyboard can be configured for three keys still. X and B on gamepad are the same now.

Volume bug fixed. Volume lavels are saved automatically.

Added gradual transition entering hidden places

All new music in bonus levels

Black 8BitBoy was green in bonus levels

Added new or improved hidden places in 2-1, 2-2, 2-3, 2-4, 2-5, 2-6, 2-7, 2-8, 2-9, 3-1, 3-2, 3-3, 3-4, 3-5, 3-6, 4-1, 5-1, 1-5, 1-7

Dying when black in water randomly caused crash - fixed!

Green birds flaps wings when falling and floats slowly through air

Jumping from conveyor belt to falling stone causes insaly fast jump - fixed.
3 comments
Read more
Reviews
"A fun game that any fan of classic platformers will enjoy"
8/10 – Universal Gaming Reviews

"8BitBoy is an enjoyable yet quite hard learning experience that's worth all the times you die, and more."
8.5/10 – Novo Adagio

"It's this generations Super Mario 3, it's that good."
Tanner Plays

About the Game
Huge classic platformer with tons of power-ups and 16+ hours of main story & 300+ hidden locations just begging for exploration. 8BitBoy is a tribute to all the greatest platformers of the 80s and 90s and a symbol of my endless love and passion for gaming.

· 16+ hours main story!
· 56 Levels + huge 5 Worlds
· 300+ Hidden Locations!
· Hidden Warp zones!
· Coin collecting game + tons of Power-Ups
· Boss-battles
· 60 fps frame rate (GPU dependent)
· Frequently updated with new content
Appropriate for all ages
* Full Xbox 360 Controller Support
(Auto switch - push button A to enable)
Who's 8BitBoy?
8BitBoy is out of a job, and quite frankly he's depressed about it. Then he suddenly remembers all the good times he had as a kid, playing his trusted 8-bit console. Deep down in the far and darkest corner of the basement he finds it along with a strange looking cartridge. He plugs in the cartridge right away, and get sucked into a vivid, but decaying world of platforming. And this is where your adventure takes off.
8BitBoy is the platformer I always dreamt about playing as a kid.
It's a fantastic mash-up of the greatest of the late 80's and 90's and a complete game on it's own terms. This is a true tribute to old school gaming and by no means a walk in the park, but it's also never unfair. With big challenges, the sense of accomplishment is always bigger and better.
To me, 8BitBoy is the ultimate classic platformer on PC and Mac. and a symbol of my love and passion for gaming.
Yours Sincerely,
Rasmus Kønig Sørensen
Indie developer and sole creator of 8BitBoy

PC System Requirements
Minimum:


OS: Windows XP, Windows 7, Windows 8

Processor: Dual Core AMD or Intel / AMD E-350 APU

Memory: 1 GB RAM

Graphics: Intel HD 4000 / Radeon HD 6310

DirectX: Version 9.0c

Hard Drive: 100 MB available space

Additional Notes: Xbox 360 controller or Keyboard
Mac System Requirements
Minimum:


OS: 10.8.1 or above

Processor: Core 2 Duo / i3 or better

Memory: 2 GB RAM

Graphics: Geforce 9400M / Intel HD 3000 or better

Hard Drive: 100 MB available space

Additional Notes: Xbox 360 controller or Keyboard
Copyright © 2014 AwesomeBlade Software - Indie Developer. All Rights Reserved..
Helpful customer reviews
Title:
8BitBoy
Genre:
Action
,
Casual
,
Indie
Developer:
AwesomeBlade
Publisher:
AwesomeBlade
Release Date:
May 6, 2014
Languages:
| | Interface | Full audio | Subtitles |
| --- | --- | --- | --- |
| English | | | |
Awards
Danish Gaming Award 2013 nominee (Best Danish Game 2013)