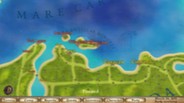 'Caribbean!' is a sandbox pirate RPG with a larger focus on battles (both on land and in the sea) and management of player's character and his crew.
Release Date: Apr 29, 2014
Watch HD video
Early Access Game
Get instant access and start playing; get involved with this game as it develops.
Note: This Early Access game may or may not change significantly over the course of development. If you are not excited to play this game in its current state, then you may want to wait until the game progresses further in development. Learn more
What the developers have to say:
"Hello everyone,
'Caribbean!' is currently in the alpha state and has reached the stage where it could really use some of the players' feedback.
The game has its basic features already in, and content-wise (weapons, armor, locations, sounds) we're 70% done. What we're mostly planning to do from this point is to build upon and improve what we already have with regular updates and your help.
You might be put off by the current simple economic system, visually incomplete locations and balance problems — these parts of the game will be reworked during the Early Access stage.
Check out
the official forum
and the store page below for current and planned features.
The price is lowered during the early access stage, all future updates come for free. Full version release is planned for Autumn 2014."
Read more
June 20th, 2014
Hi everyone,

New update 0.802 is available today. Not a big one, but consider it to be a foundation for a huge update in July.




Update notes:

- Added functional for ammunition consumption in naval battles (ammunition can be bought in the harbor).

- Added two new ship models.

- Added new economic model for testing - reset raw material and product types, adjusted production and consumption.

- Sound effects partly changed.

- Removed unnecessary test content.

31 comments
Read more
May 21st, 2014
Hi everyone,

New update is available now.




Version 0.801 update notes:

New / Changes:

- Improved water display.
- Increased default speed for naval combat.
- Changed balance for the damage done in naval combat.
- Changed balance for firearms (reduced firing range).
- Improved functionality for sails controls.
- Possibility to sell a ship in the repair and ship purchase interface.
- Possibility to join one of the factions or remain independent at the start of the game.
- Amount of the gold earned in battle now depends on the player's renown.
- Player's purchases and sales no longer affect the prices of goods in the world.
- Ability to plunder cities without creating your own faction.
- Improved sky reflection in the sea on the strategic map.
- Fixed in-game text in a few places.
- Fixed conditions for the starting quest.
- Balance changes for ships in naval combat.

Fixed:

- Initial entrypoints for boarding locations.
- DirectX 7 option is now blocked in launcher and game settings.
- Player getting random messages about hired soldiers, like 'Pirates you ordered has been made available".
- Log errors caused by capturing a city while being in a faction.
- Bug that caused the game to see male characters as female ones.
- Mouse cursor bug appearing in one of the village locations.
- Loot screen is no longer showed if there isn't any loot after the battle.
- Bug that caused enemy fleet to remain on the strategic map after its defeat.
- Player will now leave his own faction if his last city is captured.
- Repeated request for joining a faction.
- Incorrect Dutch flag.
- Inability to engage enemy in naval battle if there's few sailors on the ship.
- Player's starting position during the siege.
- Speed parameter of Cavalry Broadsword.
- Some bugs in boarding locations.
- Hiring of continental soldiers.

A small note: after this update please only complete the starting quest if you're neutral. In any other cases, you may stumble upon some nasty problems.
42 comments
Read more
About the Game
'Caribbean!' is a sandbox pirate RPG that blends the most engaging melee and firearms combat with naval battles, detailed crew management and the deep atmosphere of the pirate era.
Set in XVII century's Caribbean region, whose unspeakable riches drew many European powers and pirates into the great fight, the game lets players decide their own role and create their own pirate adventure.
What's already in the game:
Naval battles with controllable ships. There are several types of damage that ships can deal and take; Ships can lose sails and be caught on fire.

Players can purchase unique upgrades for their ships, like a more solid hull, fire protection, damage reduction for their crew and a greater chance to set enemy ships on fire and so on.

Ability to improve ship artillery and ship's crew.

A set of special perks available for player's character.
Plans for the near future:
Battle planning with squad management.

Improved boarding system with new locations.

New production and trading system.

Meta-goals for each faction, that provide a player with global goals. If player completes them, the game is considered finished in a way. Like foundation of Franco-American alliance or repulsing English punitive expedition against pirates.

Adding fortress and siege artillery for city assaults.
System Requirements
Minimum:


OS: Windows XP, Windows Vista or Windows 7

Processor: Intel Pentium 4 2.0 GHz or AMD 2.5 GHz

Memory: 512 MB RAM

Graphics: 3D graphics card with 64MB RAM

Hard Drive: 2 GB available space

Sound Card: Standard audio
Recommended:


OS: Windows XP, Windows Vista or Windows 7

Processor: Intel Core Duo 2.0 GHz or AMD Athlon 64 X2 3600+

Memory: 1 GB RAM

Graphics: NVIDIA GeForce FX 5200, ATI Radeon 9600, or better

Hard Drive: 2 GB available space

Sound Card: Standard audio
Helpful customer reviews
Title:
Caribbean!
Genre:
Action
,
Adventure
,
Early Access
,
Indie
,
RPG
Developer:
Snowbird Games
Publisher:
Snowbird Games
Release Date:
Apr 29, 2014
Languages:
| | Interface | Full audio | Subtitles |
| --- | --- | --- | --- |
| English | | | |