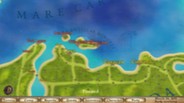 'Caribbean!' is a sandbox pirate RPG with a larger focus on battles (both on land and in the sea) and management of player's character and his crew.
Release Date: Apr 29, 2014
Watch HD video
Early Access Game
Get instant access and start playing; get involved with this game as it develops.
Note: This Early Access game may or may not change significantly over the course of development. If you are not excited to play this game in its current state, then you may want to wait until the game progresses further in development. Learn more
What the developers have to say:
"Hello everyone,
'Caribbean!' is currently in the alpha state and has reached the stage where it could really use some of the players' feedback.
The game has its basic features already in, and content-wise (weapons, armor, locations, sounds) we're 70% done. What we're mostly planning to do from this point is to build upon and improve what we already have with regular updates and your help.
You might be put off by the current simple economic system, visually incomplete locations and balance problems — these parts of the game will be reworked during the Early Access stage.
Check out
the official forum
and the store page below for current and planned features.
The price is lowered during the early access stage, all future updates come for free. Full version release is planned for Autumn 2014."
Read more
July 29th, 2014
Hi everyone,

We have to let you know that the big July update we announced earlier won't be coming — instead, it's going to become even bigger and land in August. We'll share the reasons behind this decision, as well our current work progress, below:

Boarding. We think that boarding is the heart of combat gameplay, even more important than sea battles. The current version of the boarding fights stopped being satisfactory for us a long time ago, and as a result we're redoing it from scratch.




Graphic quality of the boarding locations was too poor compared to the character models so all ships are being completely redone. Besides the evident difference in textures, we redesigned level geometry: got rid off jamming on decks and unnecessary rooms, made the movement on ships more clear and free for the player. We also added crow's nests on masts, to provide riflemen with additional spots.




Plus we'll try to add some new animations, including the classic boarding jump rope.

Naval combat. The second most important element of the game. We're still torn between which path to choose: making everything more simple and arcady or adding more options for strategy and control. But our internal tests showed that either way we'd need to deal with current small locations. Right now gameplay functions well only with 2 vs. 2 ship battles. Our limit is 12 ships on the scene, and with that amount of ships there's very little room for everyone in the sea. Making the location bigger is a challenge as we have to work around the engine's limitations. So for now our programmer added a 'spyglass' option that many of you asked for. More significant updates in this area should be coming in September.




Trading and economy. Initially it was supposed to be a side gameplay element, but we want to increase its importance in the game. Actually, working on economy takes more time than anything else at the moment as we keep changing some basic things in M&B engine. For example, right now we separate player's personal inventory and his cargo. It's not very convenient and logical to carry not only a set of 12 breastplates but two tons of cacao as well. Another new element is building construction in the towns — there's so much to do here that we won't even dare to promise it done by August.

Strategic map. We got a lot of feedback on geography of our map and its flaws. Apologies for the inaccuracies — that was our first try to befriend realism with gaming. In August we'll do our best to finish the new world map, more accurate and, possibly, far more attractive.

The plans are pretty ambitious for us, and we hope we can implement all of this with no problem. After the August update we'll be ready to switch to the next big step — refining land battles and implementing city sieges.
59 comments
Read more
June 20th, 2014
Hi everyone,

New update 0.802 is available today. Not a big one, but consider it to be a foundation for a huge update in July.




Update notes:

- Added functional for ammunition consumption in naval battles (ammunition can be bought in the harbor).

- Added two new ship models.

- Added new economic model for testing - reset raw material and product types, adjusted production and consumption.

- Sound effects partly changed.

- Removed unnecessary test content.

31 comments
Read more
About the Game
'Caribbean!' is a sandbox pirate RPG that blends the most engaging melee and firearms combat with naval battles, detailed crew management and the deep atmosphere of the pirate era.
Set in XVII century's Caribbean region, whose unspeakable riches drew many European powers and pirates into the great fight, the game lets players decide their own role and create their own pirate adventure.
What's already in the game:
Naval battles with controllable ships. There are several types of damage that ships can deal and take; Ships can lose sails and be caught on fire.

Players can purchase unique upgrades for their ships, like a more solid hull, fire protection, damage reduction for their crew and a greater chance to set enemy ships on fire and so on.

Ability to improve ship artillery and ship's crew.

A set of special perks available for player's character.
Plans for the near future:
Battle planning with squad management.

Improved boarding system with new locations.

New production and trading system.

Meta-goals for each faction, that provide a player with global goals. If player completes them, the game is considered finished in a way. Like foundation of Franco-American alliance or repulsing English punitive expedition against pirates.

Adding fortress and siege artillery for city assaults.
System Requirements
Minimum:


OS: Windows XP, Windows Vista or Windows 7

Processor: Intel Pentium 4 2.0 GHz or AMD 2.5 GHz

Memory: 512 MB RAM

Graphics: 3D graphics card with 64MB RAM

Hard Drive: 2 GB available space

Sound Card: Standard audio
Recommended:


OS: Windows XP, Windows Vista or Windows 7

Processor: Intel Core Duo 2.0 GHz or AMD Athlon 64 X2 3600+

Memory: 1 GB RAM

Graphics: NVIDIA GeForce FX 5200, ATI Radeon 9600, or better

Hard Drive: 2 GB available space

Sound Card: Standard audio
Helpful customer reviews
Title:
Caribbean!
Genre:
Action
,
Adventure
,
Early Access
,
Indie
,
RPG
Developer:
Snowbird Games
Publisher:
Snowbird Games
Release Date:
Apr 29, 2014
Languages:
| | Interface | Full audio | Subtitles |
| --- | --- | --- | --- |
| English | | | |