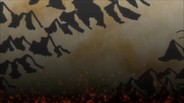 Heroes of Steel is a tactical RPG set in a grim post-apocalyptic fantasy world. Coordinate your party of four heroes in turn-based combat and navigate a engaging world and story.
Release Date: Apr 23, 2014
Watch HD video
Buy Heroes of Steel: Tactics RPG
Buy Heroes of Steel: Two Pack
July 24th, 2014
Slicing into the game, Kincaid brings a new aspect to game's tactics, providing an alternative for the heavy-damage and heavy-armor Vraes.

Kincaid's strengths are in his martial prowess and his immense offensive and defensive abilities. Wielding only blades and throwing knives, Kincaid is fast, furious, and can stay standing even in the thick of group of enemies thanks to his mighty Sure Parry Talent. Among his friends, Kincaid has a unique knack for encouraging tactical coordination with his Flanking Unity Talent. He is the only character capable of hurling throwing daggers, relying on his Darting Steel Talent. Another first - Kincaid can lead your group as a Stealth character. And, his Level 18 Talent is the only melee Area of Effect Talent in the game.

Not to mention, with Kincaid now in the game, you can choose up to 16 possible group combinations.

http://steamcommunity.com/sharedfiles/filedetails/?id=291010454
This is a big one and helps us also close the Character Expansion Stretch goal from the Heroes of Steel KickStarter.

Kincaid is included in the price you originally paid, so enjoy!

v2.2.11 - 7/22/2014
- Dueler now available - master bladesmen combining speed and finesse; new for $1.99
- Added thrown weapons to the game - Dueler only
- New unique combat talents including Sure Parry - Dueler only
- Fixed display issue with Phalanx Shield Auto-block
- Fixed Gates of Gholla Outlook bug, duplicate weapons in shops

http://steamcommunity.com/sharedfiles/filedetails/?id=291010538
1 comments
Read more
July 21st, 2014
If you didn't love your shield-Outlander before, now is the time to come back to Phalanx Shield and give it another go. The latest Heroes of Steel update, v2.2.9, brings unique new abilities to Vraes' second defensive Talent, Phalanx Shield. Not only do you gain consistent Parry and Armor bonuses, your leading warrior is now capable of deflecting a flat percentage of all ranged attacks! At Level 1 Phalanx Shield, Vraes turns aside a massive 18% of all ranged attacks - arrows, knives, magic!

v2.2.9 - 7/20/2014
- Improved balance of Phalanx Shield (+parry, auto-block % of ranged attacks)
- Improved balance of Stone Skin (+earth res)
- Improved triggers of waves in Siege of Gholla Outlook
- Improved balance of Nordhall Troll, added campsite to North Vault
- Fixed Quest Log issues: Excavation Site, Vlotgar at Hunting Lodge, lingering logs
- Improved Talent display on all devices, scrolling in list
- Restored Spear sales at Riven Field
0 comments
Read more
About the Game
Command your party of four heroes as they fight to protect the last remnants of humanity. Born in a time of warring gods and dark powers, your four unlikely heroes embark on a grim journey set in the sprawling and immense post-apocalyptic medieval world of Steel.
It is the dawn of the Seventy First Year after the world has fallen. Four of the Thirteen Gods rose up against their creator, the All-Father, and destroyed him in a cataclysmic event. In the following years of darkness and ruin, the kingdoms of man fell in war and flame. In the final days before all was lost, under the guidance of an ancient order of druids, the survivors retreated to a mysterious underground labyrinth; the Underdeep. Now, in the Underdeep, the last remnants of humanity are scratching out a living and trying to rebuild a society, but are quickly discovering that evil has followed them beneath the surface.
Heroes of Steel is a tactical turn-based RPG in which you lead a group of four unique characters, each with their own talents, special powers, and abilities on their quest through the world of Steel. Engage in tactical combat with the ferocious, devious, and magical enemies who threaten humanity's last settlements. You must decide how to develop each character's individual strategy in order to build a powerful and dynamic team capable of triumphing over the impossible odds. As you traverse the sprawling world of Steel, your party will face a myriad of challenges, battles, extensive mazes and fearsome enemies of all varieties.
Savor full character customization, deciding how to increase your attributes, skills, and powerful talents. Equip each of your characters with a variety of weapons, armor, and up to three mundane or magical accessories. As your party explores the dungeons, cities and crypts of the world, you will decide the overall strategy and approach your team takes. Choose between hundreds of levels of talents and thousands of combinations of equipment.
Our indie role playing games dev team is actively continuing development to make this the top RPG. We are very receptive to feedback to help Heroes be the best RPG it can be.
With full control of every turn and aspect of your four characters, you can plan every turn with exacting control. Heroes was made for fans of adventure RPGs, board games, and roguelikes. If you enjoy strategy games or tactical RPGs, you will enjoy this classic RPG.
Snag a Two Pack
The Heroes of Steel Two Pack includes two copies of the game - one for you and one to gift to a friend. The second copy is at 50%! Share this awesome tactics epic with a friend today!
What's in the Box?
Heroes of Steel: Tactics RPG includes the Prologue, two major story Episodes, and three optional characters!
As we continue to expand the game, new story Episodes and characters will be released to you free of charge in our weekly updates.
Prologue & Episode 1: Death's Consort
Under the shadow of Baron Arhaive, your group forms into a unified cohort.
20+ new enemy types

26 Dungeons

2 Towns

Hundreds of unique weapons, items, and gear
Episode 2: The Gathering Shadow
Heading east into the territory of the Braeys Family and Baron Koda, you face off against relentless threats and growing dangers.
35+ new enemies

32 Dungeons

6 Towns

Hundreds of unique weapons, items, and gear
Additional Characters
Selen the Rogue

Vincent the Sorcerer

Fyona the Paladin
PC System Requirements
Minimum:


OS: Windows XP, Windos Vista, or Windows 7 / 8

Memory: 512 MB RAM

Graphics: Supports OpenGL 2.0 or higher

Hard Drive: 200 MB available space

Additional Notes: Requires MS Visual Studio C++ Runtime 2012 x86
Mac System Requirements
Minimum:


OS: OS Version 10.6 and 10.8

Memory: 512 MB RAM

Graphics: Supports OpenGL 2.0 or higher

Hard Drive: 200 MB available space
Helpful customer reviews
Title:
Heroes of Steel: Tactics RPG
Genre:
Indie
,
RPG
,
Strategy
Developer:
Trese Brothers
Publisher:
Trese Brothers
Release Date:
Apr 23, 2014
Languages:
| | Interface | Full audio | Subtitles |
| --- | --- | --- | --- |
| English | | | |