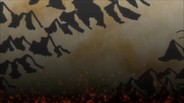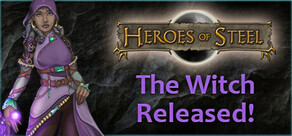 Heroes of Steel is a tactical RPG set in a grim post-apocalyptic fantasy world. Coordinate your party of four heroes in turn-based combat and navigate a engaging world and story.
Datum vydání: 23. dub. 2014
Sledovat HD video
Koupit Heroes of Steel: Tactics RPG
Koupit Heroes of Steel: Two Pack
21. září
We're exited to roll out another update to Heroes of Steel. One of the big changes is to shift the leveling tables around so that you are always getting a new Talent point whenever you unlock a new Talent. For example, when you reach level 12 and unlock new Talents, you get a new Talent point to spend.

We've also cleaned up some story bugs as we prepare for the big push to Episode 3!

v2.2.31 - 9/19/2014
- Star Traders 2 KickStarter is live - pre-order today - http://kck.st/1thT41E
- Fixed Talent point distribution at levels 12 and 18
- Corrected AP display for monsters with less than 10 HP
- Resolved out-of-order story event bug with Krete at River Trading Post
- Fixed dialog typos and reported crashes
0 komentářů
Zjistit více
9. září
Tonight, we've released a big update to Heroes of Steel - version 2.2.29. The update brings a lot of new content to the first Episode, include 30 new pieces of gear and improving early-game loot drops. You'll have a lot more fun if you are replaying the early areas, and more access to gear of different sorts from the very beginning of the game.

We've also fixed a long-term PC bug that was ... well ... bugging us. If you use an alternate taskbar position (top, left, etc), Heroes fullscreen will now work with your setup.

v2.2.29 - 9/10/2014
- Star Traders 2 KickStarter is live - pre-order today - http://kck.st/1thT41E
- Improved early game weapons, gear and light blades loot with more variety and magical options
- Added 30 new pieces of gear to Episode 1
- Fixed Vraes 2H attack animations
- Game over screen now notes details about death count
- Improved display of low HP in monster detail box
- Improved dialog & fixed typos
- Added Freeport and western Underdeep to world map
- Improved Stone Skin 7+ for Vraes (+30 HP)
- Fixed attack animation for Vraes with 1H Sword only
- Fixed fullscreen display for left or top task bars

In other Trese Brothers news, Star Traders 2 RPG KickStarter has crossed the 31% funded mark and we're climbing steadily. We hope you will join us and back this space RPG to receive a copy of the game as a reward.

https://www.kickstarter.com/projects/tresebrothers/star-traders-2-rpg


1 komentářů
Zjistit více
O hře
Command your party of four heroes as they fight to protect the last remnants of humanity. Born in a time of warring gods and dark powers, your four unlikely heroes embark on a grim journey set in the sprawling and immense post-apocalyptic medieval world of Steel.
It is the dawn of the Seventy First Year after the world has fallen. Four of the Thirteen Gods rose up against their creator, the All-Father, and destroyed him in a cataclysmic event. In the following years of darkness and ruin, the kingdoms of man fell in war and flame. In the final days before all was lost, under the guidance of an ancient order of druids, the survivors retreated to a mysterious underground labyrinth; the Underdeep. Now, in the Underdeep, the last remnants of humanity are scratching out a living and trying to rebuild a society, but are quickly discovering that evil has followed them beneath the surface.
Heroes of Steel is a tactical turn-based RPG in which you lead a group of four unique characters, each with their own talents, special powers, and abilities on their quest through the world of Steel. Engage in tactical combat with the ferocious, devious, and magical enemies who threaten humanity's last settlements. You must decide how to develop each character's individual strategy in order to build a powerful and dynamic team capable of triumphing over the impossible odds. As you traverse the sprawling world of Steel, your party will face a myriad of challenges, battles, extensive mazes and fearsome enemies of all varieties.
Savor full character customization, deciding how to increase your attributes, skills, and powerful talents. Equip each of your characters with a variety of weapons, armor, and up to three mundane or magical accessories. As your party explores the dungeons, cities and crypts of the world, you will decide the overall strategy and approach your team takes. Choose between hundreds of levels of talents and thousands of combinations of equipment.
Our indie role playing games dev team is actively continuing development to make this the top RPG. We are very receptive to feedback to help Heroes be the best RPG it can be.
With full control of every turn and aspect of your four characters, you can plan every turn with exacting control. Heroes was made for fans of adventure RPGs, board games, and roguelikes. If you enjoy strategy games or tactical RPGs, you will enjoy this classic RPG.
Snag a Two Pack
The Heroes of Steel Two Pack includes two copies of the game - one for you and one to gift to a friend. The second copy is at 50%! Share this awesome tactics epic with a friend today!
What's in the Box?
Heroes of Steel: Tactics RPG includes the Prologue, two major story Episodes, and three optional characters!
As we continue to expand the game, new story Episodes and characters will be released to you free of charge in our weekly updates.
Prologue & Episode 1: Death's Consort
Under the shadow of Baron Arhaive, your group forms into a unified cohort.
20+ new enemy types

26 Dungeons

2 Towns

Hundreds of unique weapons, items, and gear
Episode 2: The Gathering Shadow
Heading east into the territory of the Braeys Family and Baron Koda, you face off against relentless threats and growing dangers.
35+ new enemies

32 Dungeons

6 Towns

Hundreds of unique weapons, items, and gear
Additional Characters
Kincaid the Dueler

Selen the Rogue

Vincent the Sorcerer

Fyona the Paladin
Systémové požadavky (PC)
Minimum:


OS: Windows XP, Windos Vista, or Windows 7 / 8

Memory: 512 MB RAM

Graphics: Supports OpenGL 2.0 or higher

Hard Drive: 200 MB available space

Additional Notes: Requires MS Visual Studio C++ Runtime 2012 x86
Systémové požadavky (MAC)
Minimum:


OS: OS Version 10.6 and 10.8

Memory: 512 MB RAM

Graphics: Supports OpenGL 2.0 or higher

Hard Drive: 200 MB available space
Užitečné recenze od zákazníků
Název:
Heroes of Steel: Tactics RPG
Žánr:
Nezávislé
,
RPG
,
Strategické
Vývojář:
Trese Brothers
Vydavatel:
Trese Brothers
Datum vydání:
23. dub. 2014
Jazyky:
| | Rozhraní | Zvuk | Titulky |
| --- | --- | --- | --- |
| Angličtina | | | |