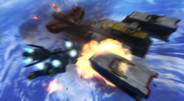 In the year 2299, an interstellar war rages on. In a bid to save Earth from destruction, you must take control of the Strike Suit – a revolutionary fighter craft with the ability to transform into a lethal suit of space armor.
Data de lançamento: 8/abr/2014
Assistir ao vídeo em HD
24 de julho
Mastered the Marauder, Raptor and original Strike Suit? Take your dogfighting skills to the next level with a brand new suit of space armor.

The Revenant is a Stealth Suit for pilots looking to take on their enemies in a new way.The Revenant's primary function allows it to activate a cloak that renders it invisible to enemies. 'Sneak' up on Colonial ships and take them out before they even know you're there. Careful, though: stealth needs to be used with care - once you activate the Suit's weapon systems, you'll be visible once more.

The Revenant's weapons have been designed to deal with the Suit's main threat: fighter craft. The cannon is based on the original Strike Suit cannon but with a higher rate of fire. In addition, the missiles are short range missiles with a short lock time and reduced Flux cost.

Get behind the cockpit of the Revenant and experience Strike Suit Zero: Director's Cut in a whole new way.
12 comentários
Leia mais
Sobre o jogo
In the year 2299, an interstellar war rages. Take control of the Strike Suit – a craft with the ability to transform into a hulking suit of space armor - in a bid to save Earth from destruction. Immerse yourself in massive fleet battles where your dogfighting skills will directly affect the fate of the cosmos.
Discover a colorful and vibrant universe, with an epic story spanning 17 unique missions. Engage intelligent enemy fighters and take on colossal capital ships, exploiting weak points in their super-structure to blow them apart piece by piece. Upgrade your Strike Suit and customize your weapon load-outs to tailor combat to your tastes. Take advantage of six craft, including three Strike Suits, to experience dogfighting action as you've never seen it before.
The Director's Cut is the definitive version of the game featuring a next-gen graphical overhaul, restructured campaign and additional content – including the Heroes of the Fleet campaign.
This is space combat reborn.
Key Features
Fast, frantic space combat: freely engage multiple enemies, dogfight other pilots, fight massive fleet battles and defend vast structures.


The Strike Suit: strategically switch from Pursuit Mode (speed and power) to Strike Mode (a powerful, highly maneuverable combat mode).


Capital Ship Destruction: take capital ships apart piece by piece – take out their turrets or target weak-points to blow out entire sections of their superstructure.


Vibrant and vivid universe: space is far from the dark, featureless void you'd expect. Discover the color and vibrancy of the Strike Suit universe across 13 unique locations.


Ship Designs from renowned Mechanical Design engineer Junji Okubo (Appleseed: Ex Machina, Steel Battalion).


Music from award-winning sound designer Paul Ruskay (Homeworld) including a collaboration with Japanese singer/songwriter Kokia (Tales of Innocence, Gunslinger Girl: II Teatrino).


Director's Cut features new ship models, improved textures and lighting, a restructured campaign, the Heroes of the Fleet mission pack and the Marauder and Raptor Strike Suits.
Requisitos de sistema
Minimum:


OS: Windows 7 (SP1) or Windows 8 (Please note that we only support 64 bit OSs.)

Processor: Intel Core 2 Quad

Memory: 4 GB RAM

Graphics: DirectX 11 graphics card with 1 GB Video RAM - Nvidia Geforce GTX 460 or AMD Radeon HD 5770

DirectX: Version 11

Hard Drive: 5 GB available space

Sound Card: DirectX 9.0c Compatible Sound Card with Latest Drivers
Recommended:


OS: Windows 7 (SP1) or Windows 8 (Please note that we only support 64 bit OSs.)

Processor: Intel Core i5

Memory: 8 GB RAM

Graphics: DirectX 11 graphics card with 2 GB Video RAM - Nvidia Geforce GTX 560 ti or AMD Radeon HD 7850

DirectX: Version 11

Hard Drive: 5 GB available space

Sound Card: DirectX 9.0c Compatible Sound Card with Latest Drivers
© Born Ready Games Ltd. 2014
Análises úteis de usuários
Título:
Strike Suit Zero: Director's Cut
Gênero:
Ação
,
Indie
Desenvolvedor:
Born Ready Games
Distribuidora:
Born Ready Games
Data de lançamento:
8/abr/2014
Idiomas:
| | Interface | Dublagem | Legendas |
| --- | --- | --- | --- |
| Inglês | | | |
| Francês | | | |
| Italiano | | | |
| Alemão | | | |
| Espanhol | | | |