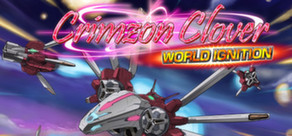 Prepare yourself for an insatiable rain of bullets, bombs, and beams in Crimzon Clover. From Japanese indie developer Yotsubane, this retro top-down shooter is a wild ride you won't want to miss out on.
Release Date: Jun 6, 2014
Watch HD video
Packages that include this game
Buy Crimzon Clover WORLD IGNITION Deluxe Edition
Includes 2 items: Crimzon Clover WORLD IGNITION, Crimzon Clover WORLD IGNITION - Soundtrack
Downloadable Content For This Game
July 7th, 2014
v1.02 Patch Detail:
Screen Settings
: The dialog to choose Window/Fullscreen was abandonned. In its stead, a new SCREEN SETTING option is available from SETTINGS menu which allow to more detailed set up of Game Resolution/ Screen resolution to play with maximum comfort.
Vertical Screens
: Support of vertical resolution screens added.
Controller
: Support for XBOX360 Real Arcade Pro added.
Scoring and Leaderboard
:
- Support of
Friend
score display added
- Display of the
total number
of score added
-
"Unofficial Score"
system added : if for some reason (mostly framerate) a score is not judged valid, it is still added to leaderboard as an unofficial score
- Filter for official/unofficial score added
** 3 gauge and the current FPS are now displayed on screen bottom right, should any of these gauge be in the red at the end of a level, the score will be judged as an unofficial score **
Level 2 Boss fight
correction for a possible crash bug. (Some replay data might be affected)
Bug when choosing "Replay (this stage)" during the
EX boss fight
corrected.
Some scores judged wrong were removed from leaderboard.
ver1.02の追加機能・修正点まとめ
------
◆
ゲーム起動時のダイアログを廃止し、
SCREEN SETTINGS
を追加しました。
これによってフルスクリーン化の不具合が修正され、アスペクト比の調整機能が自由にできるようになりました。
◆縦画面モニタ
での直接フルスクリーン起動が可能になりました。
◆
XBOX360 Real Arcade Pro
に対応しました。
◆リーダーボードに
フレンドランキング
表示機能を追加しました。
◆リーダーボードに
エントリー数
を表示するようにしました。
◆低フレームレート環境でのスコアは
「参考記録」
としてリーダーボードに登録されるようにしました。
※目安として、画面右下に3本のゲージを表示しています。このうち1本でもゲージが赤い状態でプレイが終了した場合、参考記録としてスコア登録されます。
◆画面右下に
fps
表示を追加しました。
◆上記に伴い、リーダーボードに参考記録のフィルタリング機能を追加しました。
◆
2面ボス
で進行不能になる現象を修正しました。
この修正の影響を受ける内容のリプレイは、以降、正常に再生されなくなる可能性があります。
◆通常プレイ時、
EXボスで「リスタート(this stage)」
を行うと自機が操作不能になってしまう不具合を修正しました。
◆不正と判定されたスコアはリーダーボードから削除しました。
16 comments
Read more
June 10th, 2014
V1.01 is LIVE !
Patch detail below :
BUG corrections
- Fullscreen mode : When the 1280×768 is not supported, the software will look for a resolution close to that and fill the screen with dark bars to fit.
- Achievements Garbled in Japanese : The text showing the Achievements ingame is now displaying correctly
- Leaderboard 100th ~ : The ranking over 100 are now shown properly
- Keyboard entry when inactive : In window mode, when the game is not active, it will not react to keyboard entry anymore
- Slowdown with text display : Displaying text would sometimes cause slowdown, this has been fixed. (Training setup, Replay screen)
- Arcade-Boost Level 1 - Boss : The attack pattern of Titanix did not perfectly match the Arcade version. This has been modified to match, but as a result, REPLAY made with version 1.00 of that mode can not be replayed correctly.
ADD
- 1cc Achievements: the new 1cc achievements are supported by this version ! Good Luck !!
- Name Entry : The last name entered is saved and automatically entered when ranking.
- ESC dialog : A simple dialog is now shown when pressing ESC.
V1.01を配信開始!
対応の修正リストは下記です。
バグ修正:
◆実績取得時の2バイト文字の文字化け
※Steam側のゲームの言語設定で、英語以外にすると現象が発生していました。
◆フルスクリーンでの起動
現在はユーザーの環境が1280×768に対応していなければフルスクリーンになりませんが、ユーザーの環境の対応解像度を自動探査し、1280×768に近いものがあればフルスクリーン化するようにしました。(ただしその場合、若干黒い隙間ができます)
◆ゲームのウィンドウが非アクティブのとき、キーボードの操作がきかないようにしました。
◆リーダーボードが100位までしか表示されていないのを修正しました。
◆文字描画処理が重かったので高速化しました。
トレーニング設定画面やリプレイ画面がかなり軽くなっています。
◆アーケードのBOOSTモード・1面ボスの挙動に一部NESiCAxLive版と異なる点があったため、修正を行いました。
そのため、ver1.00で保存したアーケードのBOOSTモードのリプレイはver1.01では1面ボス以降、正確に再現がされません。
追加機能:
◆モードコンプリート系の実績がコンティニューしても取得できてしまっていたのを修正しました。健闘を祈ります!
◆Escキー押下時、終了確認のダイアログを出すようにしました。
◆ネームエントリーを毎回入力しなくてよいように、前回入力した値を保持して表示するようにしました。
18 comments
Read more
About the Game
Prepare yourself for an insatiable rain of bullets, bombs, and beams in Crimzon Clover. From Japanese indie developer YOTSUBANE, AdventurePlanningService, this unique top-down shooter is a wild ride you won't want to miss out on.

Your first step in Crimzon Clover: World Ignition is as simple as choosing how you want to play, and which powerful ship will be yours to command. Choose your difficulty from ARCADE (true to the original arcade game) or NOVICE (better if these are your first step in the world of hardcode SHMUP) then choose your mode from Boost, Original, Unlimited, and Time Attack.
Original is THE main mode, where you blast your way through stage in search of the last boss. Boost Mode will adjust the difficulty based on how proficient you are at devastating your enemies. Unlimited turns each stage into an intense battlefield of bullets that only the most hardcore players will be able to survive. Time Attack pits you against the clock as you race to make the best score possible in about 3 minutes.

Take the role of a skilled pilot in the fight to destroy massive waves of enemies while dodging their unending rain of bullets. Each of the three ships has their own style of standard firing and a unique appearance. The firing style is translated beautifully as you amp your way into Break Mode and Double Break Mode! As you blast through your foes in each stage you can collect stars that will raise your score. Each enemy destroyed helps fill your Break Meter, which allows you to wipe the screen with powerful bombs or, if you have the patience, blast off into Break Mode to add a huge boost to your firepower and let you rip through enemies with ease. That's not the extent of your strength though, as having a full Break Meter while in Break Mode will allow you to enter the ultimately destructive Double Break Mode. Watch your enemies crumble in fear as you turn the tide and fill the screen with your own hellacious rain of firepower!

Having a tough time to clear the game using no continue? No worries. Hit up the Training screen to set up your own scenario using your choice of mode, ship, stage, and freely customize other variables to practice the fight for survival. Training doesn't seem like a bad idea after you see what the enemies are capable of. Can you pilot your craft through the bullet massacre the enemies have prepared for you? Find out as you play Crimzon Clover: World Ignition!
Features:
Refreshing Gameplay
Crimzon Clover puts a much-needed polish on the classic Shoot 'Em Up genre.

Sky Blazing Graphics: Beautiful retro-inspired arcade graphics, revived for the modern gamer in HD (1280x768).

Super-Powered Challenges: Whether you are new to SHMUPs or an old pro, Crimzon Clover has something for everyone.

Cool Replays: Save your best plays to show off to your friends, or to check to see how you can get even better.
System Requirements
Minimum:


OS: Windows XP/vista/7/8

Processor: Pentium 4 2.80GHz or better

Memory: 512 MB RAM

Graphics: Direct3D support

DirectX: Version 9.0

Hard Drive: 800 MB available space

Sound Card: DirectSound-compatible sound card
Recommended:


OS: Windows XP/vista/7/8

Processor: Pentium 4 CPU 3.40GHz(2 CPUs) or better

Memory: 1 GB RAM

Graphics: GeForce7900 GS eq. or better

DirectX: Version 9.0

Hard Drive: 1 GB available space

Sound Card: DirectSound-compatible sound card
Helpful customer reviews
Title:
Crimzon Clover WORLD IGNITION
Genre:
Action
,
Indie
Developer:
YOTSUBANE
,
Adventure Planning Service
Publisher:
Degica
Release Date:
Jun 6, 2014
Languages:
| | Interface | Full audio | Subtitles |
| --- | --- | --- | --- |
| English | | | |
| French | | | |
| Italian | | | |
| German | | | |
| Spanish | | | |
| Portuguese | | | |
| Japanese | | | |
See all 7 supported languages