앞서 해보는 게임
지금 바로 플레이할 수 있습니다. 게임이 개발되는 과정에 참여하세요.
알림: 앞서 해보기 게임은 개발이 진행됨에 따라 크게 바뀔 수 있습니다. 현재 상태에서 이 게임에 흥미가 생기지 않는다면, 개발이 더 진행될 때까지 기다려보는 것도 좋습니다. 더 알아보기
개발자의 한마디:
"Dethroned! is still under development and somewhat rough around the edges here and there. However, we continue to improve the game on a regular basis with new features, content updates and bug fixes. You can help us! Play the game and tell us what you think! We will be making frequent balance and gameplay updates based on community feedback and suggestions.

Currently we have the core gameplay with a variety of heroes done. Other big features coming next (not necessarily in this order) are new heroes, new maps, a lightweight quest system and cosmetic add-ons for heroes (think hats!). In addition we will be polishing the game itself, creating new items and generally balancing things for a better game experience.

You can play Dethroned! right away for free. We also offer a special Early Access pack for a limited time that unlocks all current heroes plus all the paid future content, including all the heroes that we will ever add!" 더 읽어보기
게임 정보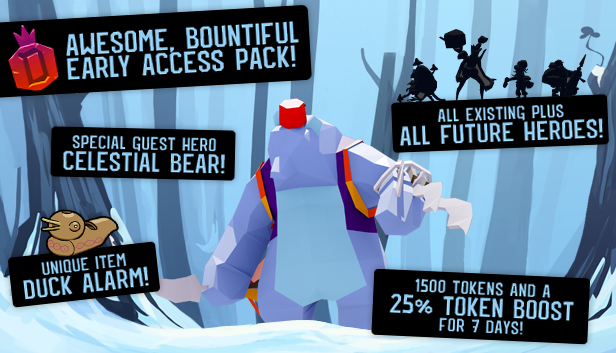 ---
Dethroned! Future Heroes Supporter Pack
In the final game new heroes are unlockable both with ingame currency and cold, hard cash starting from around $2. But now you can get all existing and all uncountable future heroes by buying this pack (includes also all other paid content)!
In addition you also support Dethroned! during the critical early steps the game is now taking, thanks for that!
This deal exists only during the Early Access of
Dethroned!
and after that it is gone forever.
This stunning deal includes
All existing heroes & all future heroes and other paid content

Unique hero Celestial Bear

Unique item Celestial Duck

1500 Tokens to start (in game currency)

25% Token boost for 7 days (starting from your first game, but starting again when the final game is launched)
Dethroned!
has MOBA elements mixed with RTS and tower defense genres. The player controls a hero character, builds defenses, trains troops and engages the opponent in quick intense matches. Between matches the player acquires and equips new items and builds combinations of them.
시스템 요구 사항 (PC)
Minimum:


OS: Windows XP SP3, Windows Vista, Windows 7, Windows 8

Processor: Intel Core 2 Duo or AMD equivalent or better

Memory: 2 GB RAM

Graphics: ATI Radeon HD 4350 / NVIDIA GeForce 6800 / Intel HD 3000 or better

DirectX: Version 9.0c

Network: Broadband Internet connection

Hard Drive: 300 MB available space

Sound Card: DirectX compatible sound card
시스템 요구 사항 (MAC)
Minimum:


OS: OS X Snow Leopard 10.6.3 or later

Processor: Intel

Memory: 2 GB RAM

Graphics: OpenGL 2.0 compatible video card with 512MB RAM (ATI Radeon X1600 or nVidia equivalent)

Network: Broadband Internet connection

Hard Drive: 300 MB available space
이 제품에는 아직 공개된 평가가 없습니다
이 제품의 평가를 직접 써서 자신의 경험을 커뮤니티와 공유할 수 있습니다. 구매 단추 위의 기입란을 이용하여 자신만의 평가를 써 보세요.
제목:
Dethroned! - Future Heroes Supporter Pack
장르:
액션
,
앞서 해보기
,
무료
,
전략
개발자:
Treehouse Ltd
배급사:
Treehouse Ltd
출시 날짜:
2014년 2월 28일
언어:
| | 인터페이스 | 음성 지원 | 자막 |
| --- | --- | --- | --- |
| 영어 | | | |