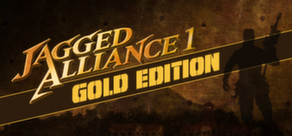 Experience a true classic! This Gold edition includes the original Jagged Alliance plus the add-on Jagged Alliance: Deadly Games. Take a trip into retro land and learn why this is considered to be one the best turn-based games of all times. Choose your mercenaries wisely and lead them into battle against the evil Santino.
Megjelenés dátuma: 2 Jún 1994
16 május 2014
Jagged Alliance: Flashback was launched on Early Access today and owners of Jagged Alliance Gold have the exclusive opportunity to save 15% on the regular edition for a limited time only! Check out the Steam page of Jagged Alliance Flashback and learn all about the latest sequel in the Jagged Alliance series!

http://store.steampowered.com/app/256010




0 megjegyzés
Tovább
A játékról:
Jagged Alliance is a true legend of tactical turn-based Strategy! The Gold Edition includes Jagged Alliance and Jagged Alliance: Deadly Games.
The return of a real classic - for the first time on Steam! 20 years ago, Jagged Alliance made an impact and changed the strategy genre forever. Now you can experience this legend in its glorious original form.
A desperate call for help from the island Metavira: The scientist Jack Richards and his lovely daughter Brenda are reaching out to you. The Fallow trees and thus the precious, medical sap on which countless of lives depend, are under the control of the evil and traitorous Santino. That's why Jack and Brenda hire you, the commander of a mercenary force, to put an end to Santino's insane plans.
You and your mercenaries have to reclaim the island sector by sector, turn by turn. Cultivate the Fallow Trees and process their juices, as they are the basis for your funding. Hire better mercenaries, train local militias and manage your equipment wisely. Get your troops out there and help the people of Metavira!
Experience a true classic

60 mercenaries, 60 attitudes, 60 voices

Lots of authentic weapons and equipment

Intense turn-based combat

Non-linear gameplay

High replay value
PC-s rendszerkövetelmények
Minimum:


OS: Windows XP /Vista/7

Processor: 1 GHz

Memory: 16 MB RAM

Graphics: 3D graphics card compatible

DirectX: Version 7.0

Hard Drive: 1200 MB available space
Mac-es rendszerkövetelmények
Minimum:


OS: Mac OS X 10.5 or later

Graphics: Intel HD Graphics 3000 or later

Hard Drive: 1200 MB available space
Linuxos rendszerkövetelmények
Minimum:


OS: Ubuntu 10.10 or later

Graphics: 3D Graphics card with OpenGL support

Hard Drive: 1200 MB available space
© bitComposer Games, 2014. bitComposer Games is a brand of bitComposer Entertainment AG. Developed by Madlab Software and Sir-Tech. All other trademarks are the property of their respective owners and used under license. All rights reserved.
Hasznos vásárlói értékelések
42 emberből 40 (95%) találta hasznosnak ezt az értékelést
48 termék a fiókon
2 értékelés
26.3 óra a nyilvántartásban
Can't go wrong with this classic tactical rpg strategy game with realistic elements from that time period, such as the ai following sounds to each mercenary having not only having different statistics, but different attitudes and reactions to certain mercenaries and actions. Not all mercenaries can be hired at the start, but as the game goes on, more will be willing to work for you, for the right price. Those who played XCOM should give this a try, even though this is a dosbox port of the original. The price may make a little sense since its two games in one download.

And here's a tip: Be sure the first mercenary you get is Ivan, me speaks Russian in all versions and is a bit expensive, but his marksmanship more than pays off, and he is one of the mercenaries that will work for you in the beginning.
34 emberből 3 (9%) találta hasznosnak ezt az értékelést
608 termék a fiókon
134 értékelés
0.2 óra a nyilvántartásban
Nope. Run in dos box, starts off with seemingly endless credits (Which froze the game when I tried hitting esc to skip them) and then when it's done - you watch a two hour cutscene of 1000 year old graphics. Can't believe I paid $60 for this.
Cím:
Jagged Alliance 1: Gold Edition
Műfaj:
Akció
,
Szerepjáték
,
Stratégia
Fejlesztő:
Sir-Tech
,
Madlab Software
Kiadó:
bitComposer Games
Megjelenés dátuma:
2 Jún 1994
Nyelvek:
| | Felület | Hang | Feliratozás |
| --- | --- | --- | --- |
| Angol | | | |