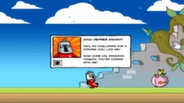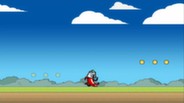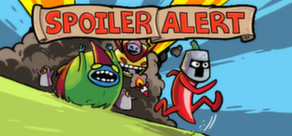 Spoiler Alert is a video game that tests your platforming skills… in reverse. It's a comedy platformer that you play backwards.
Release Date: Jun 30, 2014
Watch all 2 trailers
Buy Spoiler Alert Standard Edition
Buy Spoiler Alert Collector's Edition - Includes Bonus Content
September 11
By popular demand we've launched the Standard Edition of Spoiler Alert. Initially we felt like we should just release the Collector's Edition on Steam - justifying a higher price point. However it was a mistake. We admit that people need to have the option to buy a standard and collector's edition, doesn't matter which platform you're on.

So now the Standard Edition is out, and costs $2.99 on Steam.

It goes in-line with the estimated price we'll have on mobile platforms.

Meanwhile checkout how to make a Spoiler Alert level in the Workshop:

https://www.youtube.com/watch?v=ZK4NneF6SeA
0 comments
Read more
July 4
On behalf of Jeff from MEGAFUZZ:

Hi all,

We realize the game is very short. So far, this has actually been the most common critique. And for this, we apologize. Let me address this.

First off, we hope to see a lot of user created levels to further add value to the game (that is why we added the level editor). If nothing else, I will start putting it to good use myself! I did make all the original levels, after all - so I should be able to stuff in some hopefully fun levels.

Second, it has always been our plan to keep the game alive not only through the level editor, but by also adding more content in future updates. We do have a lot of plans for game mechanics and worlds we haven't made "reverse" fun of yet, so there's definitely a lot of stuff we can and do plan to put in. We've also planned updates with completely free new worlds. Even though we don't have a date for this yet, we hope this will also help you feel you actually got some bang for your buck.

Most importantly, we have never even thought about just releasing this game and then abandon it - it's important to us to keep it going for a good while after release along with the community - and to engage with the people playing it.

Lastly, we're very happy and grateful for your support - and thrilled that, even in spite of the short length, some of you seemed to enjoy it. To those who didn't - we hope you will find the new future worlds more exciting! :)
6 comments
Read more
About the Game
Spoiler Alert is a video game that tests your platforming skills… in reverse. It's a comedy platformer that you play backwards.
When you pick this game up, it has already been beaten. The big bad boss is defeated, the coins are collected and the princess has been rescued. Why, oh why?
Unraveling this mystery takes you through the entire game, from the last level to the first. You must uncollect the coins, revive the enemies and avoid nasty time paradoxes. In other words, you must uncomplete the game by playing it backwards.
Everything in this game is so familiar, yet so different and new. You have played it a thousand times before, and at the same time, you have never tried anything like it.
100 Levels in 4 worlds

SpeedRuner Mode

Start playing at the end and make your way back

Classic platformer gameplay mashed with simple controls

Beautiful handdrawn graphics

Original soundtrack by Roland La Goy

Epic boss fights, upgrades and many different and unique enemies
The Steam-exclusive Collector's Edition version includes
Level editor with Steam Workshop

The original soundtrack, including a new bonus track and deleted tracks

The original Game Jam version of Spoiler Alert - see how it all began

Exclusive hi-res desktop art and concept art

Screensavers, deleted graphics, and more!
PC System Requirements
Minimum:


OS: Windows XP and up

Processor: A basic dual core

Memory: 1024 MB RAM

Graphics: Integrated

Hard Drive: 27 MB available space

Additional Notes: Works with Xbox controllers
Mac System Requirements
Minimum:


OS: Mavericks

Processor: Dual core

Memory: 1024 MB RAM

Graphics: Integrated

Additional Notes: Works fine on anything running Mavericks
Helpful customer reviews
Title:
Spoiler Alert
Genre:
Adventure
,
Casual
,
Indie
Developer:
MEGAFUZZ
Publisher:
tinyBuild
Release Date:
Jun 30, 2014
Languages:
| | Interface | Full audio | Subtitles |
| --- | --- | --- | --- |
| English | | | |
Awards