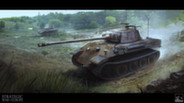 Set during the events of WW2, Strategic War in Europe is a classic turn-based strategy game that combines a deep strategic layer with accessibility and ease-of-use.
Ημερομηνία κυκλοφορίας: 21 Μαρ, 2014
Δείτε βίντεο υψηλής ευκρίνειας
5 Ιουνίου
We have fixed the achievements issue in Strategic War in Europe, and now they are displayed and counted properly.
Please keep in mind that for some of the achievements, you need to keep your opponent as AI.

Have fun playing.
5 σχόλια
Περισσότερα
5 Μαΐου
Wastelands Interactive is happy to announce that Strategic War in Europe now supports STEAM Workshop.
Now you can not only share your work on scenarios and graphics, but also download and use the content created by other community members.
Releasing the STEAM workshop support for Strategic War in Europe fits with our policy of cooperating with modders and supporting games for a long time.
Unleash your creativity and make good use of this tool!
1 σχόλια
Περισσότερα
Steam Greenlight
Σχετικά με το παιχνίδι
Strategic War in Europe takes you back in time to World War 2.
This game is about:
Panzer Corps
Waves of Infantry
World War 2
Land, Naval and Air battles
Providing supplies
Following the 'easy to learn, hard to master' design principle, Strategic War in Europe combines accessibility with a plethora of strategic options. A compact, large-scale map and clear basic rules will not overwhelm you, yet the choices you will be presented with should satisfy all your tactical needs. From overthrowing governments and researching new technologies, to securing air supremacy and supplying your troops by water and railway, Strategic War in Europe is a strategist's dream.
Seven scenarios with up to 25 controllable countries, each with five scaling difficulty settings make for an incredible replayability. When pitching yourself against the AI is not enough, Strategic War in Europe offers hot-seat and PBEM for all your multiplayer needs. Match your wits in an epic East vs. West showdown or try to survive together as Poland and Norway.
Muster Your Panzer Corps!
Prepare Waves Of Infantry!
The War Begins Now!
Main Features
Take over one or more of 25 countries, ranging from Nazi Germany to Iraq

Play through seven unique scenarios, including six historical from 1939 to 1944, and a fictional 1945 West vs. East campaign

Command hundreds of historical units and leaders

Declare wars, host elections and carry out coup d'etats

Experience dozens of historical events with great repercussions on gameplay

Enjoy tactical battles, with weather, supplies and terrain all being important factors

Control the skies with air combat, recons, fighter interceptions, bombardment, and even nukes!

Sail the seas using a naval system that includes convoys, raiders and sea battles

Manage economy and research

Fight against your friends in hot-seat and Play By E-Mail multiplayer modes
Απαιτήσεις συστήματος
Minimum:


OS: Windows XP

Processor: 1.2

Memory: 1024 MB RAM

Graphics: 256 MB

DirectX: Version 9.0c

Hard Drive: 500 MB available space
Recommended:


OS: Windows 8

Processor: 1.8 Dual Core

Memory: 2048 MB RAM

Graphics: 512 MB

DirectX: Version 9.0c

Hard Drive: 800 MB available space
Strategic War in Europe, Wastelands Interactive, and other trademarks and company logos are protected by copyright laws and cannot be used without prior written consent.
Χρήσιμες κριτικές χρηστών
Τίτλος:
Strategic War in Europe
Είδος:
Indie
,
Strategy
Δημιουργός:
Wastelands Interactive
Εκδότης:
Wastelands Interactive
Ημερομηνία κυκλοφορίας:
21 Μαρ, 2014
Γλώσσες:
| | Διεπαφή | Πλήρης ήχος | Υπότιτλοι |
| --- | --- | --- | --- |
| Αγγλικά | | | |
| Γαλλικά | | | |
| Πολωνικά | | | |
| Γερμανικά | | | |